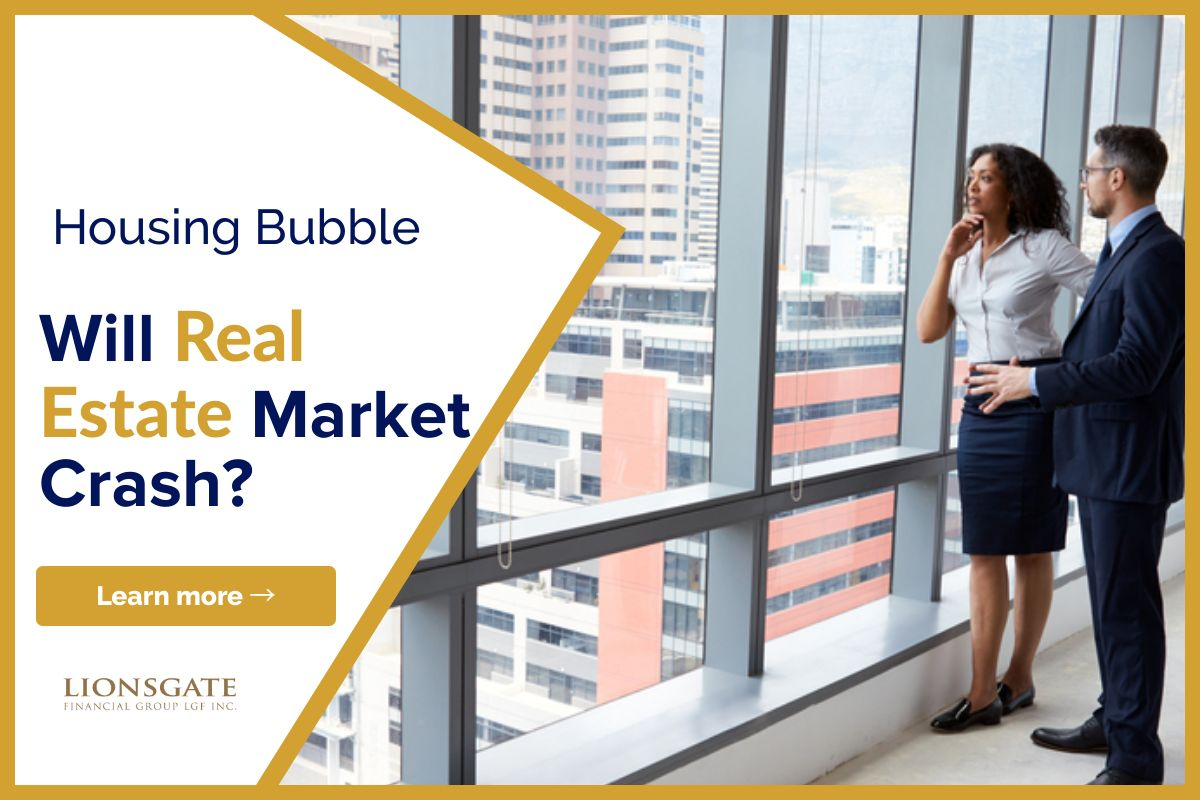 Housing Bubble: Will The Real Estate Market Crash?
Now you can listen to our blog, 'Housing Bubble: Will the Real Estate Market Crash?' while on the go.
Since the COVID-19 pandemic, housing prices across Canada have soared unabatedly. Today, the real estate market is at its highest level than ever recorded. The scenes are no different in Toronto and Ontario as well. The major reason behind this is work from home. As the demand for single-family homes has skyrocketed.
At the same time, the interest is recorded at a historical low, making the home buying process relatively easy and more appealing for Canadians.
Although the housing industry is rising, officials say there may also be risk involved of a decline in home sales. Also, the market could crash in the coming months. For instance, Tiff Macklem, governor of the Bank of Canada, expressed his concerns. He said, 'the bank is seeing worrying signs of Canadians taking on too much debt and overextending their finances. This is all for a chance to break into the Canadian housing market. So, this begs the question of whether we are in a housing bubble or not?
Read More: Things To Know Before Getting Mortgage
Is Canada in A Housing Bubble?
For the sake of definition, the housing bubble is when the price of homes rises quickly and at an unsustainable rate. Generally, when the price growth rate is higher than the single-digit, it can be considered unstable.
When a housing market is in the housing bubble, homeowners earn equity over time, seller makes extra profits, and buyers afford to get into the market. This bubble is further fueled by the employment boom and lower interest rates.
To burst a housing bubble, a steep incline in inventory and new listings along with a decline in demand is required. However, neither of these conditions is likely to happen any time soon. Thus, we cannot call the current times a housing bubble.

However, a housing bubble happens as a result of non-organic growth which means it can burst as quickly as it was formed. To decide whether we are in a housing bubble or not, let's consider the background.
Background Of Housing Bubble
The Canadian housing market took a surprising upward turn during the COVID-19. It slowed a bit in March but then spiked again as the demand for houses soared. As we are in 2021, there appears to be no end in the sight of this unexpected boom.
For a similar objective in mind, a recent online survey of RE/MAX brokers and agents in Western Canada, Ontario, and Atlantic Canada was conducted. The survey found that it is not speculations who drive the growth of the Canadian real estate market. Instead, 96 percent of RE/MAX brokers and agents support and confirm that majority of home buyers today are end-users.
This means the growth is not unsustainable as the buyers are the ones who waited a long time for the prices to come down. Under current market conditions when the interest rates are low, now is the perfect time for them to buy.
Will The Housing Bubble Burts in 2022?
When asked by a panel of experts, 29 percent believed that Canada's sky-high real estate prices can send Canada into a recession when the bubble will burst. Moshe Lander, an economics professor at Concordia University, is of a similar view. He said that all this speculation is dangerous and explains the overall market conditions that got us here.
He believes that the government spent billions of dollars that have found its way into the economy. But this money has to go somewhere sooner or later. This money has played a significant role in powering the real estate market by ending up in residential markets and the stock market.
However, the dust will settle and normalcy will resume in 2022. It will wipe out the huge amounts of wealth that households had accumulated during the spending binge of 2020-21.
Chief economist and head of market analytics at CoStar, Carl Gomez, also attest to this. She says, 'the current prices are disconnected from fundamentals and must revert.'
You May Also Like: Right Time To Refinance Mortgage
This will potentially create a negative impact on household balance sheets that can also make a negative impact on household balance sheets. Canada is facing a substantial housing supply deficit in its major metropolitan areas. It can become more acute with immigration numbers, making the housing bubble burst quickly. But this will not put Canada into recession neither the real estate market will crash.
Why the Housing Bubble won't Burst?
The current housing market is seeing unprecedented growth with an unprecedented demand fueled by the influx of people looking for homes. A lot of this activity is happening because of people escaping or moving out of the GTA and its sphere of influence. The number is also rising because a large exodus of people is coming to Canada looking for homes as well.
With this unexpected rise, as the pandemic runs its course, there is a possibility of the market becoming softer in the winter when fewer people are buying. However, the possibility of real estate crashing is off the table until the interest rates and housing inventories are low.
Can We Cool The Current Housing Market?
Once the pandemic is eased down, we might see a decrease in house prices. The sale of a property might also not happen within a week of listing, making the housing market slower. The coming months might well be dangerous for Canada once the pandemic ends. The markets will see oversaturation from buyers who are looking to get March 2021 rates but they will be too late.
Although several programs have been introduced by CMCH to boost the housing market like first-time home buyers incentives, global data suggest the housing market will not see a boom that we observed in the past year. A decline in home sales, city growth, and lack of government funding will surround the market.
The Bottom Line
The Canadian housing market is in a bubble, especially after mid-March 2020. The housing bubble is not going to burst any time soon as long as the investors are taking advantage of lower prices in the pandemic.
In current times, listings are seeing a record-breaking bidding war and the offer are ridiculously high. It does not matter what city you are in, the housing bubble is happening nationally and with the pandemic going on, there is no chance of this ending soon.
Are you looking to buy or sell your home? Or need any kind of capital for your house? Now is the best time to do it. Leave us a message today and we will reach out to you with a customized plan according to your needs. Whether it's a mortgage, making an offer, or finding the best agent, our experts are readily available for your guidance.
Contact us today and decide on your own whether you want to take professional advice and expertise or not.