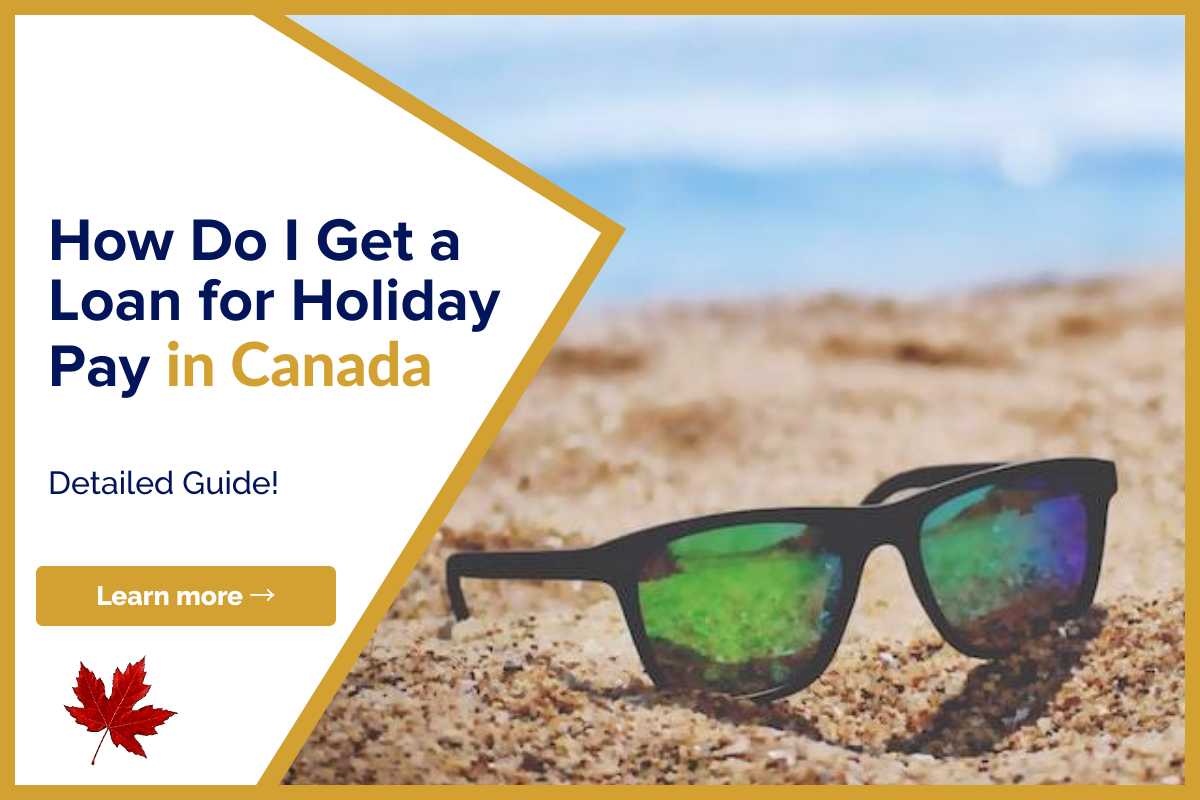 How Do I Get a Loan for Holiday Pay?
Now you can listen to our blog post, "How Do I Get a Loan for Holiday Pay?" while on the go.
A vacation loan allows you to take out a personal loan to cover your next vacation expenses so you don't have to worry about paying for your trip all at once. All loans are subject to financial and credit history at the time of application.
How can I finance my holiday?
There are many ways to finance vacation and travel expenses. You can take out a personal vacation loan, use a credit card, or get a home equity loan or line of credit.
Personal holiday credit
Personal vacation loans can be obtained from banks, credit unions, or alternative lenders. These loans allow you to receive cash upfront and pay it back in fixed payments over a period of time. Some of the reasons someone chooses a personal loan for vacation is usually because the interest rates are relatively low, but this mostly depends on your credit report.
Travel loans are also unsecured personal loans. This means that no collateral is required in the event of non-payment. However, this means that the lender is at greater risk of higher interest rates than a secured loan. However, most personal loans are open credit. This means that you can repay the principal at any time, not just a fixed monthly payment. You can save a lot of money with this option.
Credit card
Credit cards charge much higher interest rates than personal loans, but they also offer points and incentives. Many of these incentives focus on travel. Earn cashback, free flights, and even flight rewards by using your credit card to book flights on various airlines. However, the payment method is the same as any other credit card. There is a minimum monthly payment, and if you only make monthly payments, it can take a very long time to cash that money.
These cards are meant to be used and cashed quickly, and the longer you hold on to the balance, the more interest you pay. A high credit card balance can also have a negative impact on your creditworthiness.
Housing loan
Finally, another option is a home equity loan or line of credit. This option is only available if you own a home, but low-interest loans are also available if you prefer. This loan is considered a secured loan as it is based on the value of your home. In other words, it is one of the lowest interest rates you can get on a loan. To get a home equity loan, you can apply to any lender. The amount you can borrow depends on the value of your home.
With a home equity loan, you can receive up to 80% of the value of your home minus the amount you owe the home. for example:
If your home is worth $500,000 and you still owe $250,000 on your mortgage, the lender can approve you up to 80% of her $250,000. Home equity loans are the fastest way to access finance and have the lowest interest rates while being secured. As a result, if you fail to pay your bills, you run the risk of having your home confiscated. Therefore, before taking out a loan, it is important to check if you can afford it.
Travel loans for bad credit
It is easier to get the above loans if you have good credit, but it is possible even if you have low credit. However, you should contact your lender as it will likely make it difficult for you to borrow from your bank.
There are many online lenders that can fund personal loans, but the lower the credit rating, the more risk the company is taking, which can result in higher interest rates. Most of these loans are unsecured. It's also a loan, and as a result, the interest rate is also higher. In some cases, it may still not be approved, in which case you will need to apply for a payday loan.
Payday loans have very high-interest rates and often have shorter repayment terms than personal loans. These loans also don't help build your credit score, so it can be hard to get out of the loop once you start borrowing. Travel loans without a credit check.
If your credit score is low, private holiday loans without a credit check are also possible. These exist, but it's important to remember that the interest rates are also very high.
Travel now, and pay for holiday later
Another option is to book your vacation on a loan that can be repaid with monthly payments without going through a lender. Some travel agencies and websites offer this service. The great thing is that these payments can be automatically deducted from your account in fixed monthly installments.
Some have no late fees and you can pay the principal whenever you want. With so many different travel agencies offering this, you can compare vacation loans before credit and underwriting approval. This allows you to make an informed decision before agreeing to loan terms.
The problem with these services, however, is that they require a mild credit check. This will give you a rough idea of ​​your credit history and verify your identity. You can travel anytime after the loan agreement is signed and see the total cost of the loan before agreeing to anything. The trip price includes trip cancellation insurance. This is a convenient option, but keep in mind that you will still have to pay interest while on vacation.
Some travel agencies require a security deposit, but it is not always required. There are also some travel agencies that offer this service without a credit check.
Paid holiday plan
As an alternative to taking out a vacation loan, some travel agencies and websites offer installment payments. This allows you to book your vacation early and pay for it over time, often with fixed monthly payments. However, vacation must be paid for before the trip. You can also adjust your schedule and even cancel if you need more time to pay or suddenly can't pay.
Only a deposit is required at the time of booking and the rest of the payment will be arranged. Most companies offer this option whether you're booking your entire vacation or just a flight. Not only does this make your vacation more doable, but it also gives you the chance to get a better deal without having to worry about saving money before booking.
Need Some Extra Cash to Help Your Finances? Try Lionsgate!
Are you struggling with your financial needs and need some extra cash? Lionsgate can help. Just fill out the form below, letting us know all your money or mortgage requirements, and we will find the best lender for you. Amazing thing? The process is free, and you can quit it at any time.
We have a team of experts that analyze your requirements and pick the best lender for you with prudent advice.
Note: Please give your authentic information while completing the form below.
Please share this article on your social media profiles if you found it helpful. Also, visit our blog to read similar helpful articles on finance, real estate, and getting mortgages.