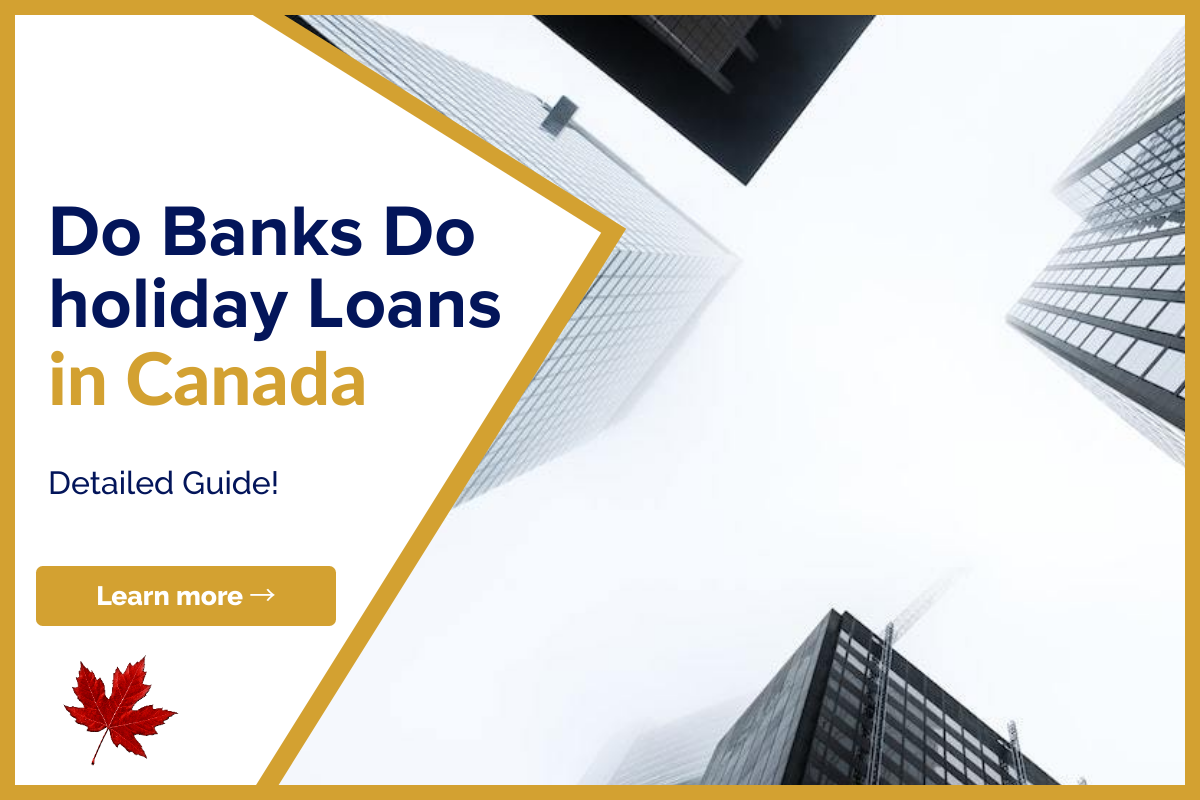 Do Banks Do holiday Loans?
Now you can listen to our blog post, "Do Banks Do holiday Loans?" while on the go.
Holiday loans are often available from credit unions and banks in the $500 to $2,500 range, with some lending up to $5,000. Most holiday loans have shorter timeframes for repayment as well. A holiday loan will only offer you a few months to a year to pay it back, whereas other personal loans will give you years to do so.
Holiday loans might be a seductive method to fill budget gaps, but they might make your overall financial problems worse. While there may be rare instances where they are helpful, thoroughly investigate other holiday loan options first.
What are holiday loans?
A particular sort of personal loan designed for holiday spending is the holiday loan. Holiday loans allow you to borrow money fast and simply without having to put up any security, just like with any other personal loan.
Holiday loans, though, aren't precisely the same as other personal loans. The first is that they are just offered during the holidays. In the middle of May, you won't be able to obtain a holiday loan. In comparison to other personal loans, holiday loans frequently have smaller limits. Holiday loans are often available from credit unions and banks in the $500 to $2,500 range, with some lending up to $5,000.
Most holiday loans have shorter timeframes for repayment as well. A holiday loan will only offer you a few months to a year to pay it back, whereas other personal loans will give you years to do so.
What can a vacation loan be used for?
Holiday loans aren't simply for buying presents, either. During the months of November and December, any unforeseen expenses might be paid for.
Buying presents: A holiday loan could be useful if you don't have enough money saved up to purchase gifts for everyone on your list.
Travel: Holiday loans can be used to pay for larger travel costs such as airfare, lodging, and gas.
Different costs: The majority of lenders won't impose limitations on how you may spend the funds. The money you receive from a holiday loan can be used for anything, just like less specialised personal loans.
Considerations for obtaining a vacation loan
Before applying, you should carefully review the lender's variety of rates, fees, and repayment conditions.
Interest Rate
The cost of borrowing is expressed in interest rates. You will pay more the higher the rate. You will pay less the lower the rate.
Interest rates for personal loans, including holiday loans, are typically lower than those on credit cards. You are more likely to get approved for a competitive APR from banks with the higher credit score.
However, how each lender and banks sets rates. Additionally, there are some credit cards with a 0% APR purchase term that can allow you to pay less overall even if you are eligible for low rates with a holiday loan.
Fees
Lenders will also impose fees when you borrow money in addition to interest. The most typical fees are origination fees, but you should also be cautious of late payment fees and prepayment penalties.
Initiation charge: When the loan is funded, the origination charge, which is a percentage of the total amount you borrow, is added to your balance. For instance, even though you only received $1,000, your loan balance will start at $1,030 if you borrow $1,000 with a 3% origination fee.
A late fee: Only if you miss your regular payment will you be assessed late fees. If you're not careful, they may end up costing you a lot more money. To keep on track, enrol in autopay or add a reminder to your calendar.
Prepayment fee: When you make extra payments or pay off your loan early, a prepayment penalty is assessed. Check to see whether your lender levies one because personal loans rarely have them.
Payback period
If you stick to the minimal payment plan, the term of a loan is how long it will take you to pay it back. The typical loan period for vacations is six to twelve months depending on the banks.
The overall cost of your loan is influenced by how long it takes to repay it. Even if the interest rates on two loans are the same, interest will increase the longer the loan is outstanding. Therefore, longer-term loans are more expensive than shorter-term loans. You should use a personal loan calculator to estimate potential payments based on your interest rate and loan term.
Various holiday loan options
Holiday loans might be dangerous because you're taking out a loan to pay for goods you don't really need. Borrowing money can put you in a difficult financial situation if you can't afford to go on a trip or purchase presents.
Start putting money aside now in banks.
Automatic savings programmes are a terrific method to make sure you have some extra money for the holidays, even though it's probably too late to implement one for this season.
Henry Gorecki, a licenced financial adviser located in Chicago, advises paying yourself first and setting it up to be automatic. Set up an automatic $100 monthly transfer from your checking account to a savings account called Holidays 2021 or something similar at your bank. The amount can be changed to meet your requirements.
According to Gorecki, it is critical to make the transfers automatic. "It probably won't happen if you have to check in and move the money every month."
Give artisanal presents
A handcrafted present is a thoughtful way to show someone you care without going over budget. The best part is that you may play to your advantages. Make your pals' favourite dessert if you're good at baking. If you're an artist, you may create a painting to put in a relative's house. For the folks on your gift list, you could knit new caps or sweaters if you enjoy knitting.
Give of your time and talent
Offering your time or abilities to a loved one is another method to help without spending a lot of money.
Decide to meet up for a special lunch or event or set aside a day to spend together.
You might also volunteer to assist a family member with a project. Offer to assist with a home renovation job if you are handy. Tell your family members who are moving that you will be present to help carry boxes.
During the holiday season, you don't necessarily have to provide monetary gifts to your loved ones in order to show them that you care. An excellent substitute is to donate your time.
The conclusion
One method to stretch your gift-buying budget is to take out a holiday loan. But borrowing cash when you can't afford to buy presents is not a wise use of your money.
Need Some Extra Cash to Help Your Finances? Try Lionsgate!
Are you struggling with your financial needs and need some extra cash? Lionsgate can help. Just fill out the form below, letting us know all your money or mortgage requirements, and we will find the best lender for you. Amazing thing? The process is free, and you can quit it at any time.
We have a team of experts that analyze your requirements and pick the best lender for you with prudent advice.
Note: Please give your authentic information while completing the form below.
Please share this article on your social media profiles if you found it helpful. Also, visit our blog to read similar helpful articles on finance, real estate, and getting mortgages.