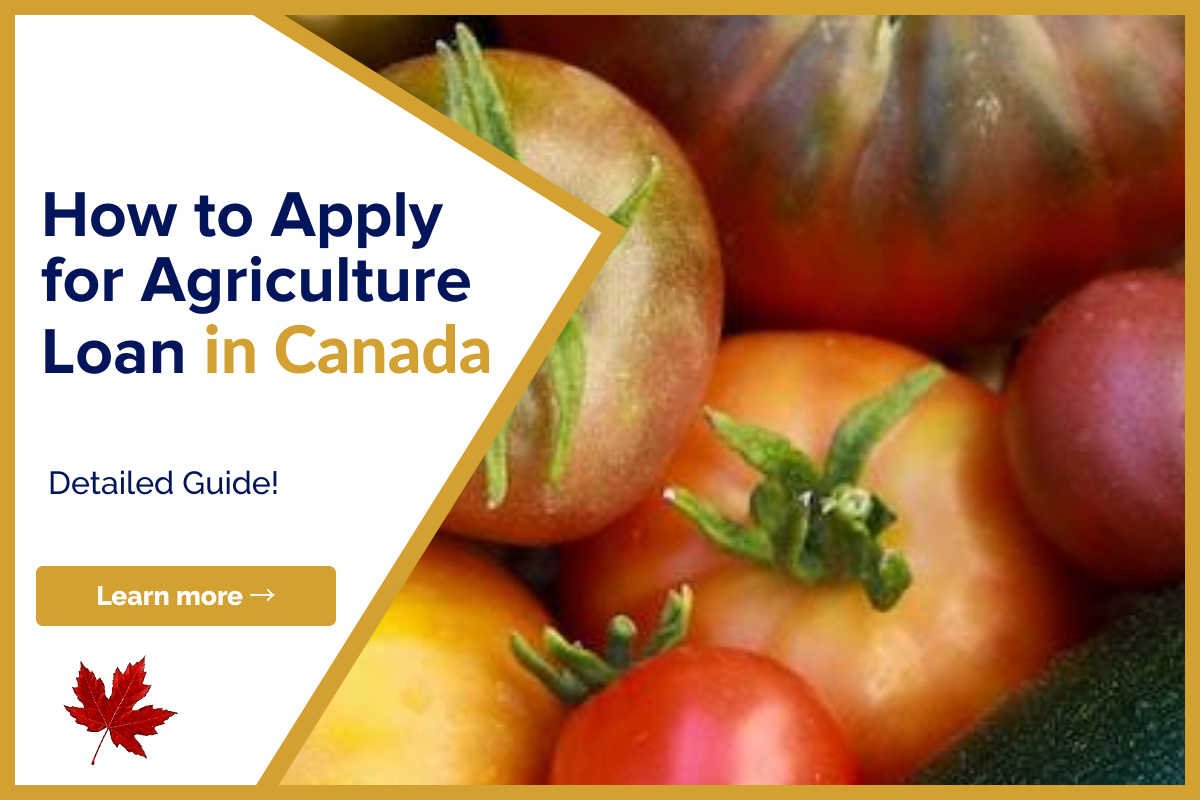 How to Apply for Agriculture Loan in Canada?
Now you can listen to our blog post, "How to Apply for Agriculture Loan in Canada?" while on the go.
Programs for Financing Farm Businesses
Farming is a unique profession with particular difficulties. The expensive cost of land, technology, basic farming equipment, and shifting weather patterns are just a few issues that can have a big impact on a farm's profitability.
For this reason, Canada's federal and provincial governments offer a wide range of grants, subsidies, and contributions to farmers.
The government offers Canadian farmers a variety of grants, subsidies, and contributions, some of which are listed here.
AgriInvest
A federal programme called AgriInvest assists Canadian farmers in safeguarding their companies from a drop in revenue. The federal, provincial, and territory governments may contribute up to $15,000 annually to match any savings you make.
As you make annual deposits based on a portion of your permitted net sales, the AgriInvest account grows. Up to 100% of your annual permissible net sales may be deposited, with the government matching the first 1%.
AgriStability
The AgriStability programme guards Canadian farmers against sharp drops in their revenue that rising costs, a sluggish market could bring on, or lost production. When your net farming revenue falls below 70% of your recent average, AgriStability will safeguard you.
The federal government pays 60% of the cost of AgriStability, and the provincial governments pay 40%. The AgriStability programme allows you to obtain a maximum reward of $3 million.
To qualify, you must:
Farm for at least 6 months in a row every year.
Please inform the Canada Revenue Agency of your farming income.
In the year you apply, complete a manufacturing cycle (or try to).
Pay a yearly cost for your insurance.
Program for Advance Payments
A federal loan scheme called the Advance Payments Program (APP) makes low-interest financial advances easily accessible to Canadian farmers. An APP advance can assist those in the agriculture industry in meeting their financial responsibilities.
Based on the value of their agricultural product, agricultural producers can get advances under the APP of up to $400,000 every programme year. The Government of Canada pays the interest on the first $100,000 of the advance.
With most commodities, producers have up to 18 months to fully repay advances as they sell their agricultural products (up to 24 months for cattle and bison).
Agriculture Loan Act of Canada
A repayable loan guarantee of up to $500,000 is available to Canadian agricultural producers through the Canadian Agricultural Loans Act (CALA) to assist them in obtaining company financing. Farmers can use the loans to start, expand, or upgrade their farms. Loans are another resource available to agricultural cooperatives for marketing, distributing, or processing farm products.
By the CALA, the federal government promises to reimburse the lender for 95% of the net loss on a qualifying loan. The maximum aggregate loan ceiling for each single farm enterprise is $500,000. For agricultural cooperatives, the maximum aggregate loan ceiling is $3 million.
Canada Farm Credit
You might be qualified for funding if your agribusiness is a farm operation, food processing facility, manufacturing facility for agricultural equipment, or agri-biotech firm to:
Purchase or upgrade property, structures, or equipment
Purchase quotas or animals
enlarge your domestic market or export your goods
Improve environmental conditions
Diversifying project funding
Agriculture Loan Act of Canada Program (CALA)
A federal loan guarantee programme called the Canadian Agriculture Loans Act (CALA) aims to enhance the credit options available to farms and agricultural cooperatives.
CALA can help you start, expand, or improve your farm. Agricultural co-ops can use it to assist with product processing, distribution, or marketing.
For real estate worth up to $500,000 and other qualified assets worth up to $350,000, established farmers may be eligible for up to 80% financing. New farmers are eligible for funding up to 90%. The Agriculture and Agri-Food Minister must give the go-ahead for agricultural cooperatives to receive funds of up to $3 million.
For land purchases, loan periods might be up to 15 years lengthy and as long as 10 years. The prime rate plus 1% is the maximum interest rate for a variable loan, and the prime rate plus 1% is the highest interest rate for a fixed loan.
Programs for Farm Finance and Agriculture Loans
The Advanced Payment Program (APP) and Commodity Loan Program are just two of the farm finance schemes available to farmers in Ontario.
By offering up to $100,000 in interest-free loans and another $300,000 at prime interest rate, the APP can assist farmers in managing their cash flow. Over 4,000 commodities can access these loans, which can be repaid over 18 months.
Crop farmers can also contact the Agricultural Credit Corporation (ACC) to qualify for the Commodity Loan Program, which offers loans of up to $750,000 to fund qualified inputs, repayable over 15 months at prime interest rates.
The Ontario government made two improvements in 2021 that will make the program more effective for farmers.
The date for loan repayment has been pushed up from February 28 to September 30. This deadline is significantly more appropriate to urge farmers to repay the loan because it corresponds better with when farmers typically offer their goods.
The $200 million maximum guaranteed loan ceiling has been raised from $125 million. This rise more accurately depicts the scope of input expenses that farmers must budget for.
A loan guarantee scheme called the Canadian Agricultural Loans Act (CALA) Program was created to boost the number of loans available to farmers and agricultural cooperatives.
The federal government will guarantee up to 95% of a farmer's loan amount under the CALA program. If CALA loans are used to buy the property and build new farm buildings or improve existing ones, the maximum loan amount is $500,000. The maximum loan amount for any other uses is $350,000.
Need Agriculture Loan to Help Your Finances? Try Lionsgate!
Are you struggling with your financial needs and need some extra cash? Lionsgate can help. Just fill out the form below, letting us know all your money or mortgage requirements, and we will find the best lender for you. Amazing thing? The process is free, and you can quit it at any time.
We have a team of experts that analyze your requirements and pick the best lender for you with prudent advice.
Note: Please give your authentic information while completing the form below.
Please share this article on your social media profiles if you find it helpful. Also, visit our blog to read similar helpful articles on finance, real estate, and getting mortgages.