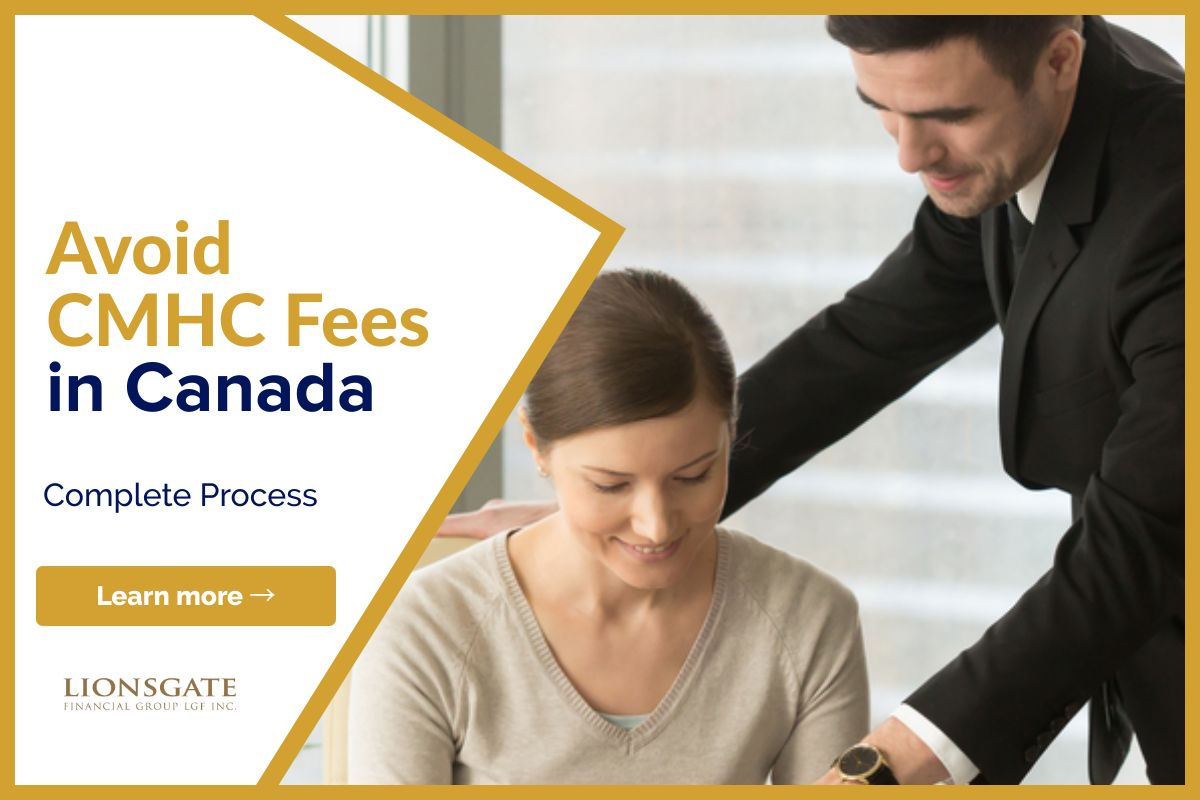 How to Avoid CMHC Fees in Canada
Now you can listen to our blog, " How to Avoid CMHC Fees in Canada", while on the go.
Buying a home is the most difficult decision as it comes with a plethora of expenses. Especially for the ones who do not have much strength in their finances, rely on mortgages. A mortgage will likely be one of the largest monthly payments you will need to cover. But a mortgage can cost you more because of a little thing called mortgage default insurance.
If your loan amount is more than 80% of the purchase price, this payment will be tacked on to your mortgage. In other words, if you are planning to take out a mortgage with less than a 20% down payment, then be prepared to pay CHMC insurance or mortgage default insurance.
Before moving on to cutting the fee of this mortgage default insurance, let us know what exactly it is.
What is CHMC Mortgage Insurance?
Every buyer who has a down payment of less than 20% of the purchase price, needs default insurance in Canada. This type of insurance policy is designed to protect lenders in case borrowers default on their mortgage payments. This default insurance is provided by three mortgage default insurance providers that include Canada Mortgage and Housing Corporation (CMHC), Canada Guarany, and Genworth Financial.
CMHC is the biggest mortgage insurance provider in Canada. It is actually a crown corporation and operated as a private company. As such, CMHC is governed by the federal Board of Directors which manages how CMHC conducts its business according to federal law. Given its commonality, CMHC is used for mortgage default insurance.
Read: First Time Home Buyers Programs in Canada
The other two mortgage insurers are private companies, each of which determines its own set of rules. The types of mortgages they agree to insure and the requirement for such mortgages are also determined by themselves.
However, it is important to mention here that it does not matter which insurance provider you go with. You won't be given a choice of which provider to use anyway. In fact, you won't even know which provider is supplying your insurance unless you specifically inquire about it.
If there was not no insurance, your mortgage application would be turned down. This is because the borrowers with lesser down payments pose a risk for the lenders. Thus, mortgage default insurance can be seen as somehow beneficial for the borrowers as well as the lenders.
How Much Does CMHC Cost?
Before talking about cutting the insurance cost, it is mandatory to know how much does it cost. As we all know, mortgage default insurance does not come for free. Similar to other types of insurance policies, there is a cost associated with it as well. This fee is tacked onto monthly mortgage payments in addition to the principal and interest portion.
The associated cost of mortgage default insurance depends on how much of a down payment you are putting toward your home purchase and typically falls within the range of 2.8 to 4 percent of the amount of the mortgage.
However, it is important to mention here that the more you put toward your down payment, the lesser amount you will be charged. Calculating your particular mortgage default insurance can be done using the following figures:
5% to 9.99% down payment, 4% interest
10% to 14.99% down payment, 3.10% interest
15% to 19.99% down payment, 2.80% interest
So, if you are putting a 10% down payment on a 600,000 purchase, you will have a mortgage of $540,000. Based on the 3.10% mortgage default insurance, your insurance premium will be $16,740. This amount would then be added to your mortgage amount, which means you will have a total mortgage amount of $556,740.
In a nutshell, the more you put down, the less you will have to pay toward mortgage default insurance. In this case, you may want to look at more affordable homes or tap into other financial sources, such as RRSPs to beef up your down payment and take advantage of a lower mortgage default insurance rate.
How to Avoid Or Eliminate CMHC Premiums?
When you put less than a 20% down payment towards the purchase price, the mortgage insurance is automatically worked into your mortgage. You can avoid paying this type of mortgage by putting in a minimum of 20% as a down payment. It is also possible to avoid CMHC insurance if you refinance your mortgage and leave at least 20% in the home.
You can save money by requesting a shorter amortization period. Generally, the longer the amortization period, the higher the risk for the lender. Thus, the insurance will likely be higher. Basically, higher risk equals higher fees.
CMHC insurance can also be reduced if you move to another house thanks to a portability option. This assists to reduce or get rid of the premium on a new insured mortgage to buy another house. With that being said, it is important to check with your lender to find out the exact terms and conditions of mortgage portability for a particular mortgage package.
You Might Also Like: How to Get Best Mortgage Rates in Canada
The Bottom Line
Although mortgage insurance sounds like a pain, it is actually a help to get you approved for a home loan that you might not be able to get. It can also help you obtain a slightly lower interest rate as the lender is protected under the policies. Thus, the more money you can put toward the down payment, the less interest rate your will be charged and less you will have to pay in the form of mortgage insurance.
At Lionsgate, we specialize in helping people obtain funding private mortgages for land purchases as well as for other real estate transactions. If you are looking to buy land in Canada, get a mortgage or apply for a loan, leave us a message and we will try to connect you with local realtors and sourcing for financing.