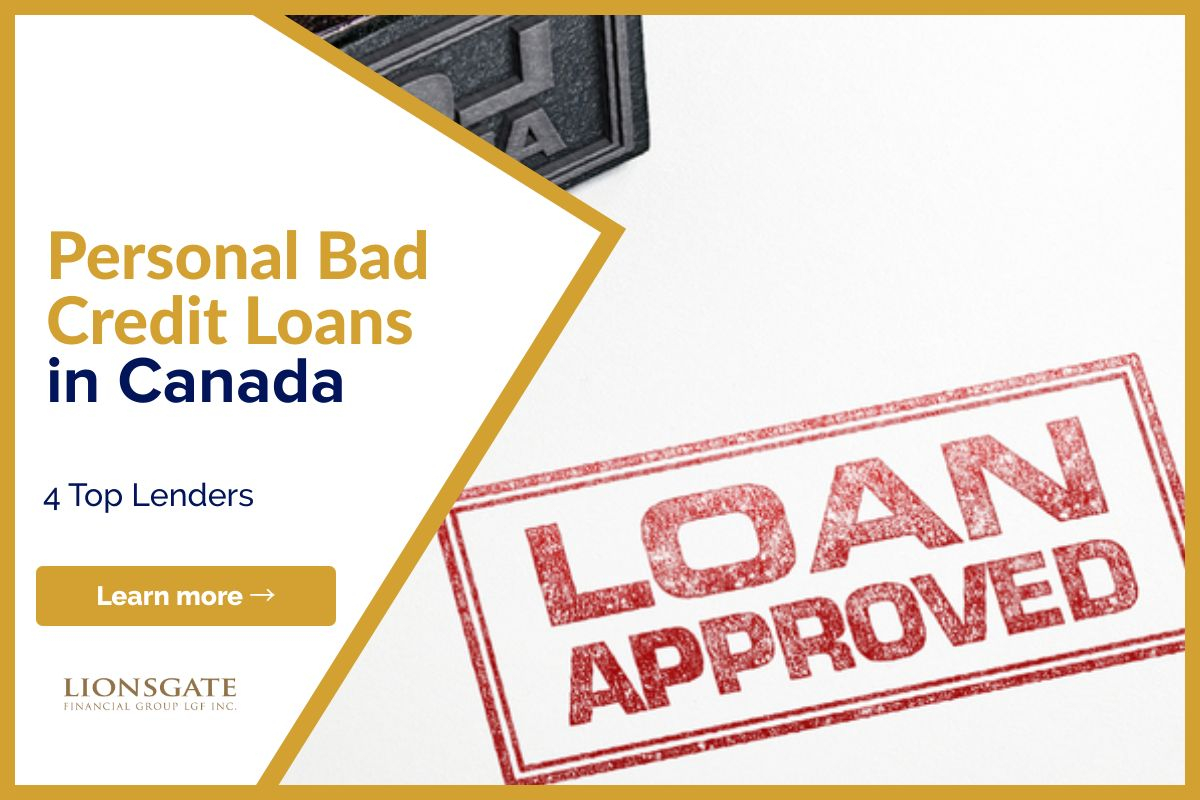 Personal Bad Credit Loans in Canada
Now you can listen to our blog, "Personal Bad Credit Loans in Canada" while on the go.
If you are searching for any kind of loan in Canada, your credit history will be one of the key factors that lenders will look at. This is a must-see thing before approving any loans. It is true for both personal and commercial loans. However, bad credit loans are not uncommon in Canada. In fact, there are many reputable countries that help you get a loan, even if you do not have a perfect credit score.
If you are interested in finding a list of the most trusted lending companies that work with bad credit situations, then keep reading. You will know everything about bad credit loans in Canada in this guide.
A bad credit personal loan in Canada can be obtained by filling out a quick online application. By taking out and successfully repaying a loan, you can begin rebuilding your history. Choosing the right lender for your bad credit loan is very important as it helps you start off on the right foot.

To start off, let's first find out what a bad credit loan is exactly.
What Is a Bad Credit Loan?
Whenever you will go for a personal fund, most lenders will ask you for credit history. If you need funds for a variety of expenditures like a mortgage, a medical bill, or a car, credit history is a must to provide. The reason behind this is that a lender issues the loan mainly on the credit history of a borrower. This credit history is distilled into a three-digit number known as the credit score, which provides a relative evaluation of the borrower's spending patterns and historical ability to repay debt.
Those who have higher credit scores are deemed to be more creditworthy and less risk for the lenders. Therefore, they enjoy privileges like lower rates and easier approvals for loans.
Read: Types of Canadian Loans You Must Avoid
However, what if a person does not have a good credit score? While securing a personal loan from a banking institution at that point is an uphill task. There are special debt instruments known as bad credit loans offered by various lenders that fulfill this purpose.
How Is a Credit Score Determined?
In Canada, there are two main credit reporting agencies: TransUnion and Equifax. While these are both separate companies with their own algorithms used to determine to credit scores of borrowers. The variables used can broadly be distilled into the following categories: payment history, outstanding debt, length of credit history, types of debt, number of credit inquiries on file.
Top Bad Credit Loans Provider in Canada
Mogo
Mogo offers a range of easy-to-use products to help you rule your finances while allowing personal loans of up to $35,000, free credit score monitoring, mortgages, identity fraud protection, and more. Their loan is designed to help you get out of debt faster, whether you have a good or bad credit score.
The interest rate starts at 29.99% and touches up to 47.72% for personal loans. The maximum amount you can borrow is $15,000 and that too for the maximum term of 12-60 months. To be eligible for it, you should be a Canadian citizen and must be of age in your province. You will have to provide online verification, bank statement, proof of income, and identification.
You can apply for Mogo Loans
here.
Fairstone
Fairstone is Canada's leading non-banker with roots in Canada since 1923. They offer flexible loan products that meet Canadian borrowing needs. Fairstone is known for its personal loans, home equity loans, and debt consolidation.
The interest rate starts at 19.99% and goes up to 39.99%. The maximum amount you can borrow is $30,000 for the term of 6 to 120 months. To be eligible for it, you should be in accordance with provincial requirements. You will be asked to provide personal identification proof of income and your housing information. Once you get approval, the money is transferred into the account in under 48 hours.
You can apply for Fairstone loans here.
SkyCap Financial
Founded in 2013, Skycap provides loans for financial situations that are out of control and can impact credit scores negatively. They open the door to you even when you have a bad credit history.
Skycap's interest rate starts at 12.99% and goes up to 39.99%. You can get the maximum amount of $10,000 and that too for the term of 9 to 36 months. For eligibility, you must be an over 18 years of age Canadian resident with a net income of over $1200 per month. You must not have an active Bankruptcy, consumer proposal, or debt consolidation program.
You will be asked to provide a valid government-issued photo ID, two most recent pay stubs, the last 90 days of banking transactions, the type of bill dated within the last 60 days, and a void cheque.
Click here, to apply for SkyCap Financial loans.
ConsumerCapital Canada
ConsumerCapital is an easy way to borrow between $1,500 to $12,500 to help you tackle your debt, pay for projects, and deal with life's unexpected situations. This is designed to help you stay in control of your finances whether you have good credit or bad credit.
The interest rate starts at 19.99% and goes as high as up to 34.99%. The loan term is 12 to 60 months. For eligibility, you should be over 18 years of age, and the minimum gross salary should be $20,000. If you are in a Bankruptcy or consumer proposal, your application will be denied. When applying, you will be asked to provide a government ID, proof of income, void cheque, and few other documents. Once you get approval, your funds will be transferred within 24 hours.
You can Apply Here for ConsumerCapital Canada loans.
You May Also Like: EasyFinancial: Get Short Loans With Bad Credit
The Bottom Line
In the end, you should be careful with bad credit personal loans in Canada, especially when going for bad credit personal loans. There are some lenders who do not check your credit and guarantee approval that is reputable.
If you want to find a lender that does not check your credit score, go with a trusted lender. The online world is full of dangerous loan-related scams, so be aware of it. Always go with a reputable lender and never pay anyone an upfront cost.
At Lionsgate, we specialize in helping people obtain funding private mortgages for land purchases as well as for other real estate transactions. If you are looking to buy land in Canada, get a mortgage or apply for a loan, leave us a message and we will try to connect you with local realtors and sourcing for financing.