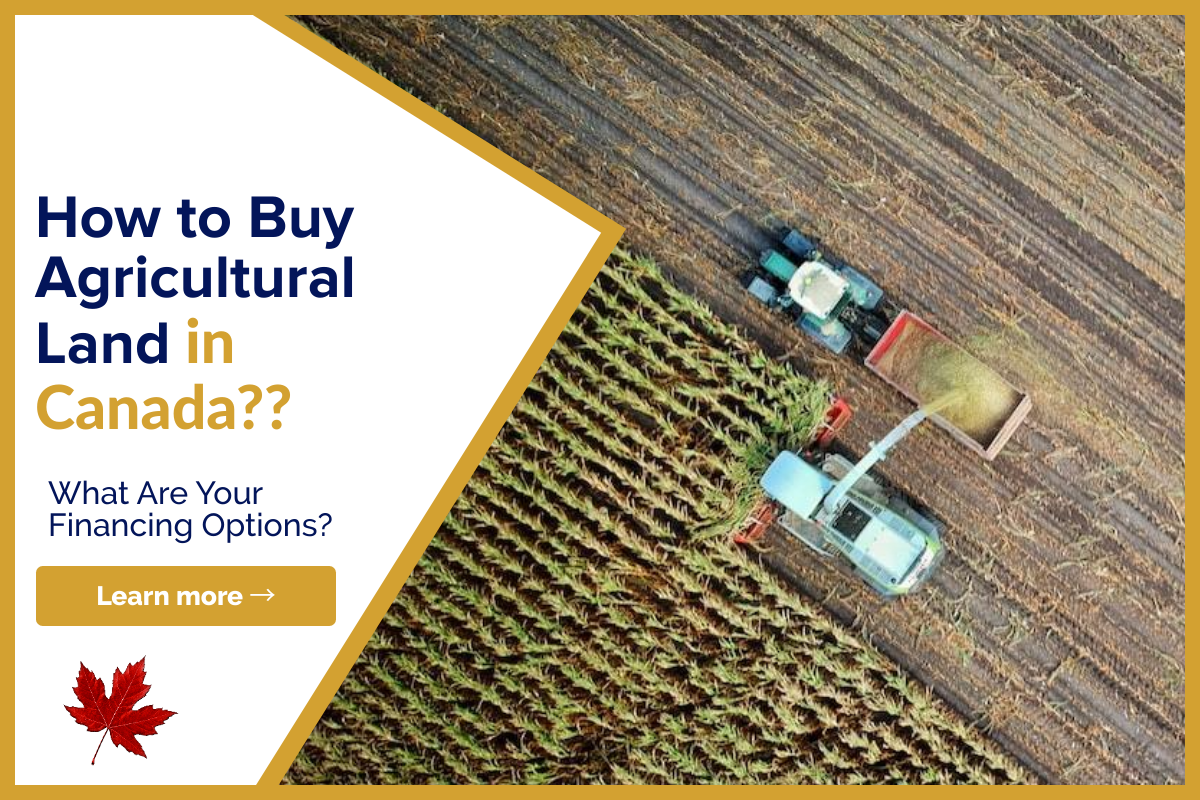 How to Buy Agricultural Land in Canada?
Now you can listen to our blog post, "How to Buy Agricultural Land in Canada?" while on the go.
Canada is a global leader in agriculture. It is one of the world's top producers and exporters of agricultural products, and the sector is crucial to the nation's economy.
There is something for every prospective farmer, from its principal crop of wheat, which is mainly farmed on the prairies, to the fruit orchards and vineyards of the lush Okanagan Valley and the dairy farms of New Brunswick and Nova Scotia.
A 34 per cent of the domestic and export market comprises grains and oilseeds, with 24 per cent going to livestock. Dairy farms account for 13% of the home supply, followed by horticulture at 9% and poultry and eggs 8%.
The number of farms in Canada is declining, but their area and the average age of the farmers are increasing, according to research published by Statistics Canada.
According to the analysis, which used data from the 2011 agricultural census, there were 74,000 fewer farms in operation between 1991 and 2011, but the average farm size increased from 80 to 315 hectares. This is assumed to be caused by the consolidation of individual farms when more experienced operators retire.
It is reasonable to expect that there will be an increase in the number of farm assets on the market at some point shortly, given these trends, which appear to be continuing, and the fact that the average age of farm operators has risen during the period from 47.5 to 54.0.
The above facts provide a promising future for the farmers. So, if you are interested in buying agricultural land in Canada, here are your options.
Insurance and Financing
Producers can receive a financial advance on the value of their agricultural products under the Advance Payments Program. Thanks to this, farmers can take advantage of the best market conditions, increase cash flow, and meet their financial responsibilities. Because the government guarantees loan repayment, borrowers can take advantage of lower interest rates.
The federal, provincial, and territory governments match donations made to the self-managed savings account known as AgriInvest. It enables farmers to save money for unexpected income gaps or to invest in risk management practices on their farms.
AgriInsurance shields farmers from the costs associated with output losses brought by natural disasters, including hail, drought, floods, and disease.
The Canadian Agricultural Loans Act Program provides farmers with up to $500,000 in federally insured loans for land purchases, building repairs, consolidation, and refinancing.
They claim that you need "Include a business strategy with your finance request and send it to Farm Credit Canada. You might also contact the Business Development Bank or your local development corporation."
Resources and Assistance
Canadian Young Farmers' Forum offers young and beginning farmers across Canada a variety of educational and professional development programmes. They provide management seminars, conferences, and support for 11 territorial and provincial organisations. They also link up young farmers from all over the nation to build a "strong network of young agricultural leaders."
An organisation called Farm Management Canada offers a multitude of materials to help Canadian farmers buy agricultural land and hone their management abilities. They cover all facets of managing a farm, including marketing, succession planning, human resources, company structures and agreements, health and safety, and business and financial planning.
A web-based tool called Community Information Database offers over 900 current socioeconomic and demographic variables.
Employment and skill development difficulties in contemporary Canadian farming are being researched and developed by the Canadian Agricultural Human Resource Council.
The non-profit Canadian Agricultural Safety Association works to enhance farmers', families', and employees' health and safety.
Although there are difficulties, many young people are entering the farming industry with novel ideas and business strategies, a concern for the environment, and an entrepreneurial spirit. New farmers are essential to the renewal and development of Canadian agriculture.
Three pieces of advice are offered by Ian and Diana: "First and foremost, develop a strong business plan based on an analysis of the needs in your area. Second, if you anticipate needing funding, arrange it beforehand by submitting your business plan to and receiving approval from a financial institution specialising in agriculture financing."
And finally, even if you intend to modify it to fit your particular design, buying an existing farm is typically more financially feasible than attempting to develop a new one.
Are You Looking to Lend Extra Funds? Let Us Help!
Are you struggling with your financial needs and need some extra cash? Lionsgate can help. Just fill out the form below, letting us know all your money or mortgage requirements, and we will find the best lender for you. Amazing thing? The process is free, and you can quit it at any time.
We have a team of experts that analyze your requirements and pick the best lender for you with prudent advice.
Note: Please give your authentic information while completing the form below.
If you found this article helpful, please share it with someone you care about. Also, visit our blog to read similar helpful articles on finance, real estate, and getting mortgages.