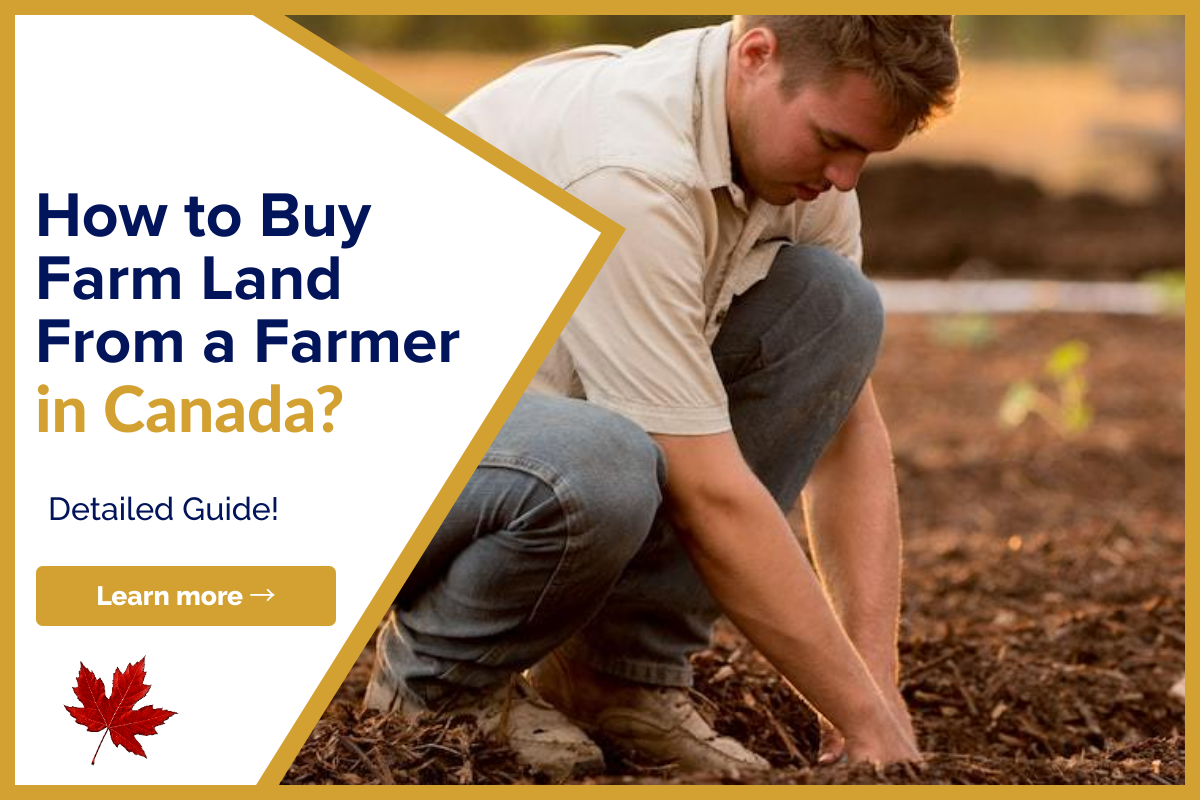 How to Buy Farm Land From a Farmer?
Now you can listen to our blog post, "How to Buy Farm Land From a Farmer?" while on the go.
One of the most thrilling and stressful processes you'll go through is buying a farm. Your business plan is prepared, the deposit is sitting in your bank account, and you will already be running a successful farming enterprise if given a chance. Let's talk about the things you should consider before signing on the dotted line before you start calling realtors.
Consideration Before Buying a Farm
Have you scheduled a time to visit the bank yet? A fantastic initial step is to get pre-approval on your business plan. This informs you of your actual financial capacity. A company plan, personal tax records, and other financial documents are required to demonstrate that you have the cash flow to qualify for a mortgage.
You'll also need an additional 20% down payment in your savings account. You need to be signed paperwork with the gift's dollar value if you want to receive the deposit from a different source. Typically, banks won't permit you to borrow any amount of money that is greater than 85% of the purchasing price. For instance, if your grandma lends you the money for the deposit and demands repayment in 10 years, you run the danger of being turned down. You'd have to persuade your grandmother to give you the cash as a present without expecting anything in return.
Generally, your mortgage payment shouldn't be more than 36% of your household's post-tax income. This is why having revenue from outside the farm is crucial. You will have some flexibility with this amount if you currently operate a farming operation or wish to buy one. To assist you in calculating the mortgage payment, there are many calculators available online.
Remember that your down payment covers the remaining 20% after accounting for the 80% mortgage. Always include in at least 0.5% more interest when performing computations. Additionally, the bank will put you through stress tests, which measure how well your income would fare in the event that interest rates rose. You'll feel much more at ease in the long run if you build your farm buying budget on a higher interest rate.
Before your visit, do some research on loan options and interest rates. The bank is in your area to sell you a loan as its product. It benefits them to keep you paying interest for as long as they can. A bank mostly cares about how much interest you can pay them, not how successful you are as a farmer.
You can find it difficult even to get an appointment if your farm budget is $500,000 or less because most agriculture services departments won't find you intriguing at that level. I think you should research the Canadian Agricultural Loan Act (CALA) and consider a small business department mortgage. As a new, young farmer, credit unions are typically a superior option for funding.
How to Buy Farm from Farmer?
Okay, now that you are clear on the finances and the small print, you can move forward with your search for a farm. You ought to take into account a variety of characteristics when evaluating potential farms. The best advice I can give is to decide the area you want to farm in first. The land's cost and the market's availability should guide this choice. What kind of land costs you can afford will depend on your budget, but normally anything costing more than $5,000 per usable acre would put you in financial strain. You can get an idea of where you might be able to find an affordable farm by reading the brief summary of farm statistics by the province at the bottom of the page.
Market access is a crucial factor to take into account. For instance, because the milk trucks don't go there, milking dairy goats outside of a small number of places is practically difficult. If you are marketing your cattle that way, your transportation costs will go up because some regions are more than a day's travel from the nearest sales barn. Grain elevators are not readily available in other areas.
You should also consider who in the area can provide feed, veterinarian care, and mechanical repairs. Some regions are reliant on just one or two providers, which usually results in higher feed and crop input costs.
Be sure to research the soil and climate of the selected area. Canada has a system for classifying its land, with numbers ranging from 1 to 6, with 1 denoting the best land and 6 denoting a swampy area covered with water. The system is based on outdated maps, although HERE users can access them. The maps remain a reliable tool for determining whether a farm would suit your needs.
Additionally, you can obtain soil type maps from the regional agriculture ministry office or find them in most provinces. You can use these maps to choose potential farms in your area that might meet your demands. Maps, a completely interactive website operated by the province of Ontario, displays every relevant factor, including land class type, soil type, and existing drainage. You should also look at the heat units map and the plant hardiness map. These maps will demonstrate the growing season's length and the area's potential crops.
Looking at long-term forecasts for temperature, rainfall patterns, and snow cover might also be helpful because climate change is a hot topic. Google searches typically yield information on historical and projected changes in rainfall and drought danger. When buying a farm, speaking with local farmers is a fantastic source of information. They can determine whether the land has been overgrazed frequently or if it is constantly flooded in the spring.
You can contact the realtor and begin searching at farms once you've chosen the area that best fits your farm plan and financial situation. There are many excellent websites that list the farms that are for sale. Informing other farmers that you are looking for farms can occasionally lead to discovering treasures that aren't yet on the market.
I would advise working with just one agent to ensure that your real estate agent represents you, not the vendor. They can locate details like drainage maps and zoning concerns and present you with various listings. As always, do your research and never blindly believe anyone.
Need Some Quick Cash? Let Us Help!
Are you struggling with your financial needs and need some extra cash? Lionsgate can help. Just fill out the form below, letting us know all your cash or mortgage requirements, and we will find the best lender for you. Amazing thing? The process is free, and you can quit it at any time.
We have a team of experts that analyze your requirements and pick the best lender for you with prudent advice.
Note: Please give your authentic information while completing the form below.
If you found this article helpful, please share it with someone you care about. Also, visit our blog to read similar helpful articles on finance, real estate, and getting mortgages.