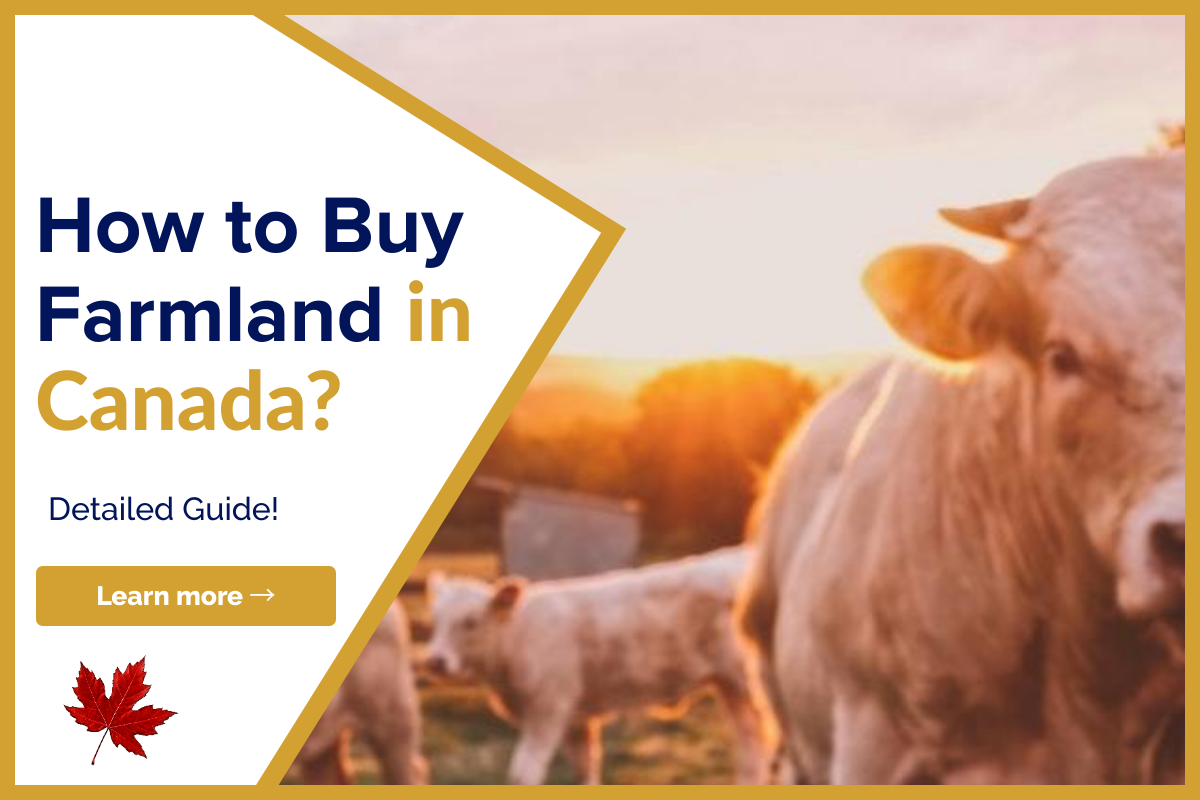 How to Buy Farmland in Canada?
Now you can listen to our blog post, "How to Buy Farmland in Canada?" while on the go.
Before making an offer, foreign investors looking to purchase farmland in Canada should speak with their attorneys. Foreign persons or businesses can only acquire a certain amount of acres in some provinces. In contrast, non-residents can purchase agricultural land in other regions without restrictions.
What are good ways to buy a farm in Canada?
According to Saskatchewan, the province has roughly 1.75 square kilometres per inhabitant. It is broad and level. Because it's so flat, W. O. Mitchell, a local author, once claimed that when an explosion happened there many years ago, no one could scrape up enough soil to fill the hole.
A true farmer wouldn't even bother turning on his tractor to work that land. There must be a much larger enterprise behind that farm. Reside in a remote area of Canada. You must be ready to make some sacrifices, put up with inconveniences from time to time, and go longer to obtain basic necessities and conveniences.
How to Buy Farmland in Canada?
Below is the detailed process of buying farmland in Canada.
British Columbia
No laws in British Columbia prohibit foreigners from owning agricultural land. However, British Columbia has a body that controls non-agricultural uses of some farmland. A total of 4.7 million hectares of land in British Columbia have been added by the Agricultural Land Commission to the Agricultural Land Reserve, a region of the province where agriculture is prioritised.
In a report published in November 2010, the Agricultural Land Commission observed that concerns about foreign ownership of land in the Agricultural Land Reserve were expressed during stakeholder talks on ways to strengthen the agency. However, neither the 2010 report nor more recent works by the Agricultural Land Commission advocate for passing new laws to enforce control over land ownership. Therefore, it is not anticipated that British Columbia's laws governing foreign ownership of agricultural land would alter very soon.
Alberta
The law in Alberta limits foreign ownership of agricultural property (apart from mining and minerals) to two lots totaling a combined 20 acres. These rules only apply to Canadian citizens, permanent residents, and Canadian-incorporated businesses that are controlled by Canadians. A court may order the judicial sale of a foreign owner's interest in the land if the foreign person or company obtains the interest in violation of the rules.
However, the law does not apply to some commercial land uses, such as purchases made for the following purposes:
any activity for which The Surface Rights Act (Alberta) may grant a right of entry order; establishing an industrial, processing, manufacturing, commercial, or transportation facility, if the area for any separate facility does not exceed 80 acres; building a pipeline, refinery, transmission line, or power plant; extracting sand, gravel, clay, or marl, if the area for any separate project or development does not exceed 160 acres; and establishing a pipeline.
However, the owner must dispose of its stake in the land three years after the fulfilment or abandonment of that objective.
Saskatchewan
Non-residents in Saskatchewan can purchase up to 10 acres of farmland (excluding minerals and land used primarily to extract, process or transport minerals). Citizens of Canada or anyone who stays there for at least 183 days per year are referred to as "residents."
Foreign-controlled businesses and other entities are limited to 10 acres, but entities partially owned by non-residents but under the authority of Saskatchewan residents or their farming corporations can purchase up to 320 acres of agricultural property. The Farm Land Security Board may approve the purchase of more than 10 acres by such foreign organisations on whatever terms and conditions it deems suitable. When granting exemptions, the Board considers the public interest and any potential effects on Saskatchewan.
A fine of up to $10,000 for an individual and up to $100,000 for a corporation may be imposed for breaking the law. The Farm Land Security Board may order the sale of land by a foreign owner and get a court order to help with enforcement, such as an injunction, a nullity declaration, or a judicial sale.
Manitoba
According to Manitoba law, foreign individuals and organisations are permitted to purchase up to 40 acres of farmland, unless the board2 authorises an exception or unless the farmland is bought to produce wind power to sell to Manitoba Hydro. Minerals (other than sand and gravel), land used to harvest or process such minerals, and property used for pipeline, railroad, and telecommunication facilities are not considered to be "farmland."
The Manitoba Farm Lands Ownership Board will consider whether the acquisition is expected to result in a major benefit for the province or if the applicant plans to settle in Manitoba within a reasonable amount of time when evaluating applications for exemptions.
In Manitoba, only the following people are allowed to make unrestricted land purchases:
Municipalities, local government districts, and governmental organisations; private corporations and other entities that are 100% Canadian-owned; individuals who demonstrate to the satisfaction of the Manitoba Farm Lands Ownership Board that they intend to become permanent residents or Canadian citizens within two years of acquiring the interest in farmland. These entities include Canadian citizens and permanent residents.
Any foreign entity purchasing more than 40 acres must sell the extra land within a year. The Manitoba Farm Lands Ownership Board may ask a judge to rule in favour of a judicial sale or the cancellation of a property interest. An individual who violates the law may be subject to a fine of up to $50,000.
Ontario
Ontario's 2005 Provincial Policy Statement, issued under the Planning Act, governs agricultural land-use planning in Ontario. Investment in agricultural land is not restricted by the policy statement or the law in Ontario.
However, planning authorities limit use and lot modifications in prime agricultural regions, which are identified using the Canada Land Inventory's classification system.
A five-year policy statement review is mandated by law for the minister of agriculture. The government is presently taking comments on proposed policies following the start of that review in March 2010. There are currently no planned changes to the law governing foreign ownership of agricultural land.
Québec
In order to purchase more than 4 hectares (or around 10 acres) of farmland in Québec, non-residents must obtain permission from the Commission de protection du Territoire Agricole du Québec.
Foreign investors' access to agricultural land has been further constrained by recent changes to the law. According to the new regulations, a person must be a citizen of Canada or a permanent resident and have spent at least 1,095 days (or three years) of the four years immediately preceding the purchase of farmland in Québec.
Suppose the majority of a company's shares or interests are held by Québec residents. In that case, the majority of the company's directors are Québec residents, and the company is not directly or indirectly controlled by non-residents; the company is considered to be a Québec resident.
The Commission will provide an authorisation after taking into account a request for the purchase of farmland by a non-resident if:
Alternatively, the non-resident who plans to settle in Quebec will do so for three out of the next four years and become a Canadian citizen or permanent resident after that time. The land in question is not appropriate for the cultivation of the soil or the keeping of cattle.
The revisions also cap the number of hectares non-residents buy yearly. Only 1,000 hectares of farmland may be purchased annually by foreign corporations or individuals who do not plan to settle in Quebec. However, the Commission may consider further applications.
Any purchase of farmland in Quebec made in violation of the law is void. The Commission has the authority to order a non-resident to sell their farmland within six months of receiving the order; if they fail to do so, they must petition to have the land put up for judicial sale. A fine of at least 10% of the value of the farmland for an individual or at least 20% in the case of a corporation or other legal person may be imposed for knowing to purchase or selling farmland in violation of the law.
Need Some Quick Cash? Let Us Help!
Are you struggling with your financial needs and need some extra cash? Lionsgate can help. Just fill out the form below, letting us know all your cash or mortgage requirements, and we will find the best lender for you. Amazing thing? The process is free, and you can quit it at any time.
We have a team of experts that analyze your requirements and pick the best lender for you with prudent advice.
Note: Please give your authentic information while completing the form below.
If you found this article helpful, please share it with someone you care about. Also, visit our blog to read similar helpful articles on finance, real estate, and getting mortgages.