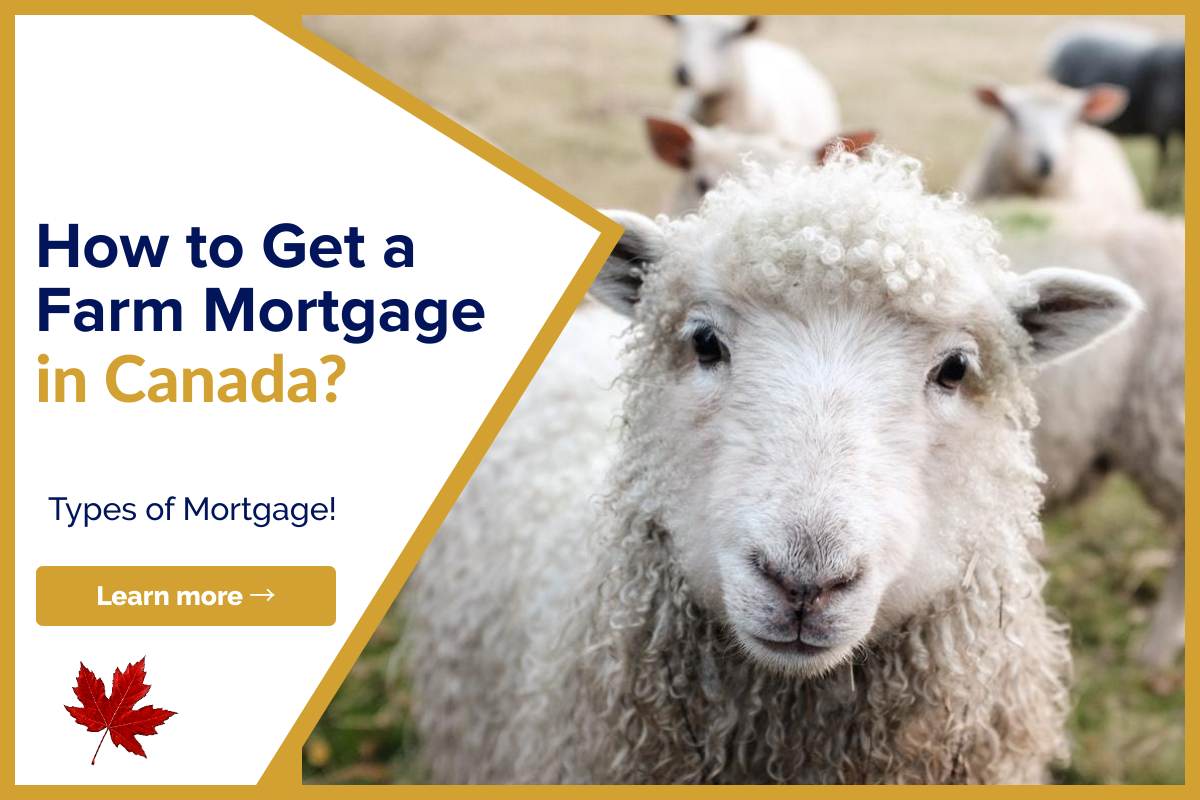 How to Get a Farm Mortgage in Canada
Now you can listen to our blog post, "How to Get a Farm Mortgage in Canada", while on the go.
Canada has long been committed to supporting its rural areas. Although a sizable portion of the rural population in Canada resides in the three prairie provinces of Alberta, Saskatchewan, and Manitoba, there are ranches, nurseries, agricultural cooperatives, and farms of various kinds spread out across the nation.
For instance, Quebec has the largest dairy farms in the country and produces more than 30 million hectolitres (100 litres) of milk annually. Prince Edward Island provides about 25% of Canada's potatoes. Under the correct conditions, farming and agriculture can be gratifying and successful businesses. So, if you like working outside and have the stamina to wake up at four every morning, seven days a week, farming might be your career path.
But starting and running a profitable farm of any kind is never easy, and it's certainly not cheap. A farm requires continual attention and management, and getting a mortgage for it is a chore in and of itself. Many lenders won't grant money to just anyone who walks in the door with a plot of land in mind because farms require such attention and labour to stay afloat.
In reality, the mortgage approval procedure for any rural property—whether for farming or residence—tends to be a little more involved and expensive than it is for the typical suburban home. Don't let this deter you from following your aspirations, though, if you want to be a farmer trying to establish your reputation. It is possible to obtain a farm mortgage for a remote property, and we'll show you how.
What Distinguishes a Farm Mortgage from a Regular Acreage Mortgage?
According to recent surveys, housing costs are rising across numerous Canadian provinces. In fact, living in some urban areas has become so expensive that many residents are forced to leave the city in pursuit of more inexpensive housing, such as Greater Vancouver. After all, houses are more costly the closer you are to the Pacific Coast, so moving out to the country may be the only option for those hesitant to leave the province.
Often, purchasing a piece of undeveloped property in a place like Chilliwack and building a house there might be less expensive than taking out a mortgage on an existing house in Vancouver. By purchasing that rural property, constructing a home on it, and then selling the entire thing when the value of the land ultimately increases, you might even be able to turn a respectable profit.
Fortunately, residents of British Columbia can choose from a wide variety of rural towns in the province. However, you don't necessarily have to build a barn and stock it with horses if you mortgage a rural property. A few key distinctions exist between residing in a rural home as your primary residence and using it for commercial purposes.
The property's intended use is the crucial distinction between a farm mortgage and an "acreage" mortgage. Simply put, purchasing a rural property for farming differs from doing so for residential ones. With either type of mortgage, the borrower can choose to mortgage a property that already has a home or a piece of "raw land" (a property without any buildings) to build a house.
How to Get Acreage Mortgage?
Regular acreage mortgages often require the land to be no larger than 10 acres and cannot be used to make a profit. Borrowers wishing to buy either vacant land or land with a house already constructed on it can put down as little as 5%, just like with a typical mortgage (depending on their lender).
Additionally, if they put down less than 20%, they will be required to buy default mortgage insurance, just like a typical high-ratio mortgage. It will also be simpler to obtain a mortgage for a conventional acreage property because, in the case of a borrower failing, the lender only needs to offer them three months to leave the property before foreclosing, as opposed to the full twelve months on a farming property.
How to Get Farm Mortgage?
The mortgage approval process for farming properties will be a little more complicated. First, a down payment of 25% or more is typically needed for farm mortgages. When a borrower intends to use the land for farming, the lender will incur significantly more risk. After all, finding a working agricultural operation would need far more time, money, and resources than financing a regular home, so the borrower might find it more challenging to make their mortgage payments.
Borrowers/land investors are allowed to purchase as many acres of land as they choose when it is up for sale when it comes to any type of farmland. These borrowers may, however, only be able to obtain a mortgage for the first 10 acres, frequently with one house and one garage included in the agreement, depending on their lender. Unless they put down a significantly higher down payment, any additional land or structures beyond the one house and garage will be paid for out of their own pockets.
Program under the Canadian Agricultural Loans Act
The CALA Program is the most popular programme for guaranteed loans utilised by borrowers seeking a mortgage for farming or other agricultural uses. This government-supported initiative was established to assist farmers and agricultural cooperatives, commonly referred to as "farmer's co-ops," in obtaining loans to start and expand new farms or upgrade their current ones.
Farmers' cooperatives can use these loans to produce, sell, and distribute agricultural goods. These loans are often issued and managed by mortgage lenders such as banks, credit unions, and "Caisses Populaires" (Quebec credit unions). They are typically disbursed within 60 days of being approved.
A single farm operation can obtain a loan through this programme for up to $500,000 to invest in land, farming machinery, and the construction and/or improvement of farm buildings. For instance, a farmer may obtain an additional $150,000 to buy a plough or other equipment for his fields or livestock, even if he requires $350,000 to pay for the construction of a barn and grain silo.
A further $350,000 may be made available to the same operation for other loan purposes, such as consolidation or refinancing. A single agricultural cooperative may be granted a loan for their business of up to $3 million with the minister of finance's consent. This loan guarantee programme also benefits the lender because the Canadian government will cover up to 95% of the net loss on a Canadian agricultural loan.
Need Some Quick Cash? Let Us Help!
Are you struggling with your financial needs and need some extra cash? Lionsgate can help. Just fill out the form below, letting us know all your money or mortgage requirements, and we will find the best lender for you. Amazing thing? The process is free, and you can quit it at any time.
We have a team of experts that analyze your requirements and pick the best lender for you with prudent advice.
Note: Please give your authentic information while completing the form below.
If you found this article helpful, please share it with someone you care about. Also, visit our blog to read similar helpful articles on finance, real estate, and getting mortgages.