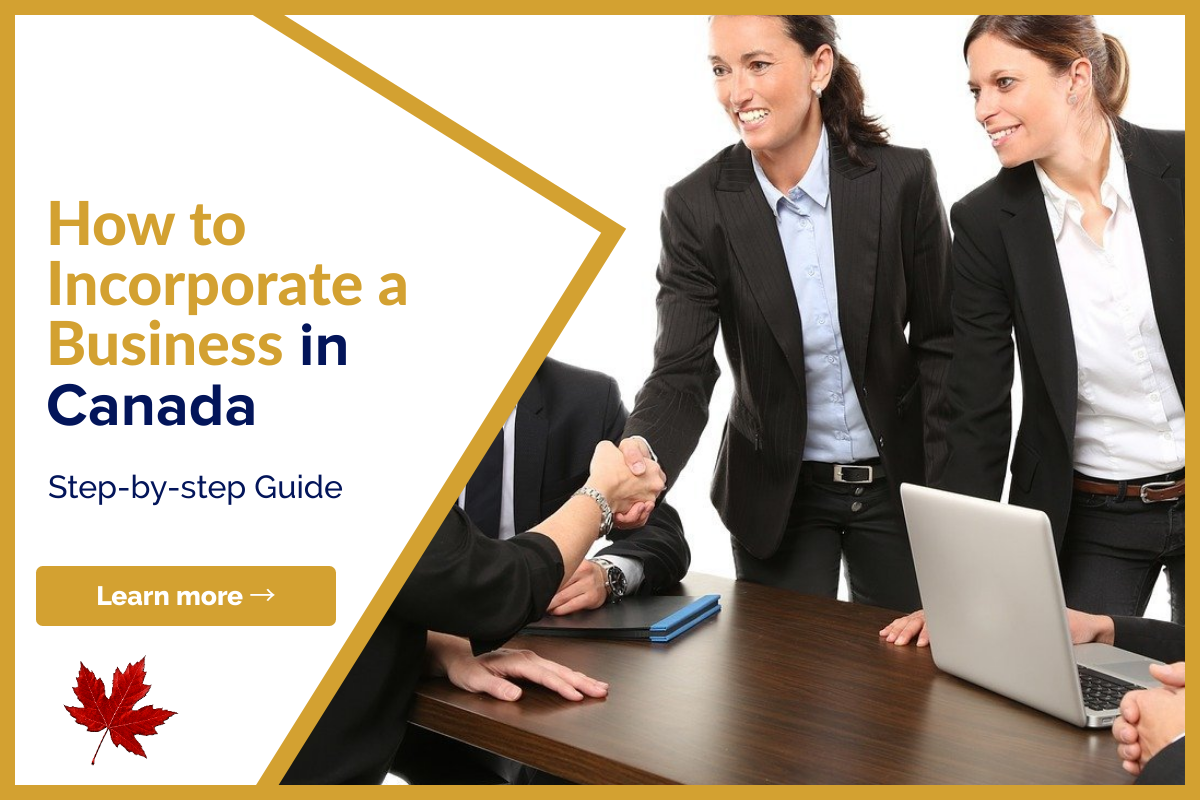 How to Incorporate a Business in Canada
Now you can listen to our blog post, "How to Incorporate a Business in Canada" while on the go.
If you are a business owner in Canada, then you might already know the business ownership structure. However, just in case, there are three modes of business in Canada including sole proprietorship, partnership or incorporation. Incorporation is one of the popular decisions among Canadian owners as it has notable and extensive advantages. If you are looking to learn more about what a corporation is and how to incorporate a business in Canada, this guide is for you.

Let's first understand what does it means to incorporate your business in Canada.
What is Incorporating Your Business in Canada?
Incorporating is a type of business ownership that involves creating a separate entity. In simple words, a corporation is accepted as a person in the eyes of the law and government. Unlike partnerships and a sole proprietorship, a corporation is completely different from its owners or shareholders.
A corporation can either be public or private. A public corporation is traded on a stock exchange like Toronto Stock Exchange (TSE). A private corporation, on the other hand, is any other business that is not traded on a public stock exchange.
How to Incorporate in Canada
Incorporating a business in Canada is a rather simple process; the most painful aspect will most likely be the fees! The steps for forming a company in Canada are outlined below.
Choose a Company Name
This stage is optional, however, it is helpful for people who currently have a business and want to incorporate it. If you have a business name in mind, you should first check to see if it's available. If it's not available to reserve through a NUANS report, you'll have to come up with a new name.
Don't worry if you don't have a business name yet. Instead of choosing a name, you can incorporate your company using a government-issued number. If you want to give your company a trading name in the future, you can always do so.
Obtain a BN (Business Number) or a Quebec Enterprise Number (NEQ)
For as long as your firm operates, which might be indefinite, a business number identifies your company to federal and provincial agencies. If you incorporate in Quebec, you will be issued an NEQ rather than a BN.
Incorporation at Federal or Provincial Level
You can choose to incorporate on a federal or provincial level in Canada. A federal corporation permits you to do business in all provinces and territories under the same name. Federal incorporation, on the other hand, comes at a cost and requires a little more effort to set up and manage. You can only operate within your province or territory if you incorporate provincially. The choice you select will be influenced by the extent of your work and your long-term goals.
Fill out a GST/HST registration form.
If your total annual revenue is $30,000 or more, you must register for a GST/HST account with the government. Even if you don't meet this condition, you can still register with the government for a GST/HST account. Some business owners prefer to register because the government reimburses the sales tax they pay. Remember that if you collect sales tax from your customers, you will have to reimburse the government. If your business is located in Quebec, you must register with Revenue Quebec.
Pros and Cons of Incorporation
Incorporating a business in Canada has its corresponding advantages and disadvantages. Below are the pros and cons of incorporation in Canada.
Pros
Credibility: Many corporations and institutions will not enter into contracts or agreements with unincorporated entities. A company that is incorporated has more legitimacy.
Tax advantages: The small business deduction and certain deferred tax payments are only a few of the perks available to firms in Canada's tax system.
Infinite Lifespan: It is a term that refers to a person's ability to live Even when its owners die, a corporation continues to exist.
It's easier to raise funds and expand: It is easier to raise funds and drive corporate growth by selling shares and equity.
Ownership can be transferred: A business's ownership can be readily transferred by selling it or organising a succession.
Splitting your earnings: It is possible to divide your earnings between corporations. Because you have complete control over who receives dividends, you will pay less tax as a group or family.
Keeps your personal and professional obligations separate: You handle all of your personal matters, and through business incorporation, you handle all of your business affairs as well. This means you are not personally liable for the corporation's debts or activities. Separating your personal and business duties is advantageous since it protects your personal cash and assets (click here to learn about using a personal credit card for business expenses). Even the most successful business owners can face financial difficulties; nevertheless, forming a company can safeguard you from a major setback.
Cons
Expensive: The term "expensive" here alludes to the extensive use of both money and time. Incorporating and maintaining a firm costs more money in the long run. Furthermore, keeping up with all of the paperwork that comes with operating a business, especially for small businesses, can be difficult and time-consuming.
Personal Tax Credits are not available: Personal tax credits can only be claimed on a personal tax return, not a business tax return. This could mean that incorporating will result in you paying more tax.
The process of dissolving a corporation: You may choose to dissolve your corporation at some point. This procedure can be hard and time-consuming to administer.
Want to Incorporate A Business in Canada Now?
If you're ready to incorporate, go to the federal or provincial or territorial incorporation website right now and fill out the paperwork. While filing online is usually the simplest way to incorporate, if you're unsure how to finish the application or want more information or support, you may benefit from visiting a government facility.
The Bottom Line
At Lionsgate, we specialize in helping people get the extra cash they need, obtain funding for private mortgages, as well as for other real estate transactions. If you are looking to buy land in Canada, get a mortgage or apply for a loan, fill out the form below. Or, You can leave us a message and we will try to connect you with local lenders and sources that best meet your needs.
If you found this article helpful, please share it on your timeline and with someone you care about. Also, visit our blog to read similar helpful articles on finance, real estate, and getting mortgages.