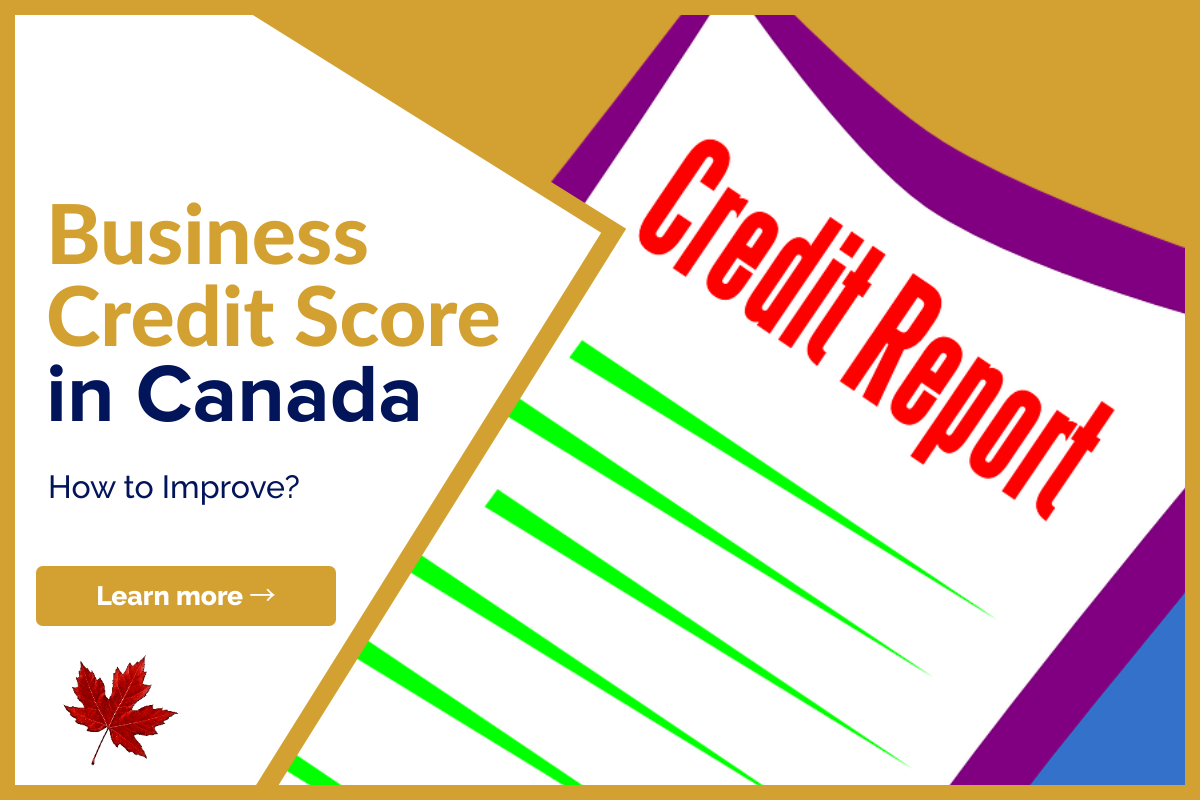 Canadian Business Credit Score
Now you can listen to our blog post, "Canadian Business Credit Score and Report" while on the go.
If you are a consumer in Canada, you may already know how important is a personal credit score and report. But did you know that business owners in Canada also have a business credit score and report? If you are a business owner in Canada, it is important for you to know and understand this. This is because the success and growth of any business depend on its credit score and report. So, if you are new to this and looking for a complete guide on Canadian Business Credit Score, this is your place to be.
What is a Canadian Business Credit Score?
Similar to a personal credit score, a business credit score is a measure of the creditworthiness of any business. However, they work much differently than the personal credit scores. So, it is important for you to understand all the characteristics of business credit scores in Canada.
Business Credit Scores are Public
To check a personal credit score, authorization is necessary from the individual. It is important because of consumer protection regulations. However, these regulations do not apply to businesses, which means anyone can check your business credit report as long as they pay the necessary fee. Having said that, it is important for a business owner to monitor and sustain a business credit score regularly.
It's Difficult to Get a Good Business Credit Score
Business and personal credit ratings are similar in that they take time and work to build. To improve your business credit score, get a line of credit in your company's name, only use 20% to 30% of your available credit, and pay your invoices on time or ahead of schedule. The sooner you begin to improve your credit score, the better. It's difficult to establish credit for a business quickly, and you never know when you'll need to use it.
Credit Scores in Multiples
Equifax, Dun & Bradstreet, and TransUnion are the three main credit bureaus for businesses in Canada. Because each credit bureau calculates your score in a different way, your company will have many scores. Furthermore, credit bureaus offer a variety of credit ratings; for example, Equifax offers a credit risk, business failure, and payment index score.
Business credit scores, unlike personal credit scores, often range from 0 to 100. The range of your score, however, may vary if the credit agency maintains different sorts of scores for the same organisation.
Credit Checks by Lenders
Potential lenders may frequently evaluate the personal credit scores of business owners in addition to the business credit score unless your company has been in operation for several years and has excellent credit scores. If you're looking for company finance, most lenders will require a personal guarantee. A personal guarantee indicates that even though the loan is in the company's name, you are still accountable for it.
Because potential lenders will almost certainly look at your personal credit score, it's a good idea to keep it as high as possible. You don't want to provide potential lenders with a reason to refuse down financing or favourable loans for your company.
What is a Business Credit Report in Canada?
A company credit report is structured differently from a personal credit report. Business credit reports are more complicated than personal credit reports, as the subsections below demonstrate.
Business Information: The legal name, address, and phone number of the company are all given here. A section containing additional company data, such as the number of employees and sales volumes, is also included.
Score Summary: This part offers a concise summary of the business's score using graphic graphs. Below this area, there is another section that shows the report's specifics, such as the number of accounts, credit limits, collections, legal items, and other information.
Score Details: This section goes into great detail on the factors that go into calculating a credit score.
Summary of the Industry: This section contains information about the company's industry as a benchmark to help you better understand the company's activities.
Company Details: This part contains a wealth of information on the company, including information on specific activities such as returned checks, accounts in collections, legal information, inquiries, and banking, among other things.
How to Improve Your Company's Credit Score
Building credit for your business can be difficult, but if the appropriate habits and processes are implemented early on, your company will be on its path to good credit. Credit scores for businesses are important since they may help you get your company off the ground and keep it thriving.
Divide your Finances
Having separate accounts for personal and business reasons is a smart idea whether your company is incorporated or a sole proprietorship. By keeping your business credit score separate from your personal credit score, you can ensure that your business credit score is clean, accurate, and reflects the business's activity rather than your personal activity. You don't want the business's activities to affect your personal score and vice versa.
Establishing a Business Credit Account
It's time to open credit accounts and lines of credit for your business now that you've split your money. You will establish your organisation as a reliable borrower if you use credit accounts wisely. The better you manage your credit, much like your personal credit score, the more financially stable and excellent for lending you will be recognised.
Always pay on time or ahead of schedule
The better you are at paying on time, the better your credit score will be, much like with personal credit scores. The same is true for company credit scores, with one exception. Paying on time will not result in a flawless credit score. You must actually pay before the deadline if you want your score to be the best it can be. Set reminders on your phone and in your calendar so you don't forget to pay on time or ahead of time.
Maintaining Accurate Data
Checking your credit score and report as a business on a regular basis will help you find and correct mistakes. This is critical for your business credit score because it will expose any potential fraud and ensure that you are not turned down by lenders because of erroneous information. If your personal information changes, notify the credit bureaus so that anyone looking at your credit report has the most up-to-date information.
Your company's credit scores and reports play a crucial role in its growth and success. They are not only advantageous for growth, but they are also useful when doing business with other businesses and seeking further capital.
The Bottom Line
At Lionsgate, we specialize in helping people get the extra cash they need, obtain funding for private mortgages, as well as for other real estate transactions. If you are looking to buy land in Canada, get a mortgage or apply for a loan, fill out the form below. Or, You can leave us a message and we will try to connect you with local lenders and sources that best meet your needs.
If you found this article helpful, please share it on your timeline and with someone you care about. Also, visit our blog to read similar helpful articles on finance, real estate, and getting mortgages.