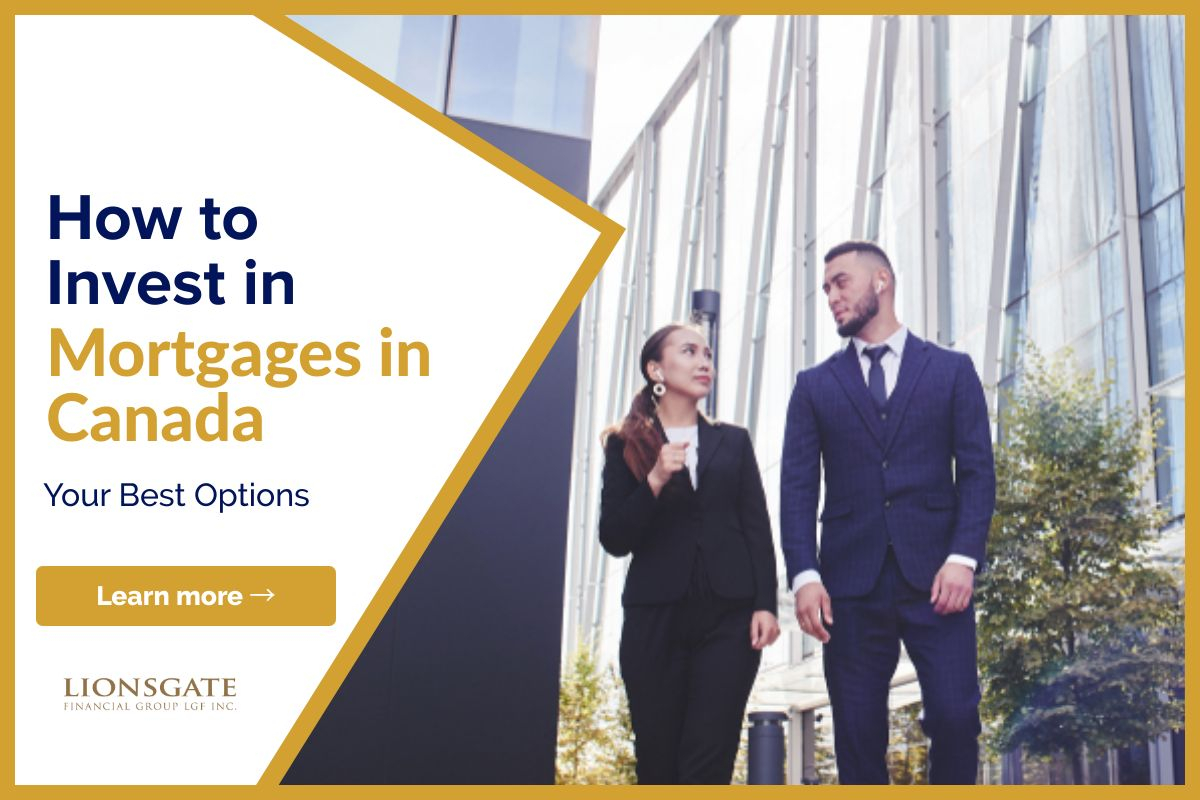 How to Invest in Mortgages in Canada
Now you can listen to our blog, "How to Invest in Mortgages in Canada", while on the go.
More and more investors are considering the mortgage market today in order to invest their money. Investing in private mortgages allows you to receive a steady stream of income while diversifying away from stocks and bonds. You do not need to be a corporation or a business to become a private mortgage lender. Even if you are a private investor, you can invest individually in mortgages or invest in a pooled fund with other private investors.
But the question can arise here: why invest in private mortgages? The one-line answer to this is because a private mortgage allows you to receive a higher rate of return than other investment options. However, it is important to mention here that private lending can come with higher risks as well.
This investment in mortgages is possible due to the mortgage investment corporation (MIC).

These corporations pool funds from a large number of private investors to lend out as private mortgages. Same as purchasing stocks, a person aiming to invest in private mortgages can simply purchase shares of a MIC. A few MICs that are publicly traded on the Toronto Stock Exchange (TSX) include Atrium Mortgage investment corporation, MCAN Mortgage Corp, and Timbercreek Financial.
But what exactly is MIC and how it works?
What is a MIC?
A corporation is considered as MIC only if its operations are to invest funds in property, and not to manage or develop the property. This means that a MIC cannot be a property manager or a real estate developer. It must have 20 or more shareholders. Also, no individual shareholder should hold more than 25% of the MIC's issued shares.
MICs invest only in properties that are located in Canada, and at least 50% of a MICs portfolio should be invested in Canadian residential mortgages, cash, or insured deposits.
How Do MICs Earn Money?
They earn it through dividends. Few MICs issue preferred shares that act like bonds by providing a fixed dividend rate. The income earned by MICs is not liable to corporate income tax. Rather, investors of the MIC pay tax on the dividends as interest income and not as dividend income. This enables MICs to act as flow-through entities. Since these corporations are not taxed, they must distribute their income out to their investors as a dividend.
Once you know how you can invest in the private mortgage through MICs and how these corporations function, let's explore some of the best corporations on which you can rely with your money.
Read More: Types of Canadian Loans You Must Avoid
Best Mortgage Investment Corporations in Canada
Atrium Mortgage Investment Corporation
Listed in the Toronto Stock Exchange (TSX) under the ticker symbol TSX: AI, the size of this corporation's average mortgage is 4.7 million. It can range from $300,000 to $30 million. Atrium currently holds 138 residential mortgages and 20 commercial mortgages. In these mortgages, 73% of Atrium's mortgages are located in the Greater Toronto Area (GTA). The dividend yield of Atrium in 2021 was 7.01%.
Timbercreek Financial
It is listed on the Toronto Stock Exchange as TSX: TF. Timbercreek has a large focus on commercial mortgages. They hold the minimum required amount of residential mortgages at 50.1%. Timbercreek's average LTV ratio is 68.2%, with 90% being the first mortgage. It passes all lender fees to investors, with Timbercreek mortgages being primarily interest only.
MCAN Mortgage Corporation
MCAN's ticker symbol on TSX is TSX: MKP. The average LTV ratio here is 61%. While their average mortgage term is 13.5 months. MCAN focuses on uninsured residential mortgages and residential construction loans. 53% of MCAN's portfolio is in residential mortgages, while 43% is in construction loans. The remaining 4% is in the commercial mortgages. MCAN originates its own mortgages through its subsidiary XMC mortgage corporation.
Why Invest in A MIC?
You might already be wondering if there is any financial advantage to investing in a MIC. For this, know that there are plenty of benefits for investing in a MIC when you compare it with other available options. Here are some of the notable advantages.
Investments are managed by highly professional persons
You receive a fixed dividend regularly
The risk is lower as the pool is large
A positive return will overturn a negative return, so you will get profit either way.
With these advantages, MIC has some downsides as well.
Since these are managed by experts, there is a fee attached
The fee is deducted from the profit you earn
You won't have control over where to invest as it is chosen by the experts only
If the downsides seem more dominating and you do not want to invest in MICs, there are other alternatives available as well.
Alternative to Mortgages in Canada
Syndicated Mortgages
A syndicated mortgage group is a group of private investors that provide a mortgage to a single borrower. Those who intend to invest in a syndicated group, contribute their money towards a syndicated mortgage and receive a return proportional to their contribution. Few of the provinces require investors to work through a mortgage broker or an agent. However, in most cases, a syndicated mortgage group will work through a mortgage broker. It allows investors to keep more of the interest that the borrower pays on their mortgage.
Arm's Length Mortgages
Canadian Western Trust Company, a subsidiary of Canadian Western Bank offers Arm's Length Mortgages. This enables you to use a registered account, such as an RRSP or TFSA, to directly invest in a selected individual mortgage. You have the option here to choose the mortgage interest rate and mortgage term length, with an LTV ratio up to 90%.
Here the interest rate is between 2% to 30%.
You Might Also Like: Downpayment Assistance Programs in Canada
The Bottom Line
At Lionsgate, we specialize in helping people obtain funding private mortgages for land purchases as well as for other real estate transactions. If you are looking to invest in mortgages in Canada, contact us and we will try to connect you with local realtors and sources for financing.
If you too are looking for a place for your money, we can connect you with more secure mortgage-based investment sources. Just leave us a message and we will be in touch before you even know.