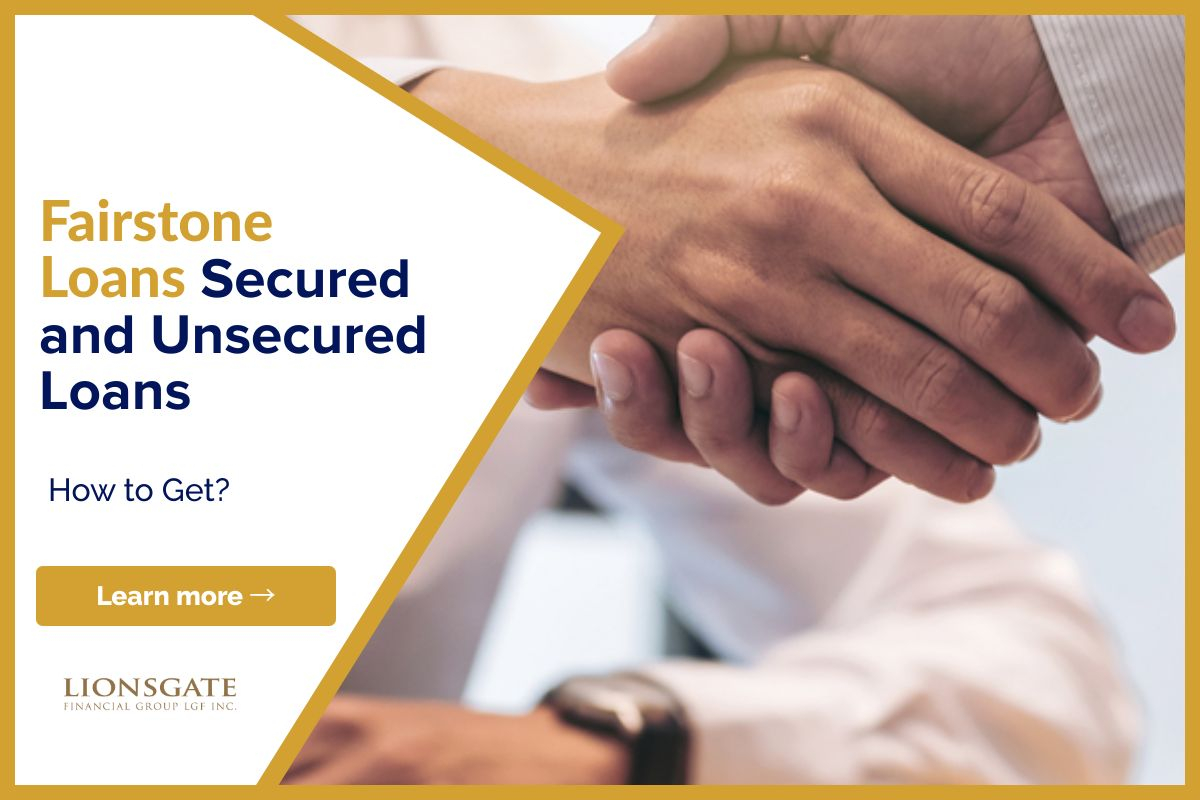 Fairstone: Get Secured and Unsecured Loans
Now you can read our blog, "Fairstone Loans: Get Secured and Unsecured Loans", while on the go.
Fairstone financial poses itself as a middle-of-the-road lender. In fact, their website says that Fairstone is somewhere between a payday lender and a traditional bank. You can borrow from them if you have a decent credit score.
They are also good for those who need to get their hands on cash sooner as opposed to later. With both types of loans – secured and unsecured – available, a borrower receives cash within a couple of days at most. In simple words, Fairstone is one of the fastest lenders in Canada for those having a good credit score.
Read More: Personal Loans in Canada: A Complete Guide
Once you know what Fairstone is, let's dig deep into the details to give you a better understanding.
Types of Fairstone Loans
There are mainly two types of loans available with Fairstone. These include secured and unsecured loans.
Secured Loan
A secured loan is usually backed by an asset such as the value of a house. When you secure a loan, the lender puts a lien on your asset. The lien acts as a layer of security for the lender. If you do not pay your loan back, the lender can assume ownership of your asset. By securing your loan, you give a lot of confidence to the lender, and therefore he offers you a lower interest rate.
The first mortgage is a sublime example of a secured loan. When a person decides to take out a mortgage to buy a house, the money is secured by the value of the house they buy. Once the mortgage is paid back, the lien is lifted from the house.
Unsecured Loans
If you do not have a house to secure your loan, no problem. You can get Fairstone's unsecured loans. Or if you are a homeowner, but need quick access to money – an unsecured loan might be a better option for you.
It is a type of loan which is backed by a loan agreement and not an asset. The borrower and the lender work together to determine the loan size, term, and interest rate. Then, the borrower signs a contract that states they agree to pay back the loan amount over the course of the term.
Often, the number one reason to pick an unsecured loan is not giving any security or backup. Additionally, the application process is quicker and there are no pre-payment penalties as well.
Who Can Apply For Fairstone Loan?
For both types of loans – secured and unsecured – you need to be a resident of Canada. You also need to be in steady employment for at least a few months. Also, make sure your credit report is in check before applying.
You are not necessarily going to be turned down if there are short on some points, but the fewer you have, the better. So, if you are applying for a secured loan, then you will need to own property. You cannot secure this type of loan against a vehicle or other item of value. It must be a physical building.
The Maximum Borrowing Amount in Fairstone
If you are going with an unsecured loan, you can borrow anywhere between $500 and $20,000. However, it is important to mention here that many found it difficult to get beyond $10,000. So, if you need more than $10,000 then it may be worth talking to the loan adviser. Only a professional can give you useful advice and they may be able to make something work for you as well.
For secured loans, however, you can get anywhere between $5,000 to $35,000. If you have a mediocre credit score, then getting on the higher side might be a difficult option for you. On the flip side, it is good that you cannot take out massive loans against your property.
Length of Loan
With an unsecured installment loan, the minimum repayment term is six months. The maximum term is five years. Again, it is difficult to get approved for a five-year plan as most people find it difficult to get approved. But if you have a good credit score and you need it to be around three to five years, you must consult a loan adviser.
For secured loans, the minimum term will be three years. The maximum will be ten, which is about right for this type of loan. You are likely to get approved for a five to six-year plan with a good credit score. Keep in mind that if you repay early, there will be some charges involved.
Why Get Loans From Fairstone?
Your Fairston lending specialist works one-on-one with you to find a repayment plan you can afford. With Fairstone, you receive money as soon as possible. Homeowners can choose a secured loan to borrow more money and access lower payments compared to an unsecured loan. Not only secured loans, but unsecured loans are also a great option and come with affordable payments that fit your budget.
Fairstone also gives no pre-payment penalties and the duration of your plan can also be longer. You can get your Fairstone loan plan from the comfort of your house. One of the differentiating traits of Fairstone is that it is a free, online loan quote and won't impact your credit score.
How to Get a Loan?
The application process of getting a loan contains three steps. The initial part of the process will be online. You will have to fill a couple of forms. Then, a provisionary quote for a loan will be given. The second step will be getting a call from Fairstone. You will be assigned a personal loan agent. His job will be to discuss the loan with you and carry out a few more checks. Know that Fairstone will offer you a price which they think you can afford.
The final step is the trip to the nearest Fairstone branch. They will check your documents including payslips, a notice of assessment, T4, rent, or mortgage details. After this, you will get the final approval for your loan.
For unsecured loans, the process takes one day. However, if you are going for a secured loan, the process can take two days.
You May Also Like: Secured Vs Unsecured Line of Credit
The Bottom Line
Fairstone is a type of company that is a joy to work with. They do not provide to the lower end of the market, but if you have a fairly decent credit rating, then this company can serve you better than other companies.
At Lionsgate, we specialize in helping people obtain funding private mortgages for land purchases as well as for other real estate transactions. If you are looking to buy land in Canada, leave us a message and we will try to connect you with local realtors and sourcing for financing.