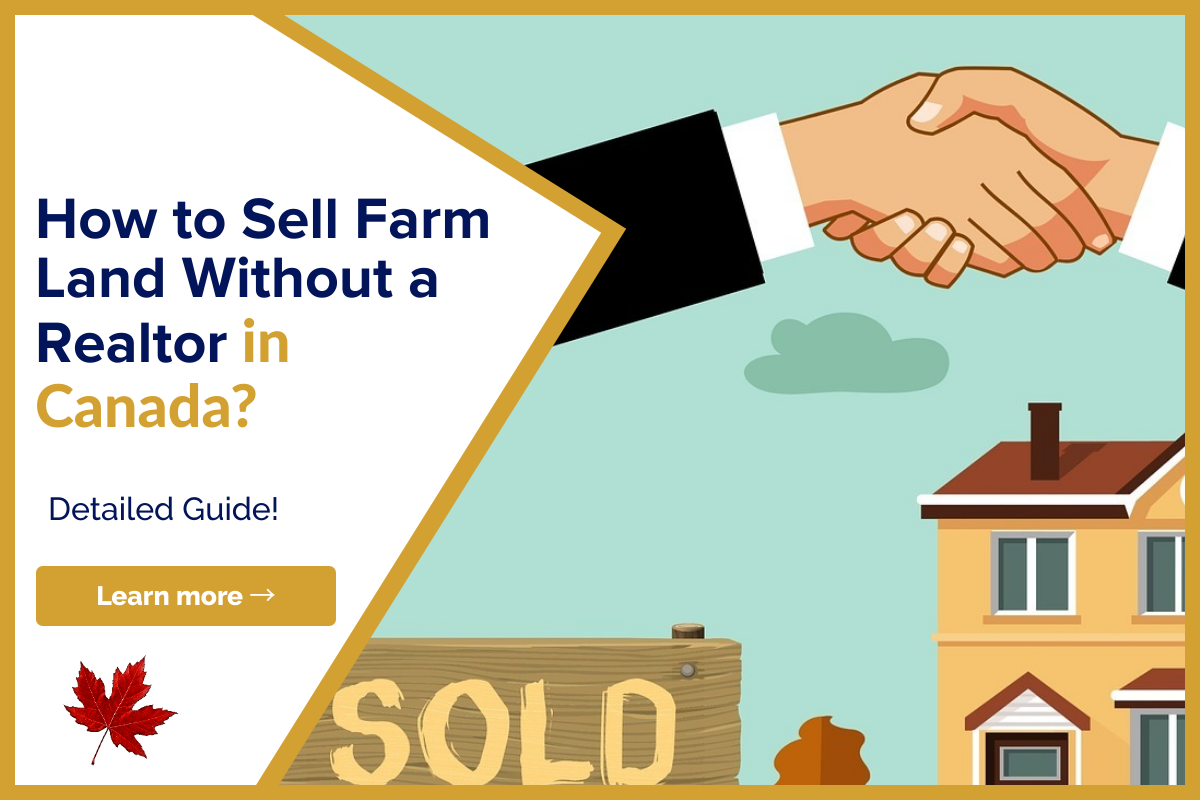 How to Sell Farm Land Without a Realtor?
Now you can listen to our blog post, "How to Sell Farm Land Without a Realtor?" while on the go.
Unlike Grandpa and Grandma or even Dad and Mom, farmers do not purchase land nowadays by shaking hands over the fence. Finding the one that best suits the size, nature, and circumstances of the farming enterprise is crucial when using selling techniques like sealed tenders and online auctions.
Sheldon Froese, a real estate agent with Royal LePage Riverbend Realty Farm Division in Manitoba, claims that increasingly smaller parcels of property are now being sold through sealed tender. That wouldn't typically occur on large farms; instead, it would occur somewhere without any buildings.
Because it's a sealed tender, Froese warns, "people might not consider they got a fair chance to buy the neighbour's land." "We frequently become involved in efforts to increase process transparency so that individuals know their legal right to submit a buying offer. Anyway, the vendor ultimately has the freedom to act however they like.
Even if the traditional real estate road is undoubtedly more complicated than it once was, some purchasers still opt to take it. According to Froese, the first thing real estate agents often inquire about from their clients is whether they have spoken with their accountants and other professionals.
Alternative Method of Selling Farms Without Realtor
Realtors Tyler Badinski and his brother Vince in Saskatchewan are approaching farmland sales differently, and they report that clients and other professionals have told them that this approach is filling a void that will become more and more critical given the significant wealth transfer that will occur in farming over the next ten years.
The fact that so many farmers today are 55 or older and don't have a succession plan in place might make it challenging to sell, especially to family members, according to Badinski.
Benefits for Buyers Without Realtor
According to Clarke, buyers occasionally just need more time to think about it because there are many more variables to consider when buying or selling real estate. Instead of attending a live auction where the auctioneer chants for a minute and they have 10 seconds to raise their offer before someone else does, they can use that time by participating in an online or timed auction.
Most auction companies conducted live auctions five years ago and starting an auction company required substantial capital. Sellers should research and ensure the people they deal with are qualified and in compliance with the rules and regulations for both real estate sales and auctioneering.
Since COVID-19, with such a massive transition to online services, those entry barriers have been largely removed, leading to a lot of new businesses offering auction services.
We sell from British Columbia to Manitoba, and since each province has its own laws and regulations, we have worked hard to ensure that we are fully in compliance with them to give our clients peace of mind, according to Clarke.
How to Sell Farm Land Without a Realtor?
If you do not want to sell your farm land with a realtor, then follow the below steps as these do not involve a realtor.
Discover the Value of Your Land
Determining the correct value of your land is the first and most crucial step in making a profit from it. Finding the right price is a lot of work, but you can achieve it by conducting thorough research, keeping an eye on the market, and finding out how much land in your area comparable to yours is worth.
Consult a specialist, such as an appraiser, to learn the exact value of your house. An appraiser's responsibility is to assess the market worth of your property, utilising all applicable state laws and regulations. Whatever method you select, you need to price your property accurately. An incorrect price assessment will hamper your ability to sell your land, and the longer it remains on the market, the worse it will be.
Your Property Should Be Listed on the Right Platform
It's time to list your land on several platforms after determining its worth. Listing your home on the local Multiple Listing Service (MLS) could draw in many potential purchasers if you have been selling it through a broker. You can also make use of other platforms.
Newspapers, buying and selling websites and applications, and social media websites are a few examples of selling platforms. Remember the proverb "out of sight, out of mind." As soon as you discover the ideal offer, ensure your unoccupied land is never out of sight.
The Best Offer Should Be Chosen
You will need to rely on your negotiation skills because there is a reasonable probability that your offer will not equal the worth of your house if there is no realtor. Negotiating an offer while selling your vacant land without a broker can become a taxing and difficult endeavour. Dealing with a professional real estate agent representing the buyer makes the situation more complicated.
Negotiation is based on interest; the more the buyer is interested in your property, the more flexible he will be, and the opposite is also true. Your standing as a seller may change depending on the number of offers you have on the table. If there are fewer offers, the opposite party has the upper hand.
Knowing your bottom line is essential. What will you accept as the property's bare minimum? Getting a solid offer as soon as possible is crucial because doing so will save you time and effort. If you don't, your house will probably sit on the market for a while without selling for the advertised price.
Assembling all of the legal and other records
Saying vacant land can be complex without a realtor, especially if you have to do all the paperwork alone. It may be feasible with little investigation and work. This is crucial since you must gather all your property's legal paperwork.
It consists of your tax returns, insurance policies, and other paperwork associated with your land ownership. The title to the property must be on hand. Create a thorough file containing all the documents. You can readily present all the records as proof to any potential buyer who requests to see them.
The land's title, a quit claim deed, loan paperwork, tax records, and an appraisal are examples of legal forms. The county clerk's office likely has a copy of the plat that shows your property lines and any unique zoning limitations.
Need Some Extra Cash to Help Your Finances?
Are you struggling with your financial needs and need some extra cash? Lionsgate can help. Just fill out the form below, letting us know all your money or mortgage requirements, and we will find the best lender for you. Amazing thing? The process is free, and you can quit it at any time.
We have a team of experts that analyze your requirements and pick the best lender for you with prudent advice.
Note: Please give your authentic information while completing the form below.
If you found this article helpful, please share it with someone you care about. Also, visit our blog to read similar helpful articles on finance, real estate, and getting mortgages.