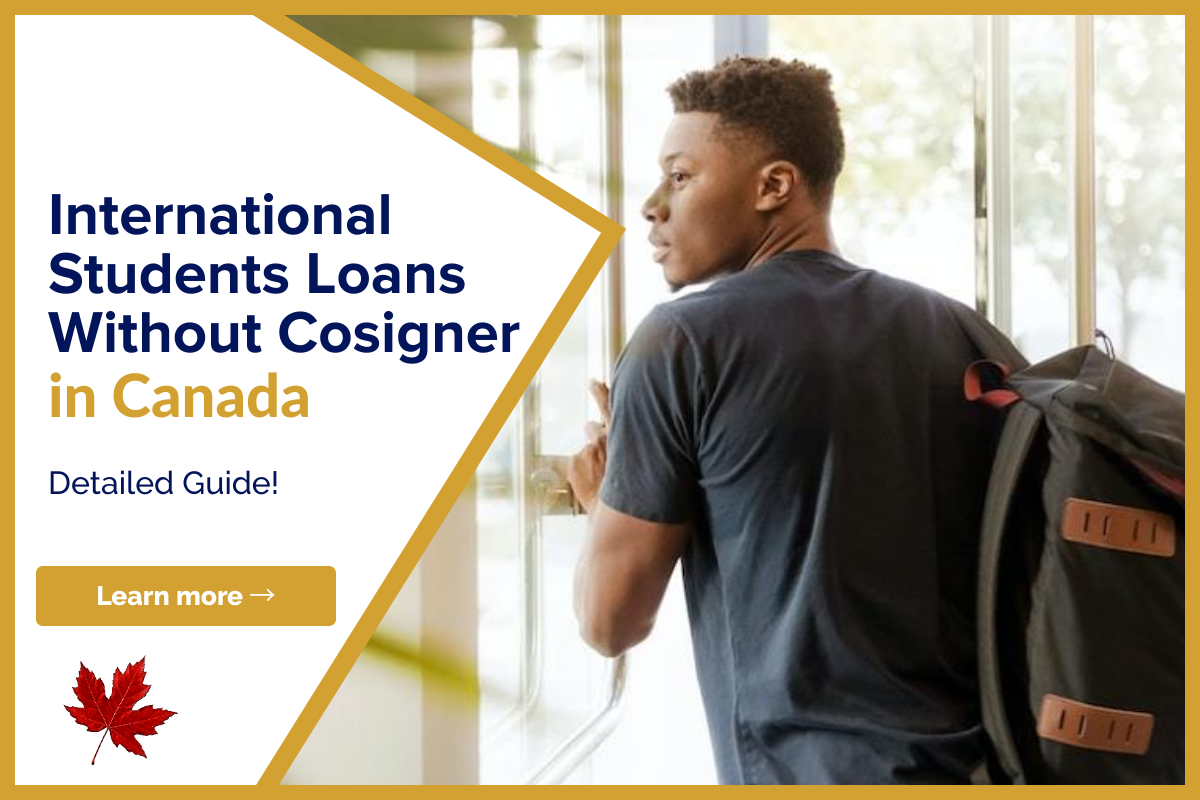 International Students Loans Without Cosigner
Now you can listen to our blog post, "Loans For International Students In Canada Without Cosigner" while on the go.
Canada welcomes more than 90,000 international students from all over the world each year. They come to Canada and continue their studies in one of the best places in the world to study.
While here, you can explore the second-largest country in the world. Incredibly vibrant and bustling cities coexist with vast expanses of nature and wildlife. If you want to study in Canada but need some extra money to take on this amazing adventure, you may be able to take advantage of international student loans.
In fact, we are often asked: "Is there a student loan for international students who want to study at a Canadian university?"
And the short answer is – yes!
Of course, that's not all, but the good news is that at least the options are available. IRCC (Immigration, Refugees and Citizenship Canada) expects all international students in Canada to be able to pay their own tuition fees. To be eligible for a Canadian Study Permit, international students must prove they can afford the necessary financial resources to support themselves and their accompanying families in Canada. This may include written confirmation of grants, fellowships, loans, or awards as proof of financial security.
Most provinces in Canada require one student to prove that they have sufficient funds to cover her $10,000 in addition to annual tuition.
An additional $4,000 annual fee applies for each adult accompanying family members (including spouse or partner). And add the following for each dependent child: $3,000 per year.
In Quebec, the financial requirements of prospective students vary. If you would like to study abroad, please check the details.
State or federal loan programs
International students may not be eligible for certain forms of funding, such as federal student loans, and may need to consider private student loans instead. You can also check which funding options are available from the university's student grants.
What is an international student loan? International student loans are private loans issued by specialized education loan providers. Available to international students studying at an accredited Canadian university.
Across Canada, a growing number of colleges and universities allow students to apply for co-signers loans. Most financial aid opportunities at Canadian universities are aimed at Canadian students. This means that international students may not have access to them.
In addition to your own savings and family support, financial assistance such as grants and scholarships (which do not have to be repaid) may only cover part of the cost of studying in Canada. Therefore, many students rely on loans to cover the rest of their expenses.
You should apply for these loans only after first exhausting all grants, personal funds, and other options.
Loans for international students in Canada without a co-signer
International students can apply for a guarantor-free private student loan if they are enrolled in a Canadian school that has already been approved by their lender.
International students from many countries, American students, and even Canadian citizens can apply, and no joint guarantor is required.
Instead, lenders look at your academic performance and career path, not your credit history or co-signer history. You can also consider your country of origin, your expected graduation date, and the school you attend.
What Can Canadian Student Loans Cover?
Tuition and other education-related expenses such as room, board, medical insurance (if required), course materials, and books.
Who is eligible to apply for an international student loan in Canada?
Borrowers who are not Canadian citizens or non-citizen permanent residents and are attending a qualifying university are eligible to apply.
Private education loans are administered by various companies. Each lender has its own eligibility rules and approval requirements.
It's important to research all the options available and find a reputable lender that offers a package that fits your needs.
Find and Compare Canadian Student Loans
With just a few clicks, you can check if the school of your choice has a loan by using our Canadian student loan comparison tool. Then you can learn about the conditions and fill out an application online with the lender.
Consider the following points when evaluating an offer:
maximum amount that can be borrowed
Interest rate (fixed or variable)
Repayment terms and repayment schedule
When and how the funds will be released
Application process
Once your application has been reviewed, you will be provided with loan details, including interest rates and loan amounts. These points will vary depending on your situation and the lender you work with. If the application is successful, the funds are usually paid directly to the university to pay for tuition. This usually takes about 6 weeks.
Private Education Loan: how much can I borrow
You can borrow up to the total cost of attendance as calculated by the Canadian University Financial Aid Office, less any other money you may receive in the form of scholarships, awards, etc.
How much will be the repayment amount?
Refund terms vary and this example is for informational purposes only. This is not a guaranteed cost as it will vary depending on your circumstances and the lender's interest rate.
An international graduate student who borrows $10,000 at an interest rate of 12.49% (13.63% APR) expects to earn $100.54 in monthly repayments for her first six months during college and after graduation. can. After that, the monthly payment for the 10-year repayment period increases to $141.62 based on a repayment schedule that pays interest only to the school.
Need Some Extra Cash to Help Your Finances? Try Lionsgate!
Are you struggling with your financial needs and need some extra cash? Lionsgate can help. Just fill out the form below, letting us know all your money or mortgage requirements, and we will find the best lender for you. Amazing thing? The process is free, and you can quit it at any time.
We have a team of experts that analyze your requirements and pick the best lender for you with prudent advice.
Note: Please give your authentic information while completing the form below.
Please share this article on your social media profiles if you found it helpful. Also, visit our blog to read similar helpful articles on finance, real estate, and getting mortgages.