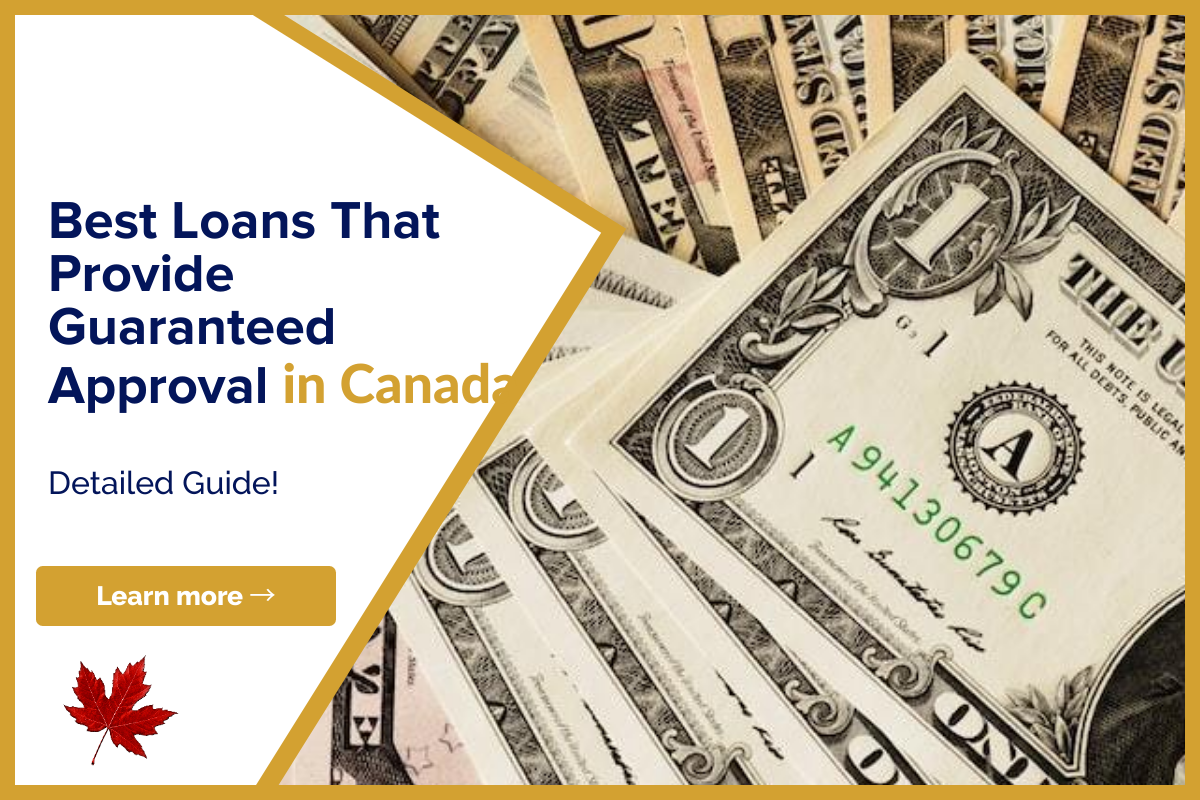 Best Loans That Provide Guaranteed Approval
Now you can listen to our blog post, "Loans In Canada Guaranteed Approval" while on the go.
Unfortunately, there is no such thing as a loan with guaranteed approval in Canada. Lenders consider various factors such as credit score, income, and debt-to-income ratio when determining loan eligibility.
However, there are several loan options available in Canada that have more relaxed eligibility requirements and a higher approval rate:
Payday Loans: Payday loans are short-term loans with guaranteed approval that offer quick cash for unexpected expenses. They have a high approval rate and can be easily obtained online or at a payday loan store. However, they come with high-interest rates and fees, so it is essential to repay them on time to avoid further debt.
Personal Loans: Personal loans are unsecured loans that can be used for various purposes, including debt consolidation, home improvement, or emergencies. They are available from various financial institutions, including banks, credit unions, and online lenders.
Bad Credit Loans: Bad credit loans are designed for individuals with a poor credit history who are unable to secure a loan from traditional lenders. They have a higher interest rate than other loans, but they can help to improve credit score if the loan is repaid on time.
Home Equity Loans: Home equity loans allow homeowners to use the equity in their homes as collateral to secure a loan. They have lower interest rates compared to other loans and are a good option for those who need a large amount of money.
Line of Credit: A line of credit is a flexible loan option that allows borrowers to access funds as needed and pay interest only on the amount borrowed. They are available from banks, credit unions, and other financial institutions.
It is crucial to compare the terms and interest rates of different loans and choose the one that best suits your financial needs and circumstances. Before applying for a loan, it is recommended to check your credit score and make sure that you have a stable income and are able to repay the loan on time.
Note: The information provided above is a general overview of loan options available in Canada and is not intended as financial advice. It is always recommended to seek professional financial advice before making any financial decisions.
10 Best Personal Loans Available in Canada with Guaranteed Approval
1. Loan Canada
Loans Canada offers a wide range of lenders, so you can find the perfect lender for your loan needs. Additionally, the network is a member of the Canadian Association of Landlords and is A+ certified by the Better Business Bureau.
60+ Lenders
Offer available in minutes
A wealth of financial advisors
2. Loan Connect
LoanConnect offers loans from $500 to $50,000 for 6 to 60 months. Interest rates vary between 10% and 46.96%. You can easily search for loans within this free platform.
No minimum credit rating
big loan
Nationwide support
3. Borrowell
Borrowell is a Canadian fintech lender with over 1 million customers. Loan offerings range from $1,000 to $35,000. Duration is 36 to 60 months.
Prices are clearly stated on the official website
free credit
User friendly platform
4. Borrowing
This online-only lender offers loans up to $5,000 in unsecured personal loans, home equity loans, and debt consolidation loans. The company's strength is an approval rate of 80%.
Easy online application process
80% approval rate
Allow customers with low credit
5. Fairstone
It is a non-bank financial institution that has been in business since 1923. Loan amounts range from $500 to $35,000. Fairstone offers unsecured personal loans, auto and auto loans, mortgage loans, and the best online loans in Canada.
No hard credit check
Low interest rates for secured loans
Fast approval process
6. Mogo
Mogo gives non-public loans from $100 hundred to $35,000, mortgages in addition to unfastened credit score rating monitoring, credit score playing cards, identification fraud protection, and cryptocurrency. Full Review
Quick and smooth approval techniques
hundred-day money-returned assure
Adjustable hobby charge and compensation phrases
7. LendingMate
LandingMate gives loans beginning from $2,000 to $10,000. Loan phrases are among 12 and 60 months, with an hobby charge of 43%. The loans may be used to cowl distinctive prices like debt consolidation, vacation, automobile purchase, scholar loans, and domestic improvements.
Funds to be had inside 24 hours of approval
No hidden prices
Fast and easy software technique
8. Skycap Financial
SkyCap Financial gives loans which are accredited inside 24 hours, ranging from $500 to $10,000, with an hobby charge beginning from 12.99% to 39.99%. The mortgage phrases are among nine and 36 months.
Bad credit score popularity would not count
Fast and smooth investmentFlexible compensation phrases.
9. LendDirect
If you need to get unsecured non-public mortgage products, you may use LendDirect to arise to $15,000 on an ongoing foundation with unlimited, no-price coins advances. The open-ended line of credit score inside one enterprise day can be carried out as soon as your software is accepted.
Straightforward and smooth software technique
great opportunity to credit score playing cards
Funds are to be had inside 15 mins
10. Eastern Loans
Loans gives non-public loans as much as $1,000 with an approximate ARP of 23%. The loans may be repaid inside 3, 6, and 12 installments over a 3-month length of time. The fee length may be prolonged as much as five months.
Quick and smooth software
Lower hobby fees
Same-day approval
How to choose the right personal loan
Unsecured personal loans are convenient for those who want to get a loan quickly. However, it's easy to get lost with the best personal loans in Canada. So, we've put together a guide below to help you find a loan that fits your needs.
The most common reasons for borrowing money are:
debt consolidation
credit card and bill payment
financial holiday
weddings and other celebrations
emergency medical
purchasing home appliances
Our comparison looked at the features offered by the best loan providers. We also investigated issues such as B. Easiest Banks in Canada to Approve Personal Loans, Best Loan Rates in Canada 2023 with Guaranteed Approval, Personal Loan Tiers, and Pre-Eligibility Requirements for These Financial Institutions.
In conclusion, we hope you find the best personal loans in Canada and the best personal loan rates Canada offers.
Need Some Extra Cash to Help Your Finances? Try Lionsgate!
Are you struggling with your financial needs and need some extra cash? Lionsgate can help. Just fill out the form below, letting us know all your money or mortgage requirements, and we will find the best lender for you. Amazing thing? The process is free, and you can quit it at any time.
We have a team of experts that analyze your requirements and pick the best lender for you with prudent advice.
Note: Please give your authentic information while completing the form below.
Please share this article on your social media profiles if you found it helpful. Also, visit our blog to read similar helpful articles on finance, real estate, and getting mortgages.