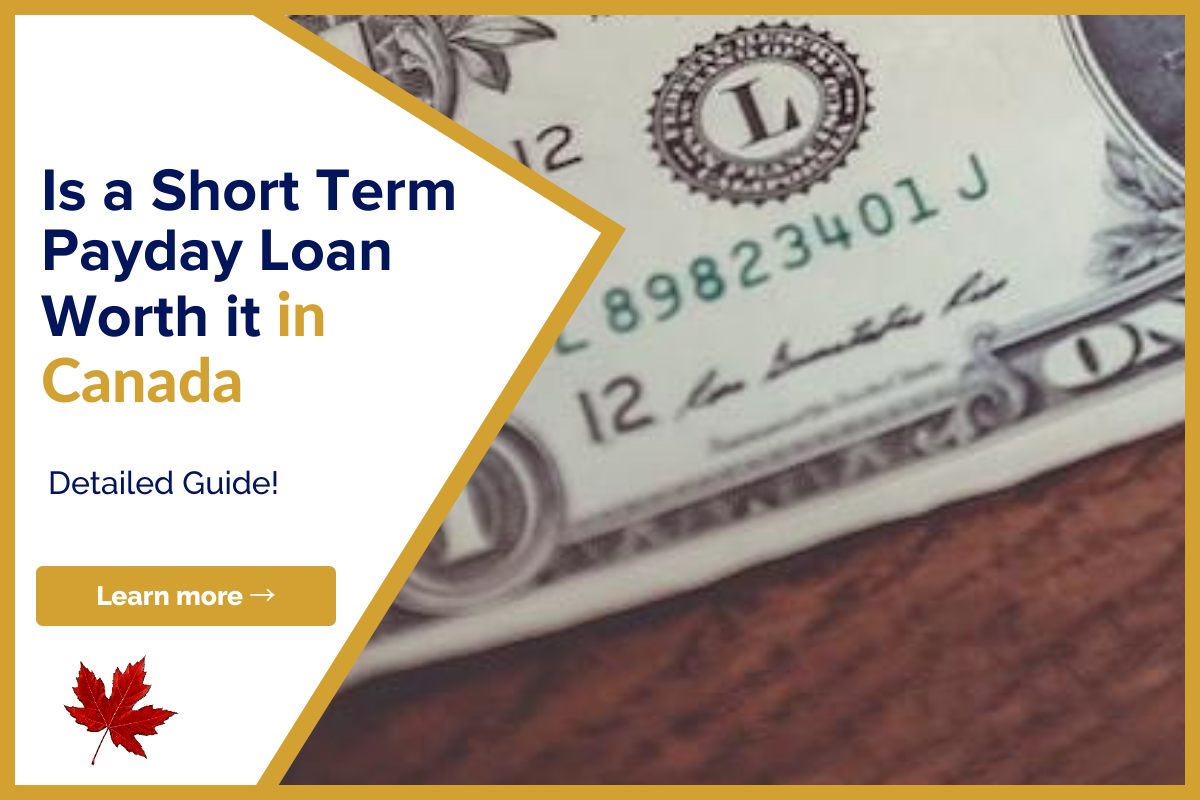 Is a Short Term Payday Loan Worth it?
Now you can listen to our blog post, "Is a Short Term Payday Loan Worth it?" while on the go.
Payday loans are short-term loans intended to cover petty urgent costs. They are challenging to pay off on time because they frequently have significant costs and have a short repayment period (a few weeks). As a result, most people who take out payday loans will roll their original loan into a new one, incurring further expenses.
You ought to generally stay away from getting payday loans. Here are some safer alternatives for you to consider and a closer look at how payday loans function.
What is a Payday Loan?
Payday loans are tiny, temporary loans that are frequently due on your following paycheck. Payday loans typically share the following characteristics:
Most payday lending organizations demand that you write a postdated check or permit them to debit your account, giving them immediate access to the monies in your checking account.
Repaid over a brief period: A payday loan might have a term of up to 120 days, depending on the state. However, many lenders set the loan's due date as the day of the borrower's subsequent payday.
Limited loan amounts: Payday loans often come in the $50 to $1,000 range, which ultimately depends on the lender and the state legislation in your area (the loan maximum in Oregon is $50,000, for example).
Repaid in Single Amount: Payday loans are often repaid in whole, in a single payment, and before the due date. This is in contrast to instalment loans, which are repaid over a period of time.
Borrowers Pay a Financing Charge: Payday loans have a finance fee that the borrower must pay in addition to the remaining balance.
Potential to rollover an outstanding balance: Possibility of rolling over an unpaid balance: Many payday loan providers allow clients to renew their loans by paying an extra finance fee to lengthen the repayment time. The finance charges on loan could, however, grow with time and reach an almost uncontrollable level. You could get into a debt cycle where you keep borrowing money to pay off debt.
Typically don't require a credit check: Making them available to consumers with low credit. However, because payments won't be recorded on your credit report, it won't also help you establish credit.
What is the Cost of a Payday Loan?
Payday loan rates differ depending on the state and lender. According to the Consumer Financial Protection Bureau, it's typical to see lenders charge a $15 cost for every $100 borrowed, though the price is typically a flat rate that ranges from $10 to $30.
Most likely, this cost won't be disclosed upfront. The interest rate and additional costs are usually included in the APR that is used to display payday loan conditions. Payday loans typically carry excessive APRs because the majority of loans are rolled over.
The Pew Charitable Trusts discovered that in 2016, borrowers took an average of five months to repay a two-week, $375 loan with a $55 origination charge. The financing fee was $520 when the loan was finally repaid, which was more significant than the amount borrowed.
Is Getting a Payday Loan Worth it?
Payday loans should generally be avoided due to their extremely high APRs. Many payday lenders request access to your bank account and withdraw funds even if doing so would cause your account to go overdrawn. Furthermore, high fees and brief repayment periods may keep you in a debt cycle.
On the other hand, if you have bad or no credit, can repay the loan on time, and need money right away, you might think about getting a payday loan. Even so, there are safer and more affordable options for bad credit loans, and some lenders even provide quick funding.
Think about the following factors before applying for a payday loan:
Pros 
Quickly obtain money
Usually, no credit check is necessary.
Could offer a quick fix for a financial crisis
High APRs and quick repayment schedules
Cons
Low-dollar loan amounts
Costs can mount up and ensnare you in debt.
How to Get a Payday Loan?
Check your state's laws on payday loans: Payday loans are completely illegal in some states and those that do often have tight regulations. Check out your state's legal rights and safeguards by using this National Conference of State Legislatures outline of the laws governing payday lending.
Check to see if a lender has a license in your state: Check with the office of your state's attorney general or banking regulator to see if your state permits payday loans.
Borrow only what you are certain you can pay back: If you're unsure of your ability to repay a loan, consider other possibilities, such as requesting a small loan from family members.
Shop Around: Check with banks, credit unions, and internet lenders to see whether they provide small-dollar loans before borrowing from the nearest payday loan business.
Comparing prices: Calculate the potential cost of the loan if you don't pay it back within a week or two by comparing APRs and lender fees.
Pick a payday loan provider: You might be able to submit a loan application online and get a fast loan approval depending on the lender you choose and the state where you live.
Read your contract thoroughly: Carefully review the terms once you've chosen a loan. Be aware of any possible late fees, other expenses, and rollover conditions.
Is it possible to obtain a payday loan with poor or no credit?
Since the majority of payday loan providers don't perform a credit check, it is possible to get approved for a loan despite having bad or no credit. The catch is that payday loans have high interest rates and that creditors anticipate speedy repayment of the debt. Your credit may suffer greatly if you are unable to pay back the loan on time, and your debt may eventually be turned over to collections.
What data will a lender want to examine if I don't need a credit check?
You'll likely need a form of identity, a steady source of income, and an account that's in pretty good standing in order to be eligible for a loan.
Do You Offer Online Payday Loans?
Yes, you can typically apply for a loan online or in person at a payday facility.
How can I pay off my debt from payday loans?
Consider a debt consolidation loan if you're having trouble paying off your payday loan debt. This particular kind of personal loan enables consumers to combine many debts into a single loan that, ideally, has a reduced interest rate and a set monthly payment.
You'll need good credit to get the best possible interest rate on a debt consolidation loan. Expect to pay more if your credit is fair, but rates may still be cheaper than payday loan rates, and longer payback terms may help you avoid making large monthly payments.
Need Some Extra Cash to Help Your Finances? Try Lionsgate!
Are you struggling with your financial needs and need some extra cash? Lionsgate can help. Just fill out the form below, letting us know all your money or mortgage requirements, and we will find the best lender for you. Amazing thing? The process is free, and you can quit it at any time.
We have a team of experts that analyze your requirements and pick the best lender for you with prudent advice.
Note: Please give your authentic information while completing the form below.
Please share this article on your social media profiles if you find it helpful. Also, visit our blog to read similar helpful articles on finance, real estate, and getting mortgages.