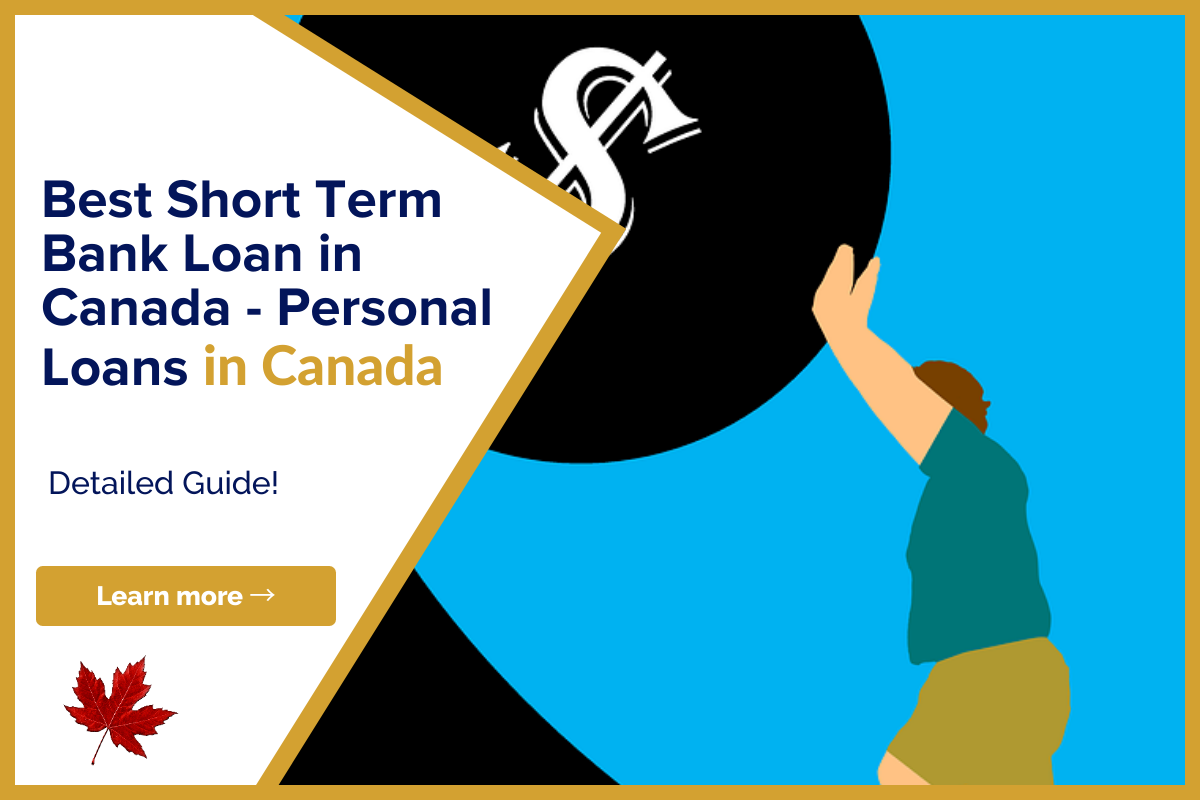 Best Short Term Bank Loan in Canada – Personal Loans
Now you can listen to our blog post, "Best Short Term Bank Loan in Canada – Personal Loan," while on the go.
A personal loan is an unsecured loan, which means that unlike a mortgage or a car loan, it does not require any form of security. Although they are frequently on the smaller side, these loans can range from $1,000 to $50,000 or more. More excellent creditworthiness and stringent standards are commonly associated with larger personal loans.
However, this does not imply that customers with bad credit cannot apply. Alternative financial institutions offer several personal loan choices that many borrowers can access.
We have identified four possibilities to assist Canadian customers in selecting the personal loan that best suits their financial requirements.
Finding the Best Personal Loan: How To Do It
These things should be taken into account when conducting research:
The total price, which includes interest rates, fees, penalties, and insurance costs
The prerequisites, such as having excellent credit or adhering to a specific debt-to-income ratio
The required application materials, including a photo ID and current bank statements
The terms of repayment and the term
The loan's origin and whether the lender is a reputable company
 Top Personal Loans in Canada in 2022
As promised, the following information is provided regarding Canada's top 4 personal loan lenders:
Symple (Best For Higher Credit Individuals)
In 2018, Symple, an online lender, was established in Australia. Two years later, they established Symple Loans Canada, a branch with its main office in Toronto. Their transparent and hassle-free lending platform is promoted as unique.
They provide $5,000–$50,000 personal loans with terms of 1–7 years, low rates starting at 5.75%, and origination costs ranging from 0%–5%. Better credit applicants might have an easier time qualifying, but riskier customers might still get approved at higher lending rates.
Standout Qualities
Transparency: Symple excels at this since they are honest about their prices. With no impact on their score, borrowers can receive a free, individualized estimate to determine their potential interest rate. They also don't impose prepayment penalties.
Convenient: Symple is an online-based company, allowing customers to apply for personal loans and manage their accounts whenever they want, 365 days a year. Applying is quick and simple, quotations come in real-time, and approved funds will be deposited by the end of the next business day.
Secure: Symple is currently verified by the Canadian Lenders Association and has an A- rating from the Better Business Bureau.
Spring Financial (Best User Experience)
Since its 2016 introduction, this online lender has assisted over 1 million Canadians in improving their financial freedom by allowing them to borrow the money they require despite having less-than-perfect credit. Spring Financial offers rapid loans for customers who prefer to apply online or over the phone.
Currently, Spring Financial provides flexible personal loans with durations ranging from 9 to 60 months, ranging from $500 to $15,000.
Special Qualities
Acceptance of Candidates with Poor Credit: One of the best things about Spring Financial is the possibility of approval for applicants with Fair or Bad Credit. Borrowers can even use a personal loan to make on-time payments, which may progressively raise their credit scores.
Preapprovals and Low Payments: Depending on their credit history, current income, and current debt load, borrowers can visit the Spring Financial website to get pre-approved for a personal loan and an interest rate. Additionally, payback schedules might begin as little as $31 every two weeks (bi-weekly).
Credit Building Loans: More than merely unsecured personal loans of various sizes are available. Additionally, borrowers can qualify for smaller loans designed expressly to boost credit through timely payments:
The Foundation: is a program designed to help people with any credit level raise their credit score. It does not offer money upfront. The program has a 12-month length and requires minor fees every two weeks. Since the credit bureaus receive notification of these payments, credit can be established and financial stability increased. A total of $750 will be made available to the borrower as savings when the 12-month period has ended.
The Evergreen Loan: it is a $1,500 upfront cash loan for all members who complete the Foundation program immediately authorized. It has installments as low as $44 biweekly, an interest rate of 18.99%, and 18 months.
Fairstone (Best in Quebec & Best For Homeowners)
One of Canada's biggest non-bank suppliers of personal loans is Fairstone Financial. With more than 235 sites across the nation, they have been around for almost 100 years. Unsecured personal loans up to $25,000 are available from Fairstone, with interest rates starting at 26.99% from 6 to 60 months.
Fairstone is a fantastic alternative for homeowners because they can choose a secured personal loan to access larger loans and better rates. Borrowers can obtain up to $50,000 with a secured personal loan from Fairstone, with rates starting at 19.99% APR and durations ranging from 60 to 120 months.
Fairstone Special Qualities
Consumers from Quebec Accepted: As previously noted, Fairstone Financial is an excellent company because it provides personal loans to borrowers in every province and territory, including Quebec, which isn't always possible with other lenders.
More Choices: While personal loans are Fairstone's specialty, they also provide mortgages, auto loans, instant online loans, and bi-weekly, monthly, and semi-monthly payment schedules for their auto and mortgage loans. They also offer point-of-sale financing for Canadian companies.
Loans Canada (Best Comparison Platform)
Would you like to view all of your options in one location? Consumers can utilize LoansCanada.ca, a platform for loan comparison, to weigh their options and conclude based on their circumstances.
Potential borrowers using Loans Canada must submit one application to get many offers from various lenders. Borrowers will save time by not having to submit multiple applications, and it is easy to see all of the offers in one location.
Up to $35,000 in loans
Free estimates from a variety of online lenders
Receive several offers for personal loans after submitting a single form
Access to Canada's largest lending network.
Need Personal Loan to Help Your Finances? Try Lionsgate!
Are you struggling with your financial needs and need some extra cash? Lionsgate can help. Just fill out the form below, letting us know all your money or mortgage requirements, and we will find the best lender for you. Amazing thing? The process is free, and you can quit it at any time.
We have a team of experts that analyze your requirements and pick the best lender for you with prudent advice.
Note: Please give your authentic information while completing the form below.
Please share this article on your social media profiles if you find it helpful. Also, visit our blog to read similar helpful articles on finance, real estate, and getting mortgages.