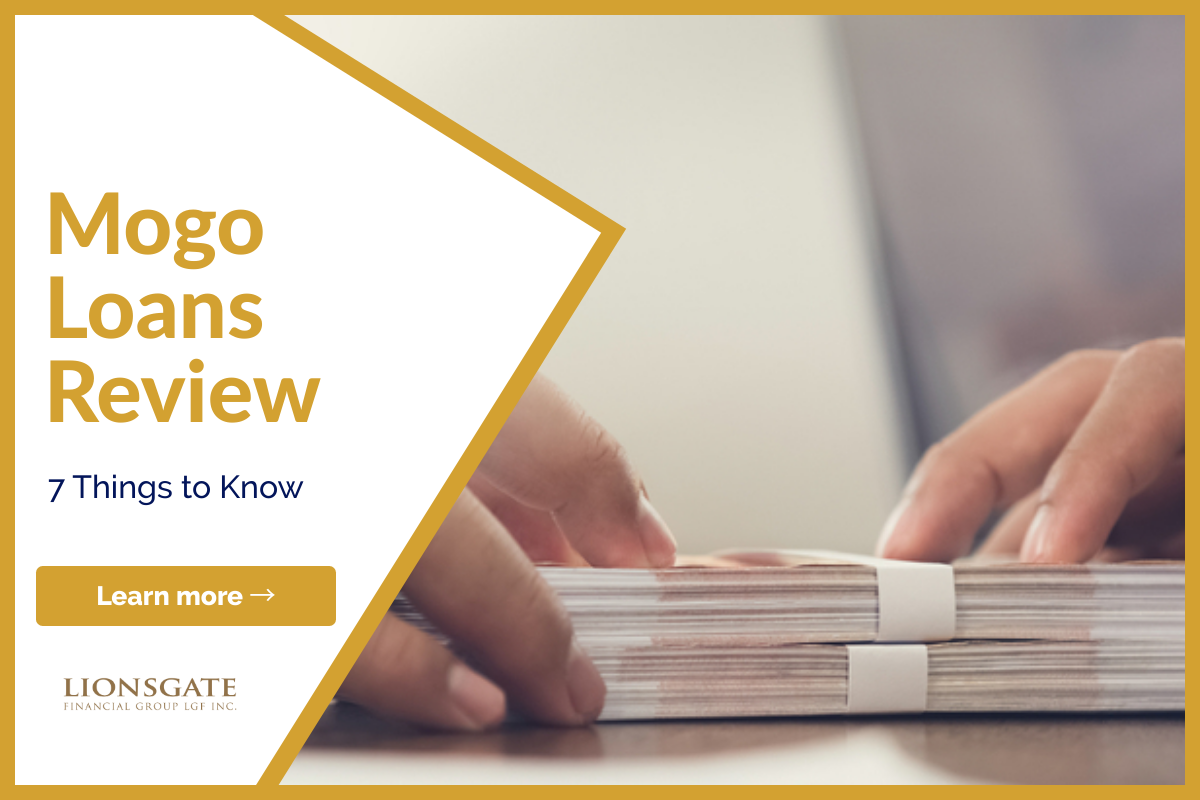 Mogo Loans Review: 7 Things to Know
Now you can listen to our blog, "Mogo Loans Review: 7 Things to Know" while on the go.
whatever 

it 

was,

Mogo 
has 
certainly 
created 
a 
name 
for 
itself 
in 
Canada
. 
There 
are 
a 
lot 
of 
reasons 
to 
check 
them 
out, 
especially 
because 
they 
have 
7 
different 
financial 
solutions 
to 
pick 
from.
We'll 
go 
through 
everything 
Mogo 
has 
to 
offer 
in 
this 
review 
so 
you 
can 
see 
if 
there's 
something 
for 
you.
7 Things to Know About Mogo
Mogo now sells and promotes seven different products, each with its unique set of benefits.
Credit Score: Equifax provides free access to your credit score * Updated monthly
MogoProtect: Equifax account monitoring on a daily basis * Assistance with questionable activities $8.99 per month or $89.99 per year
Mogo Visa Platinum Prepaid Card: 1 tree is planted for every transaction performed * 50 bits of Bitcoin are earned for every transaction
MogoMoney: Get pre-approved without damaging your credit score for loans up to $35,000
MogoMortgage: Online mortgage broker with low rates * Fixed and variable choices
MogoWealth: Soon to be released
MogoCrypto: is an investment tool that allows you to buy and trade bitcoin while also receiving a $5 welcome bonus. You'll get $5 for each friend you refer.
Should You Avoid Mogo?
If you read personal finance forums, you've probably encountered some negative Mogo reviews.
The majority of them revolve around their loans, which, depending on what you're offered, can come with exorbitant interest rates that you'll have to pay back for years. Two of the top comments on a Reddit discussion about the company rejecting it as a payday loan.
But, with six other financial products under their belt, can Mogo's other offerings compensate for their high-interest loans?
Advantages of Mogo
The modern app, which combines all of its products into a single, easy-to-use dashboard.
Equifax offers a free credit score that is updated monthly and is one of three Canadian organizations that provide this service.
Through their MoneyClass course, they provide free money advice.
With the coupon STAY SAFE, you can get MogoProtect for free for 6 months.
Their prepaid card is one-of-a-kind and open to the public.
Rates on mortgages are actually rather competitive.
Get $5 for free to try your hand at bitcoin investment.
Disadvantages of Mogo
High-interest loans will almost certainly leave you in a worse situation than when you started.
It's difficult to trust them because of their effective marketing and payday-style loans.
It's difficult to move on from a rough, contentious past.
Loans from Mogo
Let's start with their loans, which are the most contentious of their offerings.
They currently provide two types of loans:

MogoZip was also available, however, it has since been withdrawn from their website. There's no indication on why, although it's possible it's in response to some of the negative press they've received.
Even if you are able to secure the lowest rate available with a MogoLiquid loan, there have been reports of poor customer service as late as August 2019. According to one Reddit user, after you become a customer, your sole option for service is to use chatbots.
It's probably best to avoid their lending service altogether, but you can take a look at it here.
Alternatives to Mogo loans
Mogo is probably one of the last places you'll want to go if you're searching for a loan.
One alternative is to go to your bank and inquire about their lending choices. It may not be advisable to accept the first offer they make, but it will give you a fair idea of the pricing you'll be dealing with.
You can then use a search engine such as LoanConnect to compare many loans from various lenders. However, some of their other products may be worth a shot. Consider their free credit score reports, for example.
Your credit score is obtained directly from Equifax and is updated once a month. When the app is updated, you'll receive a notification, allowing you to keep track of your score without having to think about it.
MogoProtect Fraud Protection
If you're worried about identity theft and fraud in our increasingly online world, MogoProtect can provide some relief — for a price.
Mogo will monitor your Equifax report daily for $8.99 per month or $89.99 per year and send you an alert if anything odd occurs. If something does come up, they'll walk you through some steps you may do to prevent the threat from becoming a full-fledged fraud.
Mogo provides daily monitoring of Equifax credit reports at a price of $8.99/month or at $89.99/year.
Mogo Visa Platinum Prepaid Card
The MogoCard is a one-of-a-kind prepaid card.
You will not be rewarded in the traditional sense. Instead, Mogo will plant a tree for every transaction you make, and you will receive 50 bits of Bitcoin, regardless of the amount you spend.
This card can help you offset your carbon impact if you're concerned about climate change. Each tree planted will reduce CO2 emissions by around 500 pounds. In a year, the average person produces 44,000 pounds of CO2, which can be offset by 84 transactions.
Those 50 bits of Bitcoin, on the other hand, aren't worth nearly as much as you believe. Those 50 bits are only worth 4 cents even if 1 Bitcoin costs $80,000.
MogoMortgage
Mogo offers mortgages through their online-only broker if you're looking to buy a home.
And, assuming there's no hidden markup, the advertised rates are quite competitive.
I have to admit, they are quite appealing – but given their other credit products' high-interest rates (i.e. their loans), I'm a little concerned about the terms you'll have to satisfy and agree to in order to qualify.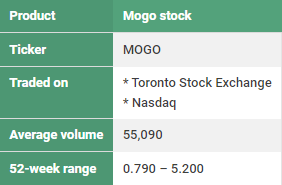 Is 

Mogo 

a 

trustworthy 

and 

secure 

platform?
Yes, 
Mogo 
is 
a 
legitimate, publicly-traded corporation
based 
in 
Vancouver, 
Canada. 
It 
was 
started 
in 
2003.
It 
has 
been 
under 
fire 
for 
years 
because 
of 
its 
high-interest 
loans, 
which 
is 
understandable, 
but 
if 
you 
only 
want 
to 
check 
your 
credit 
score 
or 
get 
a 
new 
prepaid 
credit 
card, 
you 
can 
bypass 
the 
source 
of 
the 
majority 
of 
the 
criticism.
One 
thing 
to 
keep 
in 
mind 
is 
that 
they 
will 
utilize
the 
information 
you 
submit 
to 
target 
you 
with 
product 
offers. 
If 
you 
don't 
want organizations
to 
use 
your 
information 
for 
marketing 
purposes, 
you 
should 
avoid 
creating 
an 
account 
altogether.
Is the Mogo loan right for me?
The majority of Mogo loans have outrageously high-interest rates. Even if the rates aren't as high as payday loan rates, you could end up spending thousands of dollars in interest by the end of the term.
The Bottom Line
At Lionsgate, we specialize in helping people get the extra cash they need, obtain funding for private mortgages, as well as for other real estate transactions. If you are looking to buy land in Canada, get a mortgage or apply for a loan, fill the form below. Or, You can leave us a message and we will try to connect you with local lenders and sources that best meet your needs.
If you found this article helpful, please share it on your timeline and with someone you care about. Also, visit our blog to read similar helpful articles on finance, real estate, and getting mortgages.