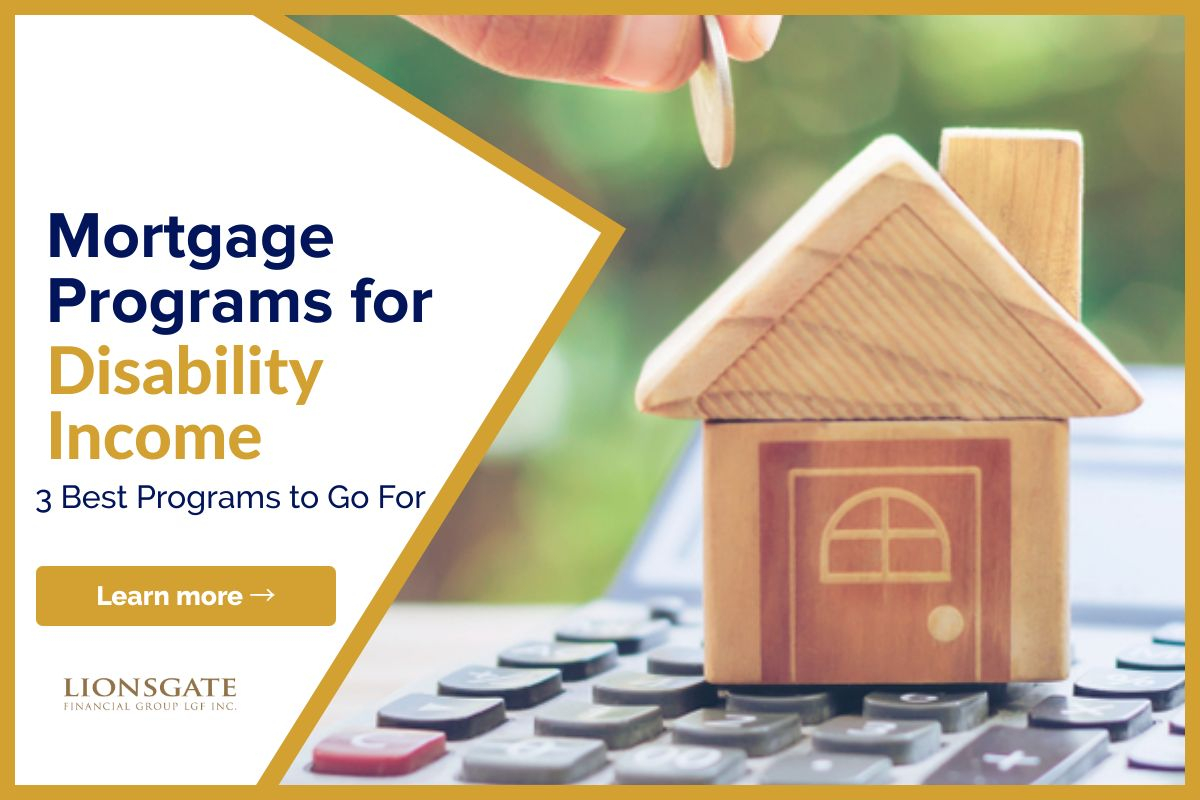 Best Mortgage Programs for Disability Income Canada
Now you can listen to our blog, "Best Mortgage Programs for Disability Income Canada" while on the go.
Getting a mortgage with disability income is not only possible but easier too – only if you know the process. Click here to read how you can get a mortgage on disability income while on disability income.
For now, we will be focusing on the best programs in Canada from where you can a mortgage on disability income.
Is it possible to buy a house on a disability income?
For disabled people who want to buy a house, income might be a huge issue. It can be tough to meet a mortgage lender's qualification standards if you have a low or no income job.

Many home loan programmes, thankfully, will consider disability income as part of your application. Mortgage revenue can come from a variety of sources, including:
Employer or insurer-provided long-term disability income
Social Security Income (SSI)
Disability Insurance from the Social Security Administration (SSDI)
All major home loan programmes, including conforming, FHA, VA, and USDA mortgages, allow for this type of income.
Mortgage lenders, on the other hand, are free to define their own lending criteria. Some may refuse to accept specific types of income. So, if your application is declined owing to disability income, try again with a different lender. You might be accepted somewhere else.
Requirements For Disability Income
Disability income, like any other source of income, must be properly documented in order for a mortgage lender to consider it on your home loan application.
If you get long-term disability income or insurance, your lender will require a copy of the benefits payer's disability policy or benefits statement (typically the insurance company or former employer).
Supplemental Security Income (SSI) and Social Security Disability Insurance (SSDI) have different documentation requirements depending on who is requesting the loan.
If the mortgage applicant receives SSI or SSDI benefits, the income can be documented in one of two ways:
The Award Letter from the Social Security Administration (SSA)
Proof of Current Receipt
If the mortgage applicant is not the person receiving social security payments (for example, a parent purchasing a home for a disabled kid), both of the following documents must be presented. They'll also have to show that the income will last at least three years. Do this by proving the recipient's age.
Mortgage Programs for Disability Income in Canada
Special mortgages are available for disabled people and parents purchasing a home for a disabled child.
There are also mortgage schemes available for able-bodied adults who live with approved disabled people. A caretaker who shares a home with a disabled sister, for example, may be eligible for a special mortgage.
If you receive government disability benefits, you may be eligible for a number of different mortgage schemes. This is also true if you work but are underpaid.
Who will own and occupy the property, as well as how the inhabitants will pay their mortgage, will determine the program's requirements. They also differ depending on whether the programme is run by the federal government, the state government, or the municipal government.
Listed here are a few of the most well-known programmes.
1. Fannie Mae Loans
Fannie Mae is one of two primary institutions that support the majority of home loans (along with Freddie Mac). Conforming loans are mortgages backed by Fannie Mae and Freddie Mac.
There is a variety of conforming loan programmes available, but the HomeReady mortgage is often the best Fannie Mae programme for disabled home purchasers due to its flexible standards.
Home purchasers must meet the following requirements in order to qualify:
A credit score of at least 620 is required.
A deposit of at least 3% is required.
Low- to moderate-income (no more than 80% of the median income in their area)
Under the HomeReady programme, long-term disability and Social Security benefits are both accepted sources of income. Furthermore, you just need a 3% down payment, which does not have to originate from your personal funds.
The HomeReady programme allows you to use grants, down payment assistance funds, or money provided by a family member or caretaker to fulfil the entire down payment.
Many alternative mortgage plans, on the other hand, require the buyer to pay a portion of the purchase price out of pocket. For someone living on a disability income with low savings, this might be challenging.
Another advantage of Fannie Mae's HomeReady loan is that "non-occupant co-borrowers" are permitted.
Someone who does not reside with you but is listed on your mortgage application is referred to as a non-occupant co-borrower.
If you don't fulfil the requirements on your own, you can utilise their credit or income to help you qualify for a loan. A parent or sibling with good credit and a high income, for example, could be added to a disabled family member's mortgage.
Finally, you can use this tool to include additional household income in your application. Renters or roommates may be able to help low-income homebuyers enhance their financing capacity.
2. VA home loans for disabled veterans
The Department of Veterans Affairs backs the VA loan programme, which is one of the best home loans available. It doesn't require a down payment and has extremely low-interest rates. For any veteran or service member, this makes it an appealing alternative.
However, there are additional VA loan benefits for veterans who have physical difficulties or impairments as a result of their service:
On your mortgage application, you can include VA disability income.
You are not required to pay the VA loan funding fee. Exemptions may also apply to spouses of veterans who have died in the line of duty.
There are no service standards that must be met: If you have a service-connected handicap, you don't have to serve for a certain amount of time to be eligible for a VA home loan.
To lower your taxable income, you may be qualified for a property tax exemption and/or a mortgage tax credit. The requirements differ depending on the state, the severity of the handicap, and other variables. For further information, contact your state's tax authority.
To be eligible for one of these loans, you must also meet the VA's basic lending conditions. Disability income can be used to meet the income requirements for a VA loan. Although there is no official minimum credit score for a VA loan, many lenders do want a FICO score of at least 580-620.
3. HUD Housing Choice Vouchers
The Section 8 programme of the United States Department of Housing and Urban Development (HUD) is best recognised for providing low-income renters with rental assistance.
However, the Housing Choice Voucher (HCV) homeownership programme is a lesser-known Section 8 programme for home buyers.
Individuals who qualify for Section 8 rental assistance can utilise their voucher to purchase a home through the homeownership voucher programme.
In this situation, instead of paying rent, HUD would assist in covering mortgage payments and other homeownership expenditures.
You must have a current Section 8 voucher to be eligible for this programme.
You can apply for one at your local Public Housing Agency if you don't already have one. However, keep in mind that not all PHAs take part in the HCV homeownership initiative. In addition, waitlists for Section 8 vouchers can be lengthy.
The Bottom Line
At Lionsgate, we specialize in helping people obtain funding private mortgages for land purchases as well as for other real estate transactions. If you are looking to buy land in Canada, get a mortgage or apply for a loan, leave us a message and we will try to connect you with local realtors and sourcing for financing.
If you found this article helpful, please share it with someone you care about. Also, visit our blog to read similar articles on mortgages.