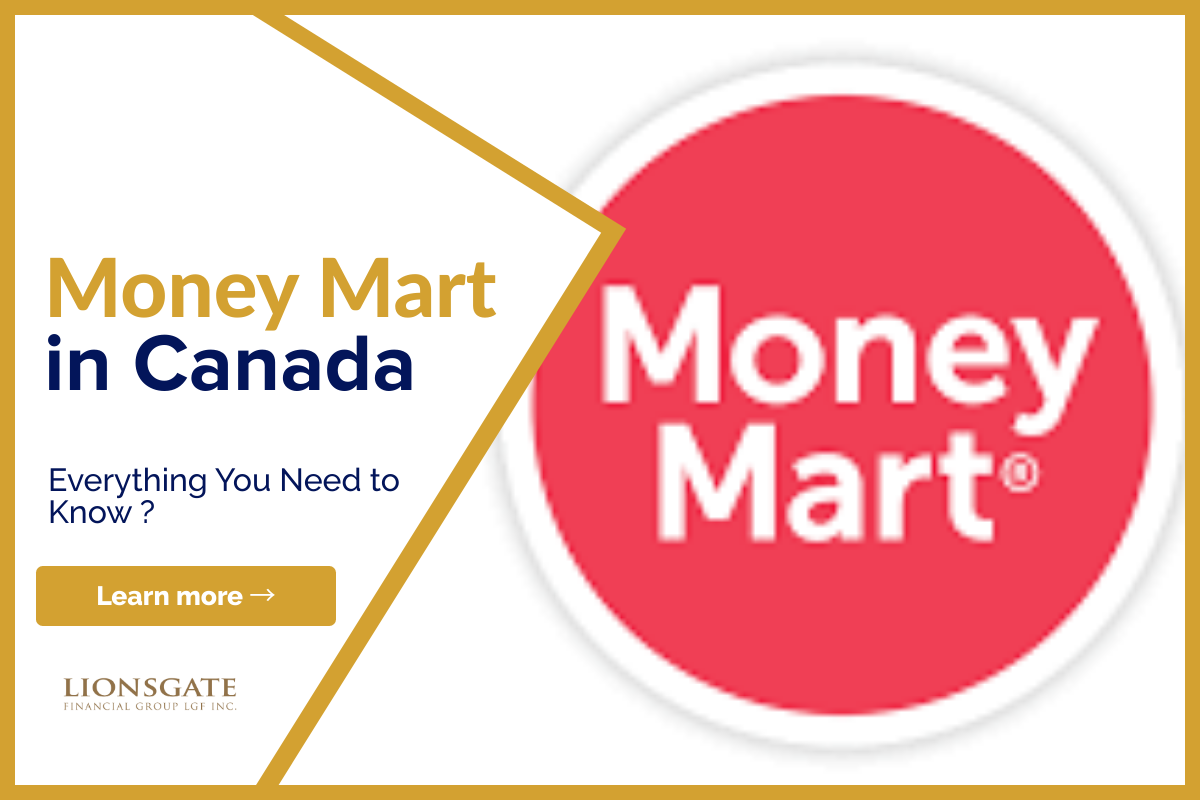 Money Mart: Everything You Need to Know
Now you can listen to our blog post, "Money Mart: Everything You Need to Know" while on the go.
Are you looking for an immediate cash option? Do you need to pay your rent, buy groceries or any other expense and don't have funds available? If yes, Money Mart can help. It is a fast and effective payment solution that you can access in Canada. It comes in instalment loans, cash advances and payday loans. In short, Money Mart is one place solution for all your money related problems.
Who is Money Mart?
Founded in 1982, Money Mart quickly transformed from a specialized cheque cashing company to a full-service provider of convenient financial solutions. It offers multiple credit products and financial services, which include:
Payday Loans
Business Loans
Currency Exchanges
Instalment Loans
Cash Advances
Western Union® Money Transfers
Bill Payments
Cheque Cashing
Titanium+® Prepaid Mastercards
It has now expanded to more than 500 service centres and employers ranging over 2,000 across the country. They have a fast and efficient website, on which you can get approval for your loan in as little as two hours. Thus, if you are looking to get some quick cash to pay for something immediate, Money Mart is the way to go. It is a full-service provider with more than 30 years of experience in the financial industry and will never let you down in your need.
What Types of Loans I Can Get at Money Mart?
Money Mart has three primary loan offers:
1. Installment Loans
A Money Mart instalment loan, which ranges from $1,000 to $15,000, can be funded the same day you apply. They can have repayment durations ranging from 12 to 60 months, as well as a range of payment schedules (weekly, bi-weekly, monthly, semi-monthly). Your bank account will be automatically debited for payments. This choice is usually available in-store or online.
2. Cash Advance/Payday Loans
A Money Mart cash advance (commonly known as a payday loan) can be obtained via direct deposit within a few hours of applying, with amounts ranging from $120 to $1,500. You'll have up to two months to repay the money (plus fees and interest) in one lump sum once it arrives in your bank account. These loans are usually only accessible in-store (although exceptions may be possible during unexpected situations like COVID-19).
3. Business Loans
Money Mart also offers small company loans through its relationship with Thinking Capital, which you can utilise to cover a variety of short-term expenses. Choose a repayment plan that fits your needs and receive a free quote within 24 hours. If you meet the requirements, you should receive your loan funds within 3–5 days.
Other Financial Products
4. Cashing of Cheques
This in-store service allows you to cash several types of checks immediately, rather than needing to wait several days as you would with a bank or credit union. Government, insurance, personal, and post-dated checks are among the types of cheques Money Mart can help you cash.
5. Prepaid Mastercards Titanium
The Titanium+ Mastercard, unlike a traditional credit card, allows you to load funds directly from your bank account onto your card. This way, you can shop in-store, online, or over the phone while still enjoying all of the benefits of a credit card without the interest fees and credit issues.
6. Money Transfers With Western Union
Money Mart has a global network of over 500,000 Western Union service outlets in over 200 territories and countries. You can send and receive money worldwide or domestically without a membership, credit card, or bank account in this way.
7. Exchanges of Currencies
Money Mart allows you to exchange 26 different currencies, including the US dollar, the euro, and the Australian dollar. Money Mart's BuyBack Guarantee is only $4.99 when you buy Euros or US Dollars (you'll get the same rate when selling back your excess cash) and the rates are competitive.
8. Payment of Bills
Money Mart's TelPay e-payment service allows you to pay invoices from over 2,400 different companies. Money Mart will handle the rest of the transaction for you, with no need for cheques, stamps, or envelopes. All you have to do is pay a standard cost of $1.99 per bill payment and Money Mart will do the rest.
Pros of Money Mart
With Money Mart, you can get plenty of benefits. A few of these are listed below:
Bad Credit is Accepted: Do you have a credit score between 300 and 600 points? If you have a significant income, Money Mart can approve you for financing.
Unsecured Loans: You don't have to worry about losing your property or putting your cosigner in jeopardy.
Quick Deposit: Money Mart loans can be deposited via Interac e-Transfer or direct deposit in as little as two hours following approval if you meet the requirements.
Application is simple and quick: Applying for a Money Mart loan is straightforward and takes only a few minutes to complete online or in person.
No Additional Cost: Money Mart does not impose any additional costs for paying off your loan obligation ahead of time, unlike some other lenders.
Multiple Locations: Money Mart has a lot of service stations dispersed across many of Canada's main cities and areas, so you may conveniently apply online.
Cons of Money Mart
Money Mart comes with a few disadvantages as well. These include:
High-Interest Rate: Money Mart's major disadvantage is that they have the ability to charge higher interest rates (sometimes more than 45 per cent APR).
High Fees: Money Mart can tack on some high service and administrative fees to your loan (about $150 for every $1,000 borrowed).
Not Available in Every Province: Money Mart's services are not available in every province or territory. While they are available in several large cities, they are not available in
1. Quebec
2. Yukon
3. Nunavut
4. North West Territories
How to Qualify?
Different levels of personal and financial aptitude are usually required to qualify for a loan. Money Mart, thankfully, provides a simple application process that can be completed quickly online or in-person with few qualifications. What you'll need is the following:
You must be over the age of majority in your province (at least 18–19 years old) to participate.
Have a chequing account in Canada (with direct deposit)
For at least a few months, you should have a stable source of income.
You may be required to submit additional personal and financial information as part of the application and approval process, such as:
Photo identification from the government (passport, driver's licence, etc.)
A utility bill or other proof of permanent residence in Canada
A VOID cheque or a pre-authorized debit form (for deposits and withdrawals)
Bank statements, pay stubs, or other proof of income from the last few months
The Bottom Line
At Lionsgate, we specialize in helping people get the extra cash they need, obtain funding for private mortgages, as well as for other real estate transactions. If you are looking to buy land in Canada, get a mortgage or apply for a loan, fill out the form below. Or, You can leave us a message and we will try to connect you with local lenders and sources that best meet your needs.
If you found this article helpful, please share it on your timeline and with someone you care about. Also, visit our blog to read similar helpful articles on finance, real estate, and getting mortgages.