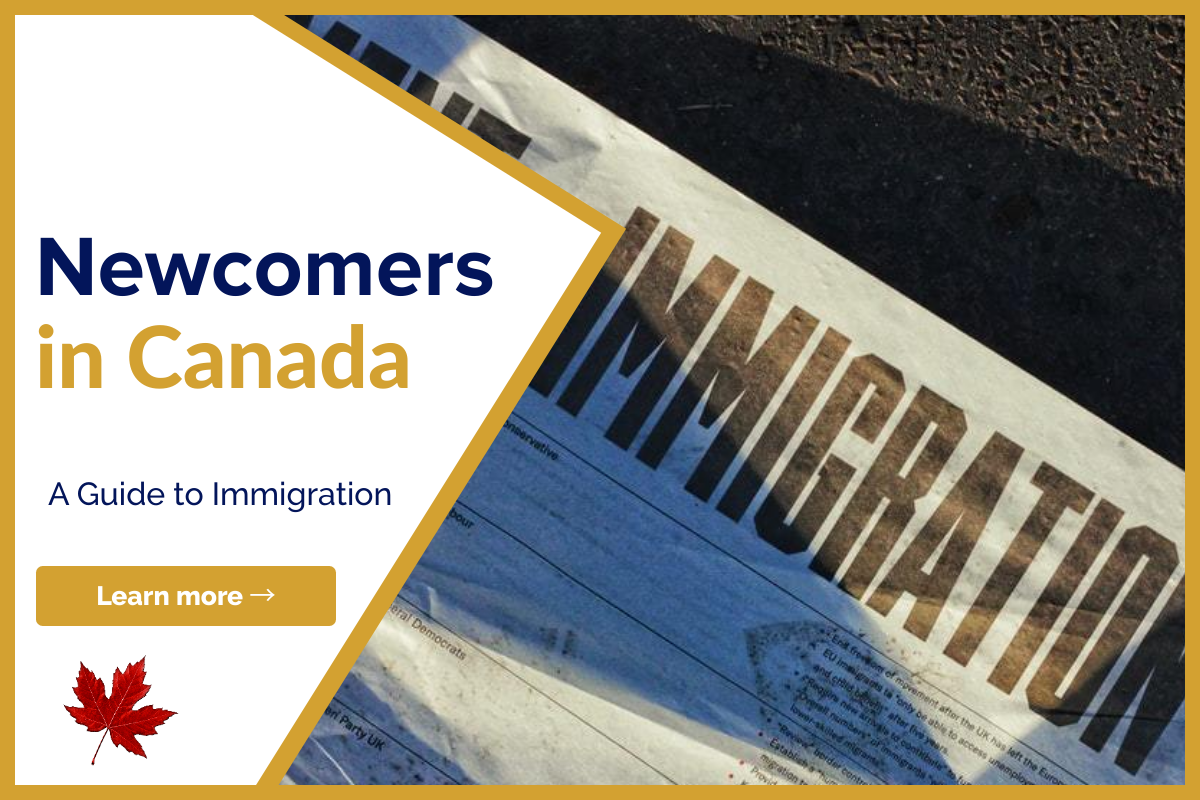 Newcomers in Canada: A Guide to Immigration
Now you can listen to our blog post, "Newcomers in Canada: A complete Guide to Immigration" while on the go.
Canada's immigration population grows by about 300,000 each year. That is one of the highest immigration rates ever recorded. Approximately 8 million immigrants have permanent residence in Canada as of today, making up about 21.5 percent of the country's total population.
However, moving to Canada is more complicated than one may imagine. There are many things to take into account, such as buying or renting a home, finding employment, and starting over.
Methods for Entering in Canada
Numerous initiatives are offered to aid immigrants in arriving in Canada. Here are some of the primary methods for relocating to Canada:
Express Entry
Family Sponsership
Canadian Experience Class (CEC)
Federal Skilled Worker Program
Federal Skilled Trades Program
Provincial Nominees
Rural and Northern Immigration Pilot
Refugees
Quebec-Selected Skilled Workers
Start-Up Visa
How to Apply for a Green Card?
A person who has been granted permanent residence status but is not a Canadian citizen is referred to as a permanent resident. Although they have the right to live in Canada, permanent residents must maintain their nationality. It's crucial to remember that a visitor to Canada is not considered a permanent resident.
Those who are awarded permanent residence status receive a card, which is normally valid for 5 years. Nevertheless, it can occasionally be granted for a year. The card is only good until the indicated expiration date.
When returning from a trip outside of Canada, permanent residents must present their passport and identification card. Before permanent residents leave Canada, the card should be renewed if it has expired because they will need it when they come back. On the other hand, a permanent residence card can be renewed or applied for outside of Canada by going to a centre for visa applications or sending an email with an application.
In order to maintain their status, permanent residents must have spent at least 730 days in Canada over the previous five years. However, these 730 days are not have to be consecutive. A portion of time spent overseas could be included in the 730 days.
How to Become a Citizen of Canada
The following actions are required to become a Canadian citizen:
Meet Particular Criteria
You must fulfil the following requirements in order to obtain permanent residency:
had at least three of the last five years of residence in Canada
filed your taxes (if applicable)
clear the citizenship test
prove your fluency in either English or French
Obtain a package for the application
The application package will contain all the necessary forms, as well as an instruction manual. It's crucial to select the bundle that best suits your needs.
For instance, there are many application packages available depending on whether the applicant is an adult, a parent applying for a minor, or a stateless person born to Canadian parents.
Obtain the necessary funding
Whether you are a minor or an adult above the age of 18 determines the charge that must be paid. Fees must be paid online and include the processing cost and the right of citizenship fee. Only after the application is prepared for submission should the fees be paid.
Send Your Application
The application must be signed and dated prior to submission. After being signed, the application form can then be promptly forwarded by mail or courier. The application will be returned if it is delivered more than 90 days after its due date. An acknowledgement of receipt (AOR) letter or email will be sent out if the application is accepted.
Applications take roughly 12 months to process, during which time the application, citizenship test, interview, and ceremony are all handled.
Locating a Residence in Canada
You will require housing if you immigrate to Canada. Before you find a property to rent or buy, you might want to consider locating temporary lodging in addition to moving in with family.
To assist you decide where to stay, you can research hotels and hostels online along with information on costs, locations, and pictures. Inquire about any available temporary accommodation for immigrants by contacting an immigration agency in the area where you intend to dwell.
The national housing organisation in Canada, the Canada Mortgage and Housing Corporation (CMHC), can provide you with more details about renting an apartment or purchasing a property when you're ready to do so.
Finding Employment in Canada
You'll need a Social Insurance Number (SIN), a nine-digit number assigned to you, in order to apply for jobs, get government benefits, and access programmes in Canada. It's crucial to secure this information because it contains sensitive and vital personal data.
Through the Newborn Registration Service, parents can apply for a SIN for their babies, and kids who are 12 years old and older can apply for their own SIN.
You can apply for a SIN online, in person at a Service Canada location, or by mailing a paper application.
If a SIN with a "9" in the beginning expires, it must be revised so that the expiration date matches the one on the document issued by Immigration, Refugees and Citizenship Canada (IRCC) allowing you to lawfully work in Canada.
As long as you remain in Canada, you may continue to work or study under the same restrictions if you renew your work or study permit and it expires before a decision is reached. Your SIN has expired, but you are still able to work thanks to your "implied status."
You must submit an application to Service Canada with your new immigration document after the IRCC has made a decision permitting you to continue working in Canada in order to have your SIN record updated with the new expiration date.
Final Words
As you might anticipate, it takes some time, effort, and money to apply to become a Canadian citizen or permanent residence. Be sure to learn everything there is to know about moving to Canada with your family and going through the correct channels.
Need Some Quick Cash? Let Us Help!
Are you struggling with your financial needs and need some extra cash? Lionsgate can help. Just fill out the form below, letting us know all your cash or mortgage requirements and we will find the best lender for you. Amazing thing? The process is free and you can quit it at any time.
We have a team of experts that analyze your requirements and pick the best lender for you, with prudent advice.
Note: Please give your authentic information while completing the form below.
If you found this article helpful, please share it with someone you care about. Also, visit our blog to read similar helpful articles on finance, real estate, and getting mortgages.