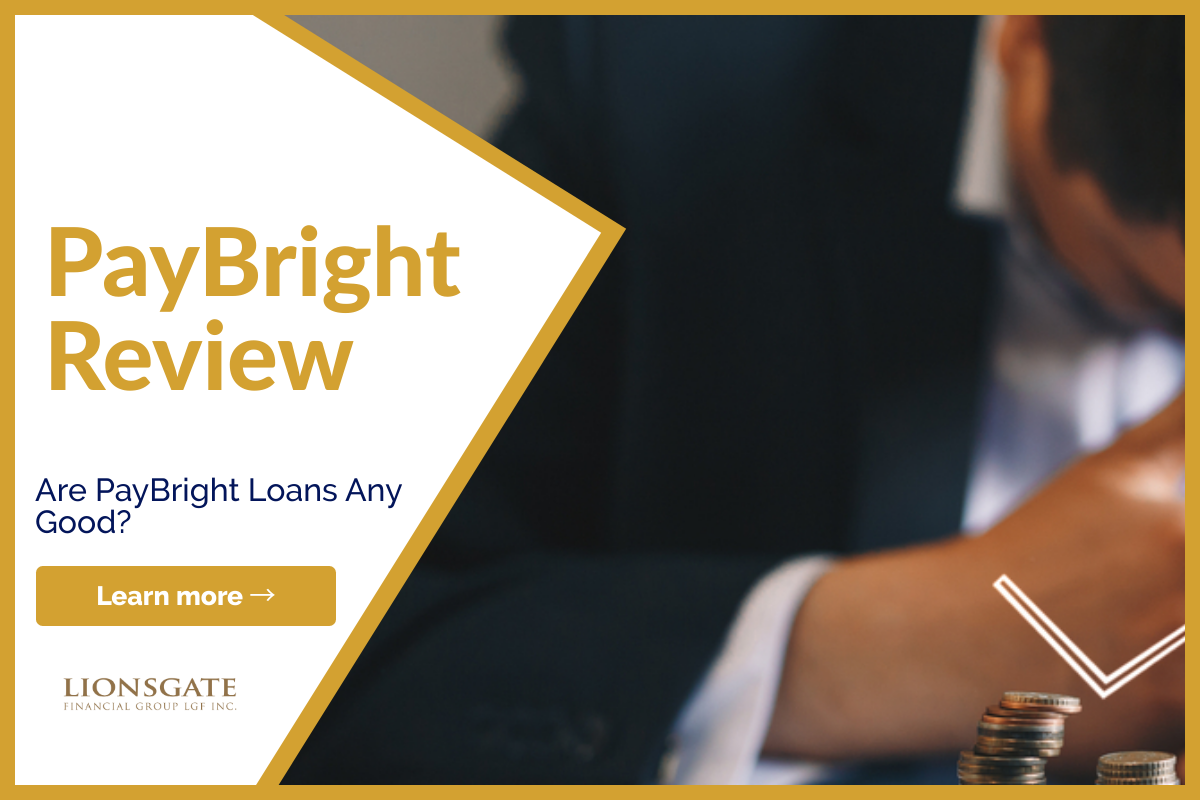 PayBright Review: Are PayBright Loans Any Good?
Now you can listen to our blog, "PayBright Review: Are PayBright Loans Any Good?" while on the go.
PayBright is a Canadian-based buy-now-pay-later financial services firm. To fund your purchases, the organization provides you immediate loans at the point-of-sale (POS). PayBright, unlike other POS lenders, does an "instant credit check" to calculate your credit limit.
When taking out a PayBright loan, you have two alternatives.
Pay in four installments — Pay down your loan in four installments, the first of which is due at checkout. Your purchase amount is not subject to interest or processing fees.
Pay on a monthly basis — Work up a payment schedule that works for you. To establish the APR the company charges on your loan, you'll need to pass a credit check with this payment model.
PayBright is now accessible in Canada at over 7,000 online and offline shops. The company is legitimate, having won Canada's Top Fintech Firm award in 2017.

The PayBright "Pay in 4" loan allows you to pay back your loan in four installments, each of which is due every other week.
The "Pay Monthly" option is only accessible for large-ticket purchases, and it isn't as commonly available as the "Pay in 4" option. This option, on the other hand, allows you to spread your payments out over a period of 6 to 60 months.
With the "Pay Monthly" option, you'll also be charged interest, with monthly processing fees ranging from $1 to $4. Aside from the interest, if you take for a 60-month loan, you could end up spending up to $240 in processing fees.
If you use the "Pay in 4" option and miss a payment, you'll be charged a $10 late fee. The late fee is $30 if you miss a payment on the "Pay Monthly" option.
What is the purpose of PayBright?
PayBright is a service that is offered to Canadians. To open a PayBright account and finance a purchase, you must be at least 18 years old. To link your PayBright account, you'll also need a Canadian credit or debit card. If you meet these lending requirements, you can open a PayBright account and begin buying right away.
PayBright, like most, buys now pay later services, is more popular with younger people since it is perceived as a method to fund lifestyle expenditures without the risk of debt that comes with using a credit card.
What impact does PayBright have on my credit score?
You won't have to worry about your credit score if you take out a loan with the "Pay in 4" option. PayBright performs a "soft" credit check to confirm your identification, but it has no bearing on your credit score. Your credit report is also unaffected by the loan.
The "Pay Monthly" option, on the other hand, necessitates a PayBright credit check. They cooperate with credit reporting agencies such as Experian and Transunion, and the inquiry will appear on your credit report. PayBright also informs the credit bureaus about your payment behavior.
There are two ramifications to this.
It can assist to improve your credit score if you pay your "Pay Monthly" account on time.
If you fail to make a payment, it will appear on your credit report, and your credit score may suffer as a result.
Banks don't like it when you take credit from third-party lenders, but they have no way of knowing if you have a PayBright account. When reviewing a credit application, the bank will pull your credit report to see if you have any outstanding "Pay Monthly" loans with PayBright, which will affect your creditworthiness.
Because most banks prefer that you devote a small percentage of your income to debt repayment, having a significant loan may make it difficult for you to obtain a loan from your preferred bank or financial institution.
Advantages and Disadvantages
Pros
Point-of-sale loans that are affordable.
There are two payment options: "Pay in 4" or "Pay Monthly."
"Pay in 4" loans have no interest or processing costs.
In Canada, there are approximately 7,000 retail partners with coverage that is continually expanding.
Cons
Late fees are costly.
On "Pay Monthly" accounts, the APR is charged.
On "Pay Monthly" accounts, a hard credit check is necessary.
Missed payments are reported to the credit bureaus.
Alternatives of PayBright
Afterpay: Afterpay is an Australian fintech company that offers simple point-of-sale loans for minor purchases. Australians, Canadians, and Americans are served by the company. With a total account limit of $2,000, you can take out numerous loans of up to $1,500 each. Afterpay doesn't charge interest on loans, and you make four straightforward payments two weeks apart, the first of which is due at the time of purchase (sort of like a deposit on the transaction).
Sezzle: Sezzle is a point-of-sale lending company that serves more than 2.4 million consumers in Canada and the United States. Over 30,000 online merchants and prominent retailers around the world are part of the company's retail network. You'll be charged in four installments, with the first payment payable at the time of purchase.
Affirm: PayBright was acquired by Affirm in a multi-million dollar deal. Affirm, based in New York and listed on the Nasdaq, provides point-of-sale loans with credit limits of up to $17,500. For three, six, and twelve-month facilities, you have a variety of payment choices.
The Bottom Line
At Lionsgate, we specialize in helping people obtain funding private mortgages for land purchases as well as for other real estate transactions. If you are looking to buy land in Canada, get a mortgage or apply for a loan, leave us a message and we will try to connect you with local realtors and sourcing for financing.
If you found this article helpful, please share it with someone you care about. Also, visit our blog to read similar articles on mortgages.