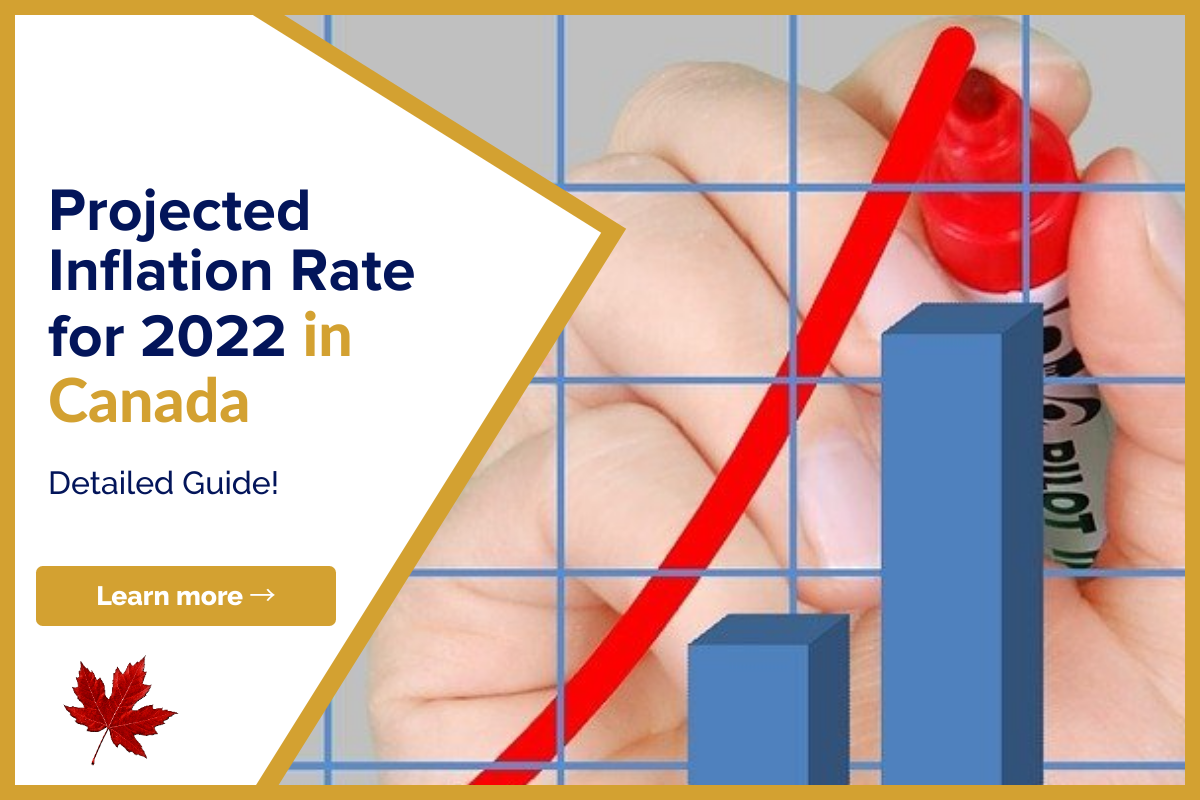 Projected Inflation Rate for Canada in 2022
Now you can listen to our blog post, "What is the projected inflation rate for 2022 in Canada?" while on the go.
A measure of inflation is how quickly prices are increasing. It's critical to monitor inflation because it can significantly affect your way of living.
You are impacted by inflation in two ways. The first effect is that your money has less purchasing power. This implies that as time goes on, your dollar will purchase less and less if prices are rising. Second, rising interest rates may have an effect on your capacity to borrow money or make investments.
A low and consistent rate of inflation is generally advantageous for the economy. It promotes investment and spending, which results in economic expansion. However, inflation that is too high might be harmful. It might result in doubt and increased interest rates, which would be bad for borrowers and would impede the economy.
This article will examine Canadian inflation, how it is calculated, and what it means to you.
How Is Inflation Measured and What Does It Mean?
The rate at which the cost of goods and services increases is known as inflation. Because of inflation, you won't be able to spend the same amount of money today on the same quantity of products and services tomorrow. This indicates that over time, inflation will lower your purchasing power.
The Consumer Price Index is typically used to calculate inflation as a 12-month percentage change (CPI). A selection of common items and services that Canadians buy make up the CPI. It was developed by Statistics Canada using data from their Survey of Household Spending (SHS), and it covers a variety of items and services, including those for consuming food, lodging, clothing, traveling, and having fun.
Because it reflects the prices Canadians are paying for a representative basket of goods and services, the CPI is used to gauge inflation. If the CPI rises, the prices that Canadians are paying are rising as well. Although data is gathered nationwide, it is proportionate to the population of each region. For instance, 40% of the CPI basket comes from Ontario, which also has about 40% of Canada's population. This makes the CPI a good proxy for Canadians as a whole.
The annual inflation rate is the change in the CPI over a 12-month period. Based on a rolling 12-month period, which is the 12-month period that ends in the month being reported on, this calculation was made. For instance, the CPI change from September 2021 to September 2022 would be used to calculate the inflation rate for September 2022.
Canada's Current Inflation Rate is 6.9%.
November 16, 2022 update: In October 2022, Canada's inflation rate remained at 6.9% from September 2022 as the consequences of rising interest rates spread across the country's economy. When volatile costs for energy and food are removed, annual core inflation slightly decreased to 5.3% in October 2022 from 5.4% in September 2022.
While gasoline costs have climbed, the rate of growth in food prices has slowed. Falling home prices somewhat offset rising mortgage rates, property taxes, and rent. Although the Consumer Price Index (CPI) for Canada increased by 0.7% on a monthly basis, the 12-month change remained unchanged from last month. The inflation rate for October 2022 was 6.9%, which is much higher than the Bank of Canada's goal range of 1% to 3%. It also surpassed the 5.6% annual growth in the average hourly salary.
Indicator of Consumer Prices
The Consumer Price Index (CPI) tracks the average change in prices over time for a selection of products and services purchased by Canadian consumers. Price variations from month to month and year to year are tracked by the CPI. It is used by governments, companies, and individuals to make economic decisions and is intended to represent the spending habits of a normal Canadian home.
CPI information is made available by Statistics Canada by province, territory, and even by city. As a result, the CPI can be used to compare shifts in the cost of living in various regions. The CPI, for instance, can be used to compare the cost of living between Toronto and Vancouver.
Since the CPI is an index, it is composed of a number of different elements, each of which has a unique weight. Based on household spending from the prior year as reported in the Household Final Consumption Expenditure report, this weighting is updated yearly. More Canadians will be impacted by price changes in a given category the more money Canadians spend in that category. Because of this, the CPI is weighted according to actual expenditures in some areas.
Are Services in Canada's CPI Becoming More Valuable Than Goods?
As Canada's economy shifts to a more service-oriented model in recent years, services have taken on greater importance. The following table and chart compare the proportion of commodities and services in the CPI basket. The table demonstrates how over the previous few decades, the proportion of services in the CPI basket has increased. Prior to the COVID-19 pandemic in 2020 and the ensuing lockdowns, the proportion of services in the CPI basket reached its peak.
Need Some Extra Cash to Help Your Finances? Try Lionsgate!
Are you struggling with your financial needs and need some extra cash? Lionsgate can help. Just fill out the form below, letting us know all your money or mortgage requirements, and we will find the best lender for you. Amazing thing? The process is free, and you can quit it at any time.
We have a team of experts that analyze your requirements and pick the best lender for you with prudent advice.
Note: Please give your authentic information while completing the form below.
Please share this article on your social media profiles if you found it helpful. Also, visit our blog to read similar helpful articles on finance, real estate, and getting mortgages.