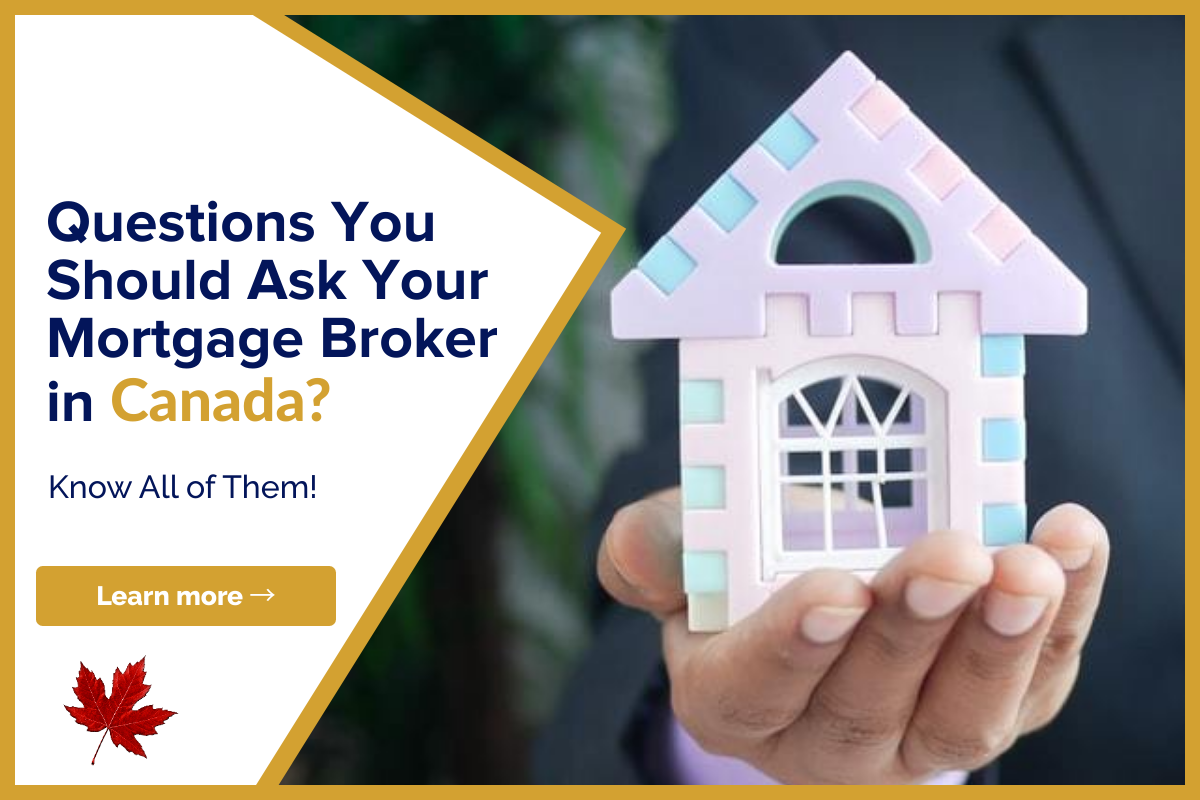 Questions You Should Ask Your Mortgage Broker
Now you can listen to our blog, "Questions You Should Ask Your Mortgage Broker" while on the go.
A mortgage broker acts as a bridge between a borrower and a lender. They compare the rates of all lending institutions to find the best mortgage for you. Mortgage brokers act as independent agents whereby they research and communicate with different financial institutions in order to find the cheapest option in the market.
Mortgage brokers are like your personal loan shoppers, that go store-to-store to find the best, most affordable options for you. By working with different institutes and using their various contacts, mortgage brokers research how and where you can find the best mortgage with the lowest interest rate.
What Does a Mortgage Broker Do?
Mortgage brokers assess people's current financial situation and evaluate the borrower's ability to secure financing and determine an appropriate loan amount. Also, a mortgage broker gathers information on the borrower's current income and decides all the loan details like where to get the loan, the interest rate, payback terms and down payment.
Mortgage brokers research and connect with a variety of different financial institutions in order to find the right option for their clients.
Why Do Some People Work With a Mortgage Broker?
Some consumers utilise mortgage brokers because they lack the resources to find the information on their own. With so many different options available, applying for a mortgage can be a complicated and overwhelming process. Using a mortgage broker can make the process smoother, faster, and more straightforward. They will conduct all of your research and assist you in selecting the finest alternative. This is especially true if you're going through it on your own.
Furthermore, some consumers use mortgage brokers because they have poor credit scores. If you're having trouble securing a loan, to begin with, and don't qualify with the banks, a mortgage broker can open up even more possibilities for you. They may be able to assist you in locating the funds you require.
How to Apply for a Mortgage In Canada
Follow these procedures to apply for a loan in Canada.
Order a copy of your credit report to confirm there are no inaccuracies before deciding on a mortgage. Before accepting you for a mortgage, a potential lender would almost certainly check your credit record.
Look into your mortgage choices.
If you're thinking about acquiring a mortgage, look for a mortgage broker. Keep in mind that each broker has distinct relationships with various people. So, keep your options open and check where the best bargain for you might be found.
The pre-approval procedure, in which potential mortgage brokers examine your financial situation to decide the maximum amount they will lend you and the interest rate they will charge you.
Any and all questions, including how to get the best interest rate, should be addressed.
Questions You Should Ask A Mortgage Broker
1. What is the best lender for my financial situation?
Before determining which lender is best for you, your mortgage broker will need to analyse your financial situation. Because each borrower is unique, different lenders will be best suited for some and not for others. Working with the lender that best matches your present financial circumstances while posing the least amount of danger should always be your and your mortgage broker's top focus. You should feel at ease and confident in taking out this loan, knowing that it is the best option for you.
2. What is the interest rate that I will be eligible for?
Your overall loan costs will be influenced by the interest rate you qualify for. If you qualify for a reduced rate, you'll save thousands of dollars. On the other side, the higher your rate, the more expensive and potentially more difficult your loan will be to handle.
3. Are there any fees associated with the origination of a transaction?
Lenders may levy an origination fee on occasion. Inquire with your mortgage broker if you'll be charged these costs and, if so, how much they'll cost you. Also, inquire about the possibility of the origination fee being waived.
4. What is the Meaning of "Hidden Costs"?
While the term "hidden" may be a stretch, there are numerous expenses associated with applying for and receiving a mortgage. This is why it's crucial to ask your mortgage broker about all of the fees you'll have to pay so you can budget appropriately.
You can anticipate paying a number of fees, including but not limited to:
Appraisal fee
Credit report fee
Land transfer fee
Lawyer and notary fee
Recording and title registration fee
Inspection of the home fee
Taxes
5. Is it possible for you to provide me with a loan estimate?
A loan estimate is a list of all the expenses you'll need to pay during the mortgage approval process, which your lender is required to provide. When your application is complete, you will be given this amount, which includes all charges related to your loan. If your mortgage broker doesn't bring it up, make sure to inquire about these costs because they can mount up rapidly.
6. How much should I put down as a down payment?
Always check with your mortgage broker to see how much of a down payment you should make. Most first-time home purchasers believe that the higher the down payment, the better the mortgage rate. This is entirely incorrect, as you can put down as little as 5% and yet get the same mortgage rate as people who put down 20% or more. Your mortgage broker can help you figure out how much of a down payment you need for the house you want to buy and the lifestyle you want to live.
7. Is it possible for you to guarantee that my closing will take place on time?
It's critical to ensure that your mortgage broker can guarantee a timely closing, especially if you're on a tight schedule. If your lender is unable to finalise your mortgage on schedule, you may be faced with additional costs, such as:
Rearranging the movers' schedules
Find a place to reside while you wait to move
The Bottom Line
At Lionsgate, we specialize in helping people get the extra cash they need, obtain funding for private mortgages, as well as for other real estate transactions. If you are looking to buy land in Canada, get a mortgage or apply for a loan, fill out the form below. Or, You can leave us a message and we will try to connect you with local lenders and sources that best meet your needs.
If you found this article helpful, please share it on your timeline and with someone you care about. Also, visit our blog to read similar helpful articles on finance, real estate, and getting mortgages.