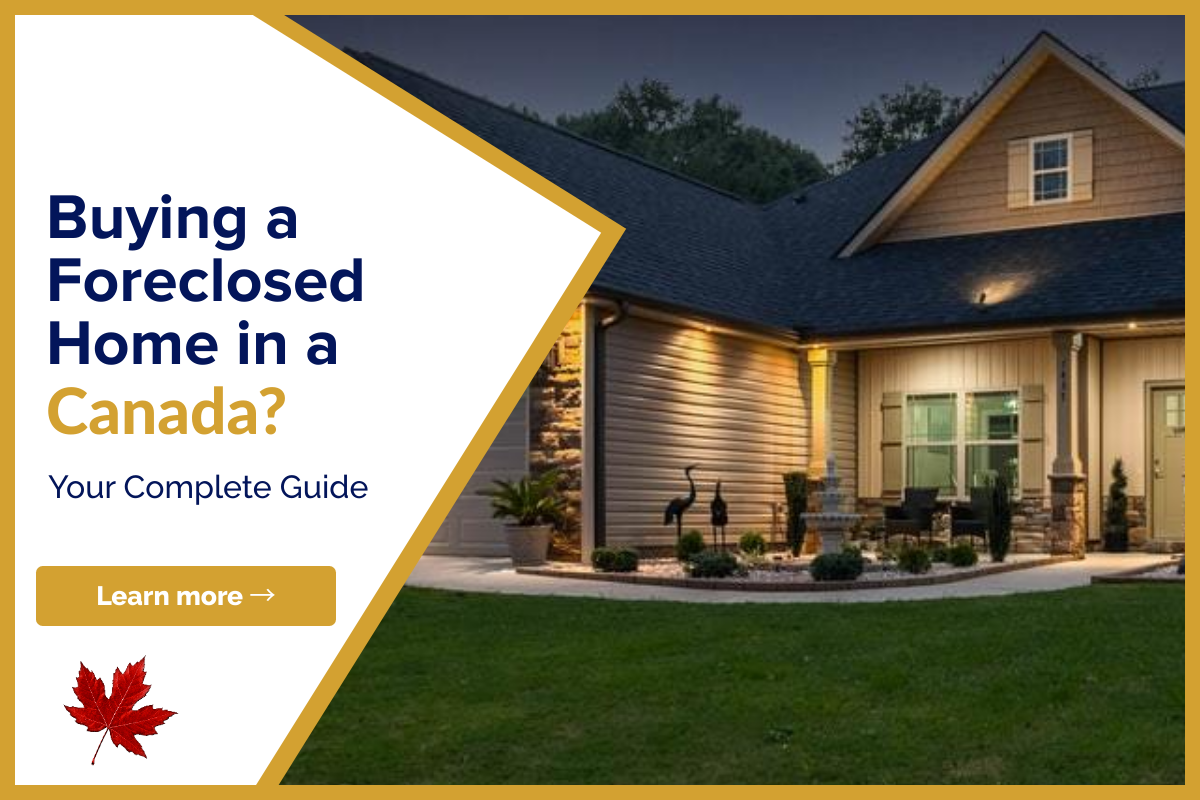 Buying a Foreclosed Home in Canada
Now you can listen to our blog post, "Buying a Foreclosed Home in Canada" while on the go.
Homes are very pricey, especially in popular urban areas. Due to this fact, many homeowners cannot afford their mortgage payments and eventually foreclose their homes. People also go through foreclosure due to criminal activity, bad living conditions and other such situations that bring them to be removed from the property.
Regardless of the cause of foreclosure, the lenders who retain the liens to those properties need to do something to recuperate the loss they have taken. Also, the same foreclosed homes can be put up for sale again.
Foreclosures in Canada
A foreclosure is taking the possession of a mortgaged property back when the mortgagor fails to keep up their mortgage payments.
In Canada, foreclosures are rarer than you think. There is some lender like banks that bring the idea of foreclosure to get borrowers to make timely payments. Often, lenders do not want to go through the foreclosure process. It is also true that foreclosure is expensive and time-consuming as they often need to go through legal proceedings as well as selling the home at auction or putting it up for sale at a lower price.
With this being said, it is wise not to get overconfident because foreclosures do happen under extreme conditions. Usually, lenders revoke the home's title once 4 mortgage payments default. Once the foreclosure is finalized, borrowers will usually have 30 days to vacate the property.
During the foreclosure process, most lenders still negotiate with the borrower. If a borrower shows that they can start making payments again, the situation can be reversed. However, if the lender concludes that the borrower cannot make payments at all, they can foreclose on the home and then attempt to sell in one of the two ways: one judicial sale, and two power of sale.
Judicial Sale
This is when the lender needs to apply to the judicial court for authorization to sell the residence, which is common in British Columbia, Quebec, Alberta, Saskatchewan, and Nova Scotia. Because of the lengthy court case and legal expenditures involved, this process takes a lot longer and costs a lot more money.
Lenders in these jurisdictions can start the foreclosure procedure as soon as the first mortgage payment is missed if they want to (however unlikely that may be). Soon after, legal action will begin, with the borrower being served with a "Statement of Claim for Debt and Possession" and allowed 20 days to respond with a "Statement of Defense."
The lender will be given authority to sell the home if the borrower loses their case or fails to file a Statement of Defence at all. The court foreclosure process might take anywhere from a few months to a year to complete. The lender can then sell the property with the help of a real estate agent or at a real estate auction once the process is completed. They'll utilise a big amount of the profit from the property's resale to pay for their legal bills.
Power of Sale
A Power of Sale is a clause in a homebuyer's mortgage contract that gives the lender the power to sell the property instead of going to court. It's common in Newfoundland, Ontario, Prince Edward Island, and New Brunswick. The process usually starts after four missing payments. The borrower is given a 35-day redemption period during which they can make up any missed payments, as well as any outstanding tax arrears, late fines, or costs related to the Power of Sale.
If the borrower does not make these payments, they will be served with another eviction notice and will be required to remove the property within 30 days. The lender will most likely sell the property at auction or through a typical real estate transaction. However, in order to cover the outstanding sum on the delinquent mortgage, they'll have to sell it for the greatest feasible price.
Steps To Buy a Foreclosed Home
Planning to buy a foreclosed home? Prepare yourself well before you apply for your new mortgage. Here are the steps that can be taken as precautionary measures.
Seek Professional Help
It is true that the house itself might be listed for less. But who knows what's actually wrong with it, though? To ensure that buying a foreclosed house is the best option for you, get the advice of both a financial and real estate expert advisor. Inquire about all of the prospective costs and dangers. Do the advantages of purchasing a foreclosed property outweigh the disadvantages of purchasing a regular home? If not, it's probably best to pass on the transaction entirely.
Hire a real estate agent.
Because buying a foreclosed home is more complicated than buying a regular home, hiring a skilled realtor is more important than ever. They can not only assist you in finding the correct home, but they can also assist and guide you through the entire process. You'll have to go through a number of stages, including an inspection and a court appearance. Many lenders, including banks, will offer you a realtor at no cost to you.
Have the property appraised and inspected
Having the property inspected and assessed for its value is one of the simplest ways to ensure you're getting a decent deal. While your lender may provide a similar inspection and appraisal, it may be preferable to pay for your own to ensure that you aren't purchasing a property that will never be fully utilised.
Make a Financial Plan
Consider the substantial expenditures of purchasing a foreclosed home. Remember that a foreclosed home may require considerable work before it is safe to inhabit. Hold off until you can discover a better suitable property if you can't afford these expenditures (together with your payments).
Getting Ready for the Application Process
While purchasing a foreclosure home at auction is frequent, working with a reputable real estate business is typically a safer option. However, as with any traditional loan, an approval process is required in both cases. You must expect your credit and financial situation to be scrutinised. Here are a few things you can do to improve your creditworthiness:
Update and organise any personal or financial records that are required.
Pay off any additional debts you have.
Boost your credit score (report, score, history, rating)
Make as much money as you can and save as much as you can.
Make a substantial down payment.
Create a payment plan that works for your budget
The Bottom Line
At Lionsgate, we specialize in helping people get the extra cash they need, obtain funding for private mortgages, as well as for other real estate transactions. If you are looking to buy land in Canada, get a mortgage or apply for a loan, fill out the form below. Or, You can leave us a message and we will try to connect you with local lenders and sources that best meet your needs.
If you found this article helpful, please share it on your timeline and with someone you care about. Also, visit our blog to read similar helpful articles on finance, real estate, and getting mortgages.