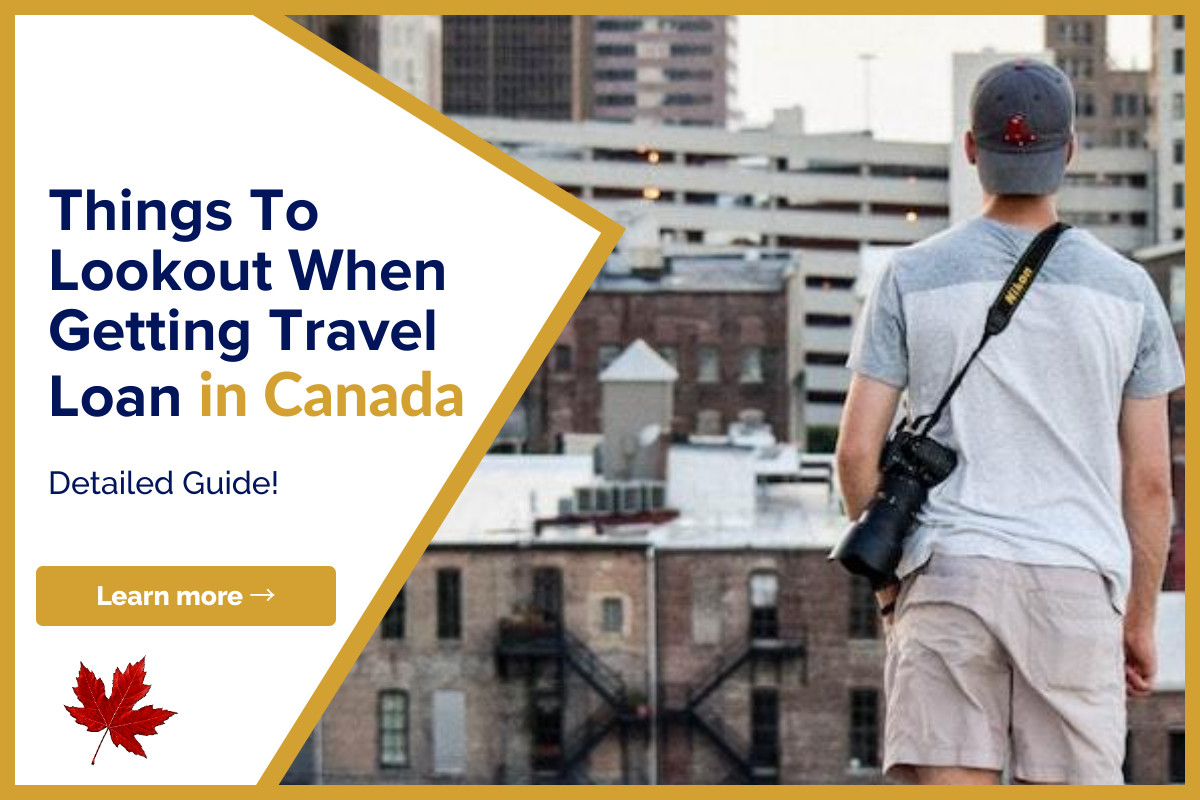 Things To Lookout When Getting Travel Loan
Now you can listen to our blog post, "Things To Lookout For When Getting A Travel Loan" while on the go.
It should go without saying that getting a loan, for whatever reason, entails some risk. It is always advisable to exercise caution before taking out a loan, even for a holiday. Before requesting a holiday or trip loan, make sure you are fully educated about all the possible drawbacks that could be associated with this type of borrowing.
Impact on Credit – Your credit score may suffer if you're ever unable to pay back a loan that you've already taken out. And the repercussions could be significantly worse if you totally default on the debt.
Increases Your Financial Debt – If you already have a lot of debt, taking out another loan can just make things worse. Furthermore, taking out another loan could put you in financial trouble down the road if you're already struggling to manage your current debt.
The incorrect loan type – Consumers have access to a variety of loan options, each of which has advantages and disadvantages. As a result, it's critical to comprehend the loans that are accessible to you and select the one that best meets your demands.
High Monthly Payments – If you're not careful, the monthly payments for your travel loan could end up being more costly than you can afford. First, make sure you have a budget set aside for these extra payments.
Failure To Read Your Loan Contract – Every loan has different terms attached to it, as do all loans. If you don't read your loan contract carefully, you risk overlooking important information regarding your loans, such as the interest rate, any additional costs, and the due dates for payments. You can get into trouble with your lender if you don't abide by these conditions.
Maximum Credit Limits – You risk damaging your credit score if you decide to pay for your vacation using credit cards and send them to the limit. Your utilization may soar if you max out your credit cards, which could harm your credit Furthermore, using your credit cards excessively might result in exorbitant fees and interest, making it much harder to pay off your debt.
Scams with travel loans: Even while the majority of lenders are honest, there are some out there who are waiting to prey on the next gullible customer. Since there are con artists around, it's imperative to exercise caution while choosing your business partners. In general, you should steer clear of lenders who promise approval without checking your finances and demand upfront fees and insurance payments.
Advice On Lending For Travel
It's not a good idea to take out a loan to travel. Traveling is viewed as a pleasure rather than a need, thus it isn't really something that is worth piling up debt for. Having said that, there are appropriate and improper ways to borrow for this reason. The following advice will help you borrow wisely:
Use Your Credit Card Rewards — If your credit card earns points, you might be able to use those points to offset the cost of a trip. These points could at the very least help you offset some of the cost of your trip.
Plan Your Budget – The cost of hotels and flights varies greatly. Make sure to set a budget and select your travel arrangements based on what you can easily afford to spend. Additionally, don't forget to account for extras like meals, entertainment, cab rides, and shopping. Limit your borrowing to what is necessary.
Select the Appropriate Loan Product – You may wish to consider a few different lending choices, such as an unsecured personal loan, a line of credit, or a secured home equity line of credit (HELOC). Before you take out any loan, make sure you are fully aware of all the terms and conditions.
Should You Take Out A Personal Loan Or Use Your Credit Card For Your Vacation?
Regardless of which choice you select, it's crucial to consider all of your alternatives and evaluate each one's terms before deciding how to pay for your travels.
Credit Cards
Vacations may be one of the items that people frequently use their credit cards to buy when they don't have enough money in their bank accounts to do so. But they don't make much financial sense given the exorbitant interest rates that are frequently associated with credit cards.
However, if you use a certain credit card to pay for your vacation, you may be eligible for trip insurance that covers the entire duration of your journey.
You may be covered by cancellation or medical insurance in the event that you need to change your flight or experience a medical emergency while traveling. Additionally, as was already noted, you might be able to accrue points and even utilize rewards points to pay for a portion of your trip.
Personal Loan
On the other hand, if you can secure a rate that is significantly less expensive than what your credit card provider offers, a personal loan might be a better choice. In fact, after credit cards, personal loans are arguably the second most popular method of funding travel. Budgeting is made considerably simpler by the set interest rates, adaptable payback terms, and affordable payments offered by personal loans.
How To Reduce The Cost Of Your Travel?
Consider making your trip more reasonable to help you pay for your holiday without taking out a loan. Here are several methods for carrying it out:
Examine online specials
Subscribe to deal notifications
Take into account multiple-stop flights to reduce the cost
Travel at off-peak hours
Create a crowdfunding campaign to raise money for a birthday or holiday gift.
Put money into a savings account with a high rate of interest.
Create a budget
Use a credit card with rewards.
Need Some Extra Cash to Help Your Finances? Try Lionsgate!
Are you struggling with your financial needs and need some extra cash? Lionsgate can help. Just fill out the form below, letting us know all your money or mortgage requirements, and we will find the best lender for you. Amazing thing? The process is free, and you can quit it at any time.
We have a team of experts that analyze your requirements and pick the best lender for you with prudent advice.
Note: Please give your authentic information while completing the form below.
Please share this article on your social media profiles if you found it helpful. Also, visit our blog to read similar helpful articles on finance, real estate, and getting mortgages.