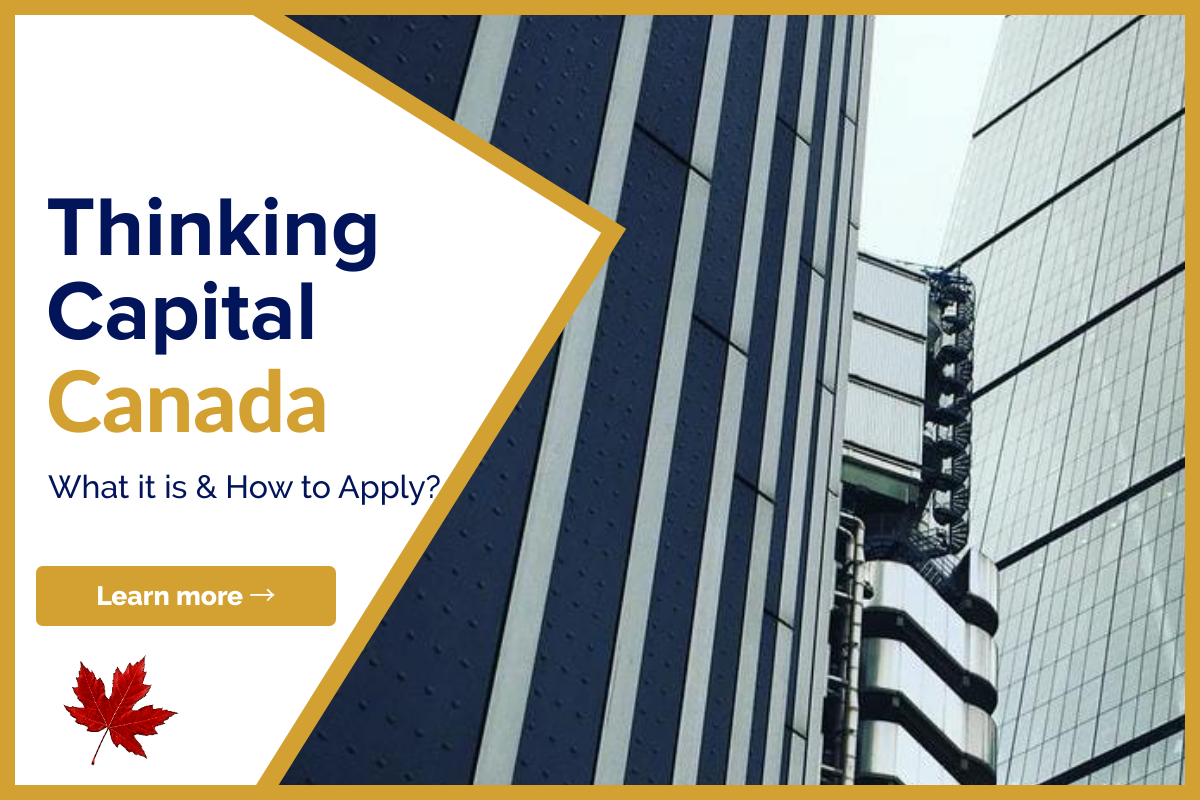 Thinking Capital: What it is & How to Apply?
Now you can listen to our blog post, "Thinking Capital: What it is & How to Apply?" while on the go.
Are you looking to grow your business with a loan or merchant cash advance? If yes, Thinking Capital could be the right option for you.
Thinking Capital is a technology-focused financial services platform leading innovation on behalf of consumers and small businesses. It has been in business for over 10 years with a goal to transform the way small and medium-sized Canadian businesses borrow the funds they need. Thinking Capital offers both fixed and flexible repayment plans and works with an array of industries across Canada.
In this Thinking Capital guide, we will see qualifying requirements for business financing, the application process and pros and cons to let you decide whether to take it or not.
How to Qualify for Business Financing With Thinking Capital
To qualify for a small company loan or merchant cash advance from Thinking Capital, you must meet a few standards, including but not limited to:
You must show proof that you are a permanent resident of Canada and that you are at least 18 years old.
A Canadian-based company that has been in existence for at least six months.
Minimum of $7,000 in monthly card sales
If the business is run from home, a minimum of $20,000 in monthly sales is required.
You may be asked to offer a co-signer if you have terrible credit.
Fortunately, the credit score of a business owner is less important to Thinking Capital. Instead, your chances of getting approved, the amount of money you may borrow, and the interest rate you pay will be determined by your company's existing and prospective cash flow. If your company meets the above criteria, you might obtain money from Thinking Capital in as little as 48 hours (depending on how much you apply to borrow).
How to Apply For Thinking Capital
Keep in mind that Thinking Capital is a commercial lender. As a result, you may need to bring a few important documents with you when you apply, including but not limited to:
A government-issued document photo identification
A void check
Bank and/or merchant statements from the last few months
Documents from your co-signer that are similar (optional)
Because Thinking Capital has its own website, you may apply completely online from anywhere in Canada. It simply takes approximately 10 minutes to complete the process. All you have to do now is complete an application and sign it with your electronic signature.
If you need additional information regarding their borrowing method, you can phone their customer support hotline. Before you begin, bear in mind that if you're requesting for a substantial amount of money, you might be asked to supply additional evidence.
Cost of Business Financing With Thinking Capital
Although there are many benefits to getting a small company loan or merchant cash advance from Thinking Capital, it's always necessary to think about the charges you can incur during your repayment plan, such as:
Your loan instalments are set on a daily, weekly, or bi-weekly basis.
A yearly cost ranges from 8% to 22% of your borrowed loan amount.
Payments for merchant cash advances are made every day (based on your sales volume)
A fixed fee is added to the amount of your merchant advance approval and payments.
Penalties for NSF (non-sufficient funds) or late payments are possible.
Before you apply for financing, you should be aware that payments for small business loans and merchant cash advances, as well as any associated costs, will be automatically deducted from your company's bank account. If your account does not have adequate money when your payment is due, you may be assessed a penalty for defaulting, which could harm your credit.
Pros and Cons of Applying With Thinking Capital
Pros
The approval criteria are straightforward.
The application can be done entirely online from anywhere in Canada.
Payments, terms, and interest rates on a loan can all be changed.
Payments and terms for merchant cash advances are adjustable.
There are no requirements for collateral or other forms of security.
Fast financing is available to a wide range of enterprises.
Financing is a type of cash that can be utilised for nearly any type of business expense.
The interest rates for their loans are listed on their website.
Cons
Financing conditions may be less favourable if a company's revenue or credit is poor.
Payment defaults might harm your company's credit score.
Defaulted payments may be subject to penalty fees.
Features of Thinking Capital
Are you unsure if Thinking Capital is the correct business lender for you? Then let's examine at some of their lending company's more attractive aspects. For example, Thinking Capital could be the perfect solution for you because they:
Finance sums ranging from $5,000 to $300,000 are available.
Two types of company funding are available (term loans & merchant cash advances)
Give clients who refer them to other businesses a $500 bonus.
Make funding available for nearly every business expense.
Have less stringent qualification requirements than many other commercial lenders.
Fees for borrowing that are adjustable (based on the strength of your business)
From Monday through Friday, only accept merchant cash advance payments.
Can set up a daily, weekly, or bi-weekly loan repayment schedule for you.
Provide money to a wide range of businesses, including:
Bars & Restaurants
Services for Health
Fitness Centers
Stores that sell things
Building Contractors
Can I get approved for good business financing conditions?
Fortunately, one advantage of Thinking Capital is that its approval requirements are less stringent than those of other Canadian business leaders. However, if you prepare yourself and your business properly for the application process, you will have a far greater chance of being approved for favourable financing terms. For example, getting accepted for a large amount of funding at a low-interest rate should be easier if your company:
Is earning a good living (at least $7,000 or $20,000 a month)?
Is demonstrated to be viable (having a solid business plan may help)
Has a positive credit score and history (few or no defaulted payments)
Doesn't have a lot of existing debt that needs to be paid (trustworthiness is key)
The Bottom Line
At Lionsgate, we specialize in helping people get the extra cash they need, obtain funding for private mortgages, as well as for other real estate transactions. If you are looking to buy land in Canada, get a mortgage or apply for a loan, fill out the form below. Or, You can leave us a message and we will try to connect you with local lenders and sources that best meet your needs.
If you found this article helpful, please share it on your timeline and with someone you care about. Also, visit our blog to read similar helpful articles on finance, real estate, and getting mortgages.