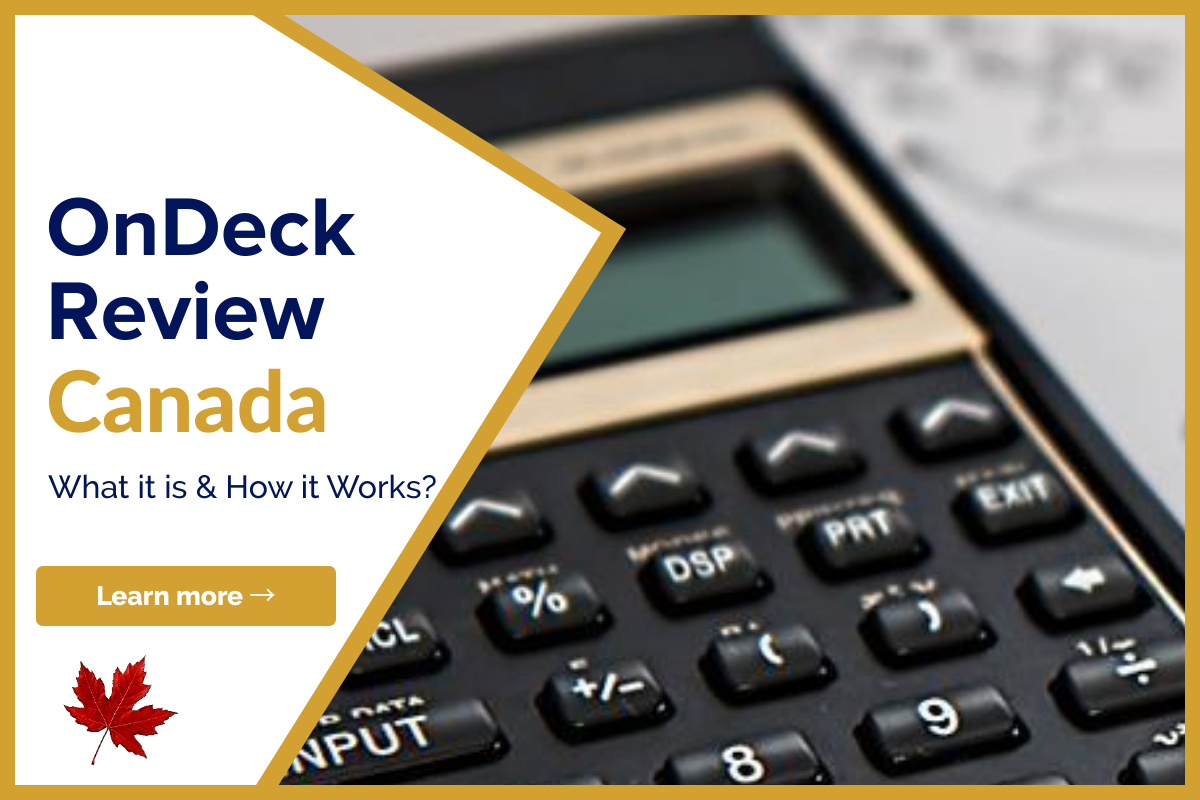 OnDeck Review: What it is & How it Works?
Now you can listen to our blog post, "OnDeck Review: What it is & How it Works?" while on the go.
OnDeck is a prolific online small business lender that offers two types of business loans: short-term loans and lines of credit. The main goal of OnDeck is to provide Canadian business owners with the capital, tools, and support that they need to grow their businesses. The vision behind OnDeck is that business owners should not worry about finding the financing; rather, they should focus on their businesses.
With OnDeck, a small business owner can get a business loan within 24 hours and that too by great customer service. It not only lifts your personal credit but also focuses on evaluating the success of your company. With this, you can approve more applicants, improve your cash flow, hire expert employees, expand to a second location and even upgrade your current equipment.
How Can a Business Qualify for OnDeck?
Qualifying for OnDeck deals in business credit products is harder than other most average personal loans and credit cards. Most business lenders take a hefty risk by approving enterprises that may or may not be successful in returning investment in the months to come. Bear in mind that when applying for OnDeck, you will be asked to present certain parts of your business's financial profile, including:
License number, address and other credentials
Most recent government-issued bank statements
Credit report and credit score
Assets
Gross monthly or yearly income
The approval requirements to pass the OnDeck test are simple. In fact, a business can likely qualify as long as it has:
Been in business for at least 6 months
A minimum Beacon credit score of 600
An active business banking account
Annual revenue of $100,000 or more
Also, a typical OnDeck business can get approved for their most favourable credit amounts, rates, and conditions when they have:
Been in operation 4 to 6 years
A beacon score of 640 to 720
An annual revenuw of $500k to $1M
How to Appky for OnDeck?
OnDeck has the advantage of offering business financing solutions throughout Canada (in both English and French), as well as in the United States and Australia. Their web services are open at all hours of the day, just like other online lenders, so you may complete your application there or over the phone.
Clients who meet the criteria can get authorized for financing in as little as 24 hours, according to OnDeck, however, wait times may vary if you apply outside of business hours. While their approval criteria are quite straightforward, small firms with annual revenues of less than $100,000 may have difficulty applying.
OnDeck Business Financing Solutions
OnDeck, unlike some other business lenders, offers a variety of funding options. Before applying, make sure to consult one of their sales professionals about these options, as they may or may not be appropriate for your company's current financial status.
Fixed Term Loan
A fixed-term loan from OnDeck is a short-term financing solution that is best suited for small businesses in need of additional capital to help them develop. The cash will be deposited directly into your business bank account, and you will be responsible for repaying the loan in instalments. You'll also likely get a fixed interest rate, which is considerably easier to calculate and budget for.
Monetary range: $5,000 to $300,000
Term available: 6 – 18 months
Daily or weekly instalments are available for repayment.
Interest rates range from 8% to 29%. APR
Line of Credit
This product allows you to take from a revolving credit line that replenishes based on how much you pay back against it each month, rather than a huge quantity of money is instantly put into your account. Because you may be able to make minimal or numerous monthly payments, and you would just have to pay interest on your outstanding debt, this product may be more beneficial than a loan.
Amount: $6,000 – $50,000 (only $1,000 – $10,000 can be withdrawn at a time)
6 or 12 month terms are available.
Monthly balances are the type of repayment (varies according to how much you borrow)
Interest rates start at 19.99 per cent APR and go up from there (the average is 25.27 per cent)
Flex Funds
This service, also known as a merchant cash advance,' allows you to leverage a portion of your daily sales in exchange for extra working capital. Rather than diving into a pool of pre-approved cash, the financing you're approved for is dependent on your company's potential credit and debit card receivables. The key advantage of this sort of programme is that your repayment term may be longer than any OnDeck loan or line of credit.
Monetary range: $5,000 to $300,000
Flexible terms are available
Repayment The format is daily instalments
Interest Rate: A percentage of your revenue that fluctuates
It's crucial to remember that OnDeck will report your activity to at least one of Canada's credit bureaus before you get started. This means that applying for credit and making payments will appear on your credit report, affecting your credit score.
How Much Does it Cost to Work with OnDeck?
Another 
feature 
that 
distinguishes 
OnDeck 
from 
its 
competitors 
is 
that 
they 
claim 
not 
to 
charge 
fees 
for 
loan 
origination 
or 
for 
their 
Flex 
Funds 
programmes. 
Certain 
costs, 
however, 
may 
be 
charged 
to 
their 
credit 
lines.
All 
of 
this 
is 
to 
suggest 
that 
the 
most 
important 
cost 
to 
include 
in
your 
budget 
is 
the 
interest 
rate 
on 
your 
loan 
or 
line of credit
, 
or, 
in 
the 
case 
of 
their 
Flex 
Funds, 
the 
number
of
daily 
sales 
you'll 
be 
obliged 
to 
deliver 
as 
payment.
Keep 
in 
mind 
that 
your 
personal 
rate 
may 
vary 
significantly 
depending 
on 
the 
amount 
of 
revenue 
your 
company 
earns, 
as 
well 
as 
the 
quality 
of 
its 
credit 
record 
and 
overall 
financial 
health. 
An 
average 
OnDeck 
Fixed 
Term 
Loan 
rate, 
for 
example, 
ranges 
from 
$0.08 
to 
$0.29 
per 
dollar 
borrowed.
The Bottom Line
At Lionsgate, we specialize in helping people get the extra cash they need, obtain funding for private mortgages, as well as for other real estate transactions. If you are looking to buy land in Canada, get a mortgage or apply for a loan, fill out the form below. Or, You can leave us a message and we will try to connect you with local lenders and sources that best meet your needs.
If you found this article helpful, please share it on your timeline and with someone you care about. Also, visit our blog to read similar helpful articles on finance, real estate, and getting mortgages.