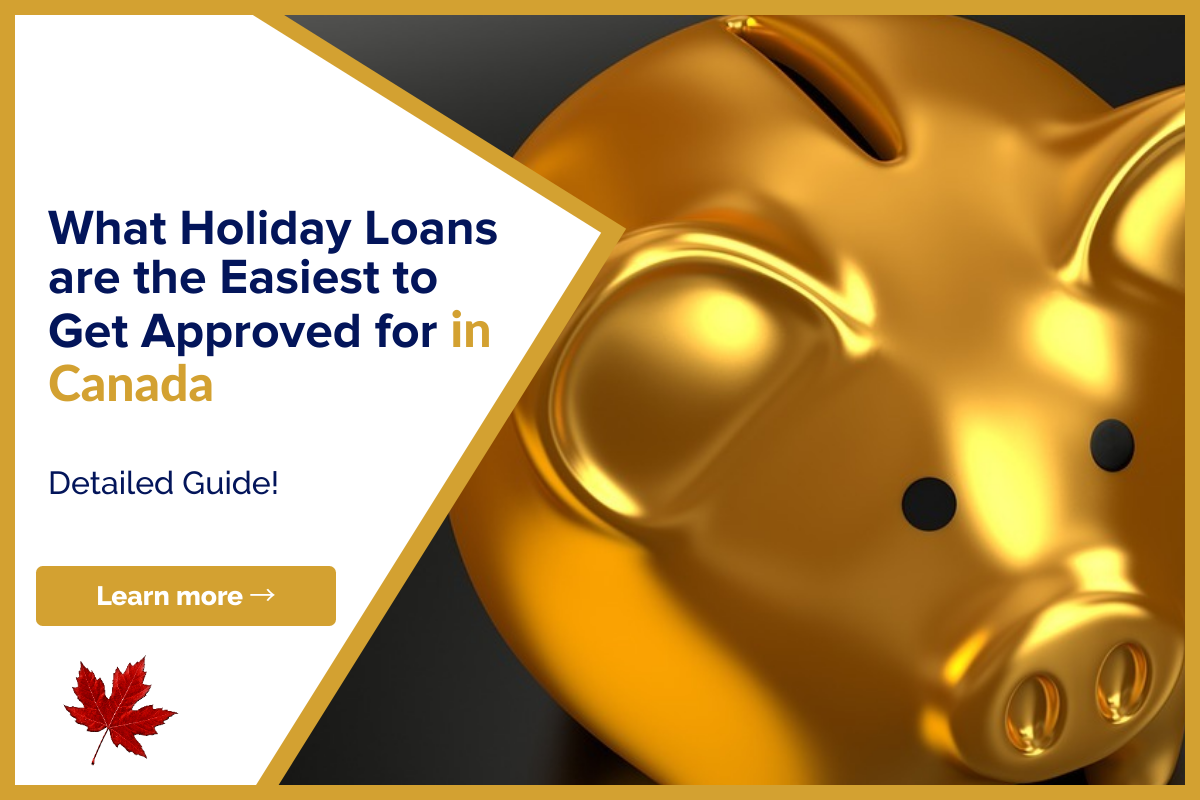 What Holiday Loans are the Easiest to Get
Now you can listen to our blog post, "What Holiday Loans are the Easiest to Get Approved for?" while on the go.
Since the holiday season means more expenses and less access to accessible cash, guaranteed holiday loans for those with negative credit are essential for the majority of Canadians. In order to pay for Christmas presents, party food, and holiday activities, Canadians spend hours looking for quick holiday loans for bad credit and online holiday loans for bad credit.
Thankfully, trustworthy loan finder websites that provide borrowers with access to modest holiday loans for bad credit can be used to locate the best holiday loans for bad credit and bad credit loans for holiday funds online. Additionally, if you're concerned about having terrible credit, the best vacation loans are not always out of the question!
Holiday loans with no credit checks are not the solution. Instead, in addition to a low credit score, lenders consider other factors. So, if you have low credit and are wondering if you can acquire a personal loan for a vacation, the answer is yes!
Of course, it can be challenging to identify the best loans for people with bad credit until you use a trustworthy loan matching service that can end your desperate hunt for a Christmas loan despite your poor credit.
Best Holiday Loans for People with Bad Credit
Using a Home Equity Line of Credit to Finance Your Vacation (HELOC)
With a home equity line of credit (HELOC), you can borrow money using the value of your house as collateral. You might be eligible if you have at least 20% equity, which is the current worth of your property less the amount you still owe on your mortgage.
A HELOC, in contrast to a standard loan, permits withdrawals from a credit account up to a predetermined maximum. You are only obligated to pay interest on the portion of the loan that is taken out, so you are free to borrow as much or as little as you choose from that account. You won't be required to start paying back your principal until the draw time is through.
Once you've paid back the money you borrowed, you're free to borrow more money whenever you need it.
Benefits of Taking a Vacation on a HELOC
Pay interest only. You only pay interest on the money you withdraw, not on the total amount of the credit. When you return that money, you'll be exempt from paying interest again until your next withdrawal from the account.
Low rates of interest. HELOCs are less risky for your lender because they are secured by your house. As a result, the interest rates levied are typically lower than those of an unsecured loan.
Rapid access If you've previously received HELOC approval, you can continue to take out loans against the equity in your house. Your HELOC will constantly be available to you, giving you quick access to cash when you need it rather than requiring you to reapply for a loan each time you need additional funds.
Cons of Traveling With A HELOC Secured.
Your house is protected from your HELOC. As a result, if you ever fall behind on your payments, the lender may decide to take your home. Before applying for a HELOC, make sure you are responsible and financially capable of handling it. If you default on your payments, you run the danger of losing your property.
Use your credit card to pay for your travel expenses
If you carry a credit card, you might think about charging the vacation cost to your card and paying it off in full before your next credit card payment is due. But before you do, weigh the benefits and drawbacks of financing this substantial investment.
The initial benefits of using your credit card for travel. To entice customers to apply, certain credit cards offer promotional 0% APR periods. You won't pay interest on any balance you have during these introductory periods, which is a desirable benefit for people who have large credit card balances right now. If you make the correct plans, you can use a new credit card that provides this 0% payment period to charge your vacation and save money on interest, as long as you settle the balance prior to the end of the introductory period.
Earn points: Many credit cards have reward programs that let you accumulate points with every purchase, making them ideal for travelers. When you have accumulated enough points, you can exchange them for complimentary products and services.
Cons of Traveling with Credit Cards
High-interest rates on credit cards are infamous for creeping up to 20%. If your debt is carried over from month to month, you can end up paying more in interest than the initial balance.
Late payments: Your credit score could suffer if you make credit card payments late.
Need Some Extra Cash to Help Your Finances? Try Lionsgate!
Are you struggling with your financial needs and need some extra cash? Lionsgate can help. Just fill out the form below, letting us know all your money or mortgage requirements, and we will find the best lender for you. Amazing thing? The process is free, and you can quit it at any time.
We have a team of experts that analyze your requirements and pick the best lender for you with prudent advice.
Note: Please give your authentic information while completing the form below.
Please share this article on your social media profiles if you found it helpful. Also, visit our blog to read similar helpful articles on finance, real estate, and getting mortgages.