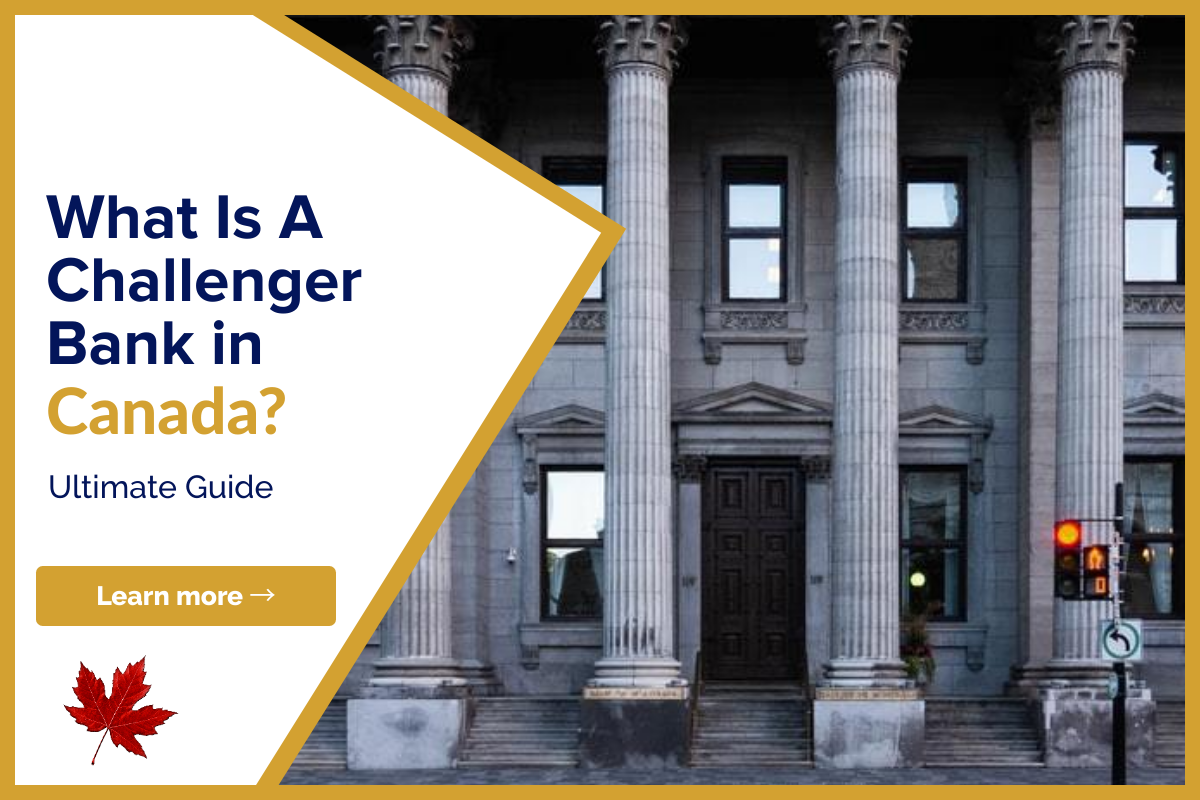 What Is A Challenger Bank in Canada?
Now you can listen to our blog post, "What Is A Challenger Bank in Canada?", while on the go.
Banks have been around for a very long time. In fact, the word "bank" originates from the word "bench", which was a seated position against a banking table where people could be served by money lenders and other financial institution professionals. When it comes to payment processing and other money transactions, banks were, for many years, the primary and most efficient source of service. However, in recent years, there has been an interesting trend that has led to the rise of challenger banks in Canada.
But what exactly is a challenger bank and who are the top challenger banks in Canada? let's find out.
What Is A Challenger Bank?
A challenger bank is a smaller financial organisation that focuses on providing online-only banking to customers. Consumers can accomplish much of their banking online using a laptop or smartphone by interacting on a digital platform.
The label "challenger bank" comes from the fact that they compete with regular banks in terms of services. Consumers have more alternatives for managing their money with a challenger bank than they would with a traditional bank.
The banking industry is being transformed by these "fintech" banks. Because of the advent of challenger banks, traditional banks are facing increased competition for clients. A challenger bank may be a realistic choice for anyone looking for a more convenient way to perform their banking.
EQ Bank
EQ Bank is a financial institution based in the United
Equitable Bank, a Canadian Schedule I bank founded around 50 years ago, is the parent company of EQ Bank, an online-only bank. They are a completely online platform that provides a wide range of personal banking services, including:
TSFA Savings Account
RSP Savings Account
Savings Plus Account
Joint Savings Plus Account
GICs
Money Transfer Services
With any of EQ Bank's savings accounts, you may achieve your savings objectives no matter what they are. You can get the most out of your money with no fees, no minimum balance limitations, and one of the highest interest rates (1.50 per cent *).
MOGO
If you're a Bitcoin user, MOGO could be a viable option for banking. MOGO is an online banking company established in Toronto that provides a variety of banking services to help Canadians better manage their finances.
The following are examples of MOGO products:
Credit cards are accepted.
Loans for individuals
Mortgages
Investing \sBitcoin
Monitoring your credit score
Protection against identity theft
Motusbank
Meridian Credit Union of Ontario launched Motusbank in 2019, making it one of Canada's newest online-only banks. With no physical locations, the bank offers a comprehensive range of banking services that may be accessed solely online.
Considering that Motusbank is a new player in town with no physical presence, their product range is quite extensive, including the following:
Savings accounts with high-interest rates
TFSA (tax-free savings account)
RRSP (registered retirement savings plan)
Chequing account with no fees
Home equity lines of credit (HELOC):
GIC Accounts
Mortgages
Tangerine
Tangerine is one of Canada's first digital banks, as well as one of the most well-known. The company began by operating under the name ING DIRECT, with the goal of providing Canadians with an alternative to traditional banking. The company was eventually purchased by Scotiabank, which resulted in a name change.
Tangerine is one of the few online banks that offer a full spectrum of banking products that you'd get at a regular bank. Tangerine offers the following things to customers:
Accounts of savings (including TFSA, RSP, USD, and RIF accounts)
Accounts chequing
Credit cards are accepted.
GICs
Accounts for businesses
Funds for investment
Mortgages
Home equity line of credit (HELOC)
Loans from RRSPs
Line of Credit
KOHO
KOHO was created to assist Canadians in gaining a better understanding of their spending and finances while also making money management more convenient. Consumers may use the KOHO app and prepaid credit card to get a grasp on their credit card balances, save money, and avoid the sky-high interest rates that come with standard credit cards. Additionally, any purchases made with a KOHO prepaid credit card will earn consumers 0.5 per cent cashback.
The following items are available from KOHO:
Credit card with a prepaid balance (earn 0.5 per cent cashback)
Accounts for saving and spending (earn 1.2 per cent interest on both)
Building credit (for only $7 per month)
Challenger Bank Benefits
There are various reasons why an increasing number of Canadians are switching to challenger banks:
Simple to use: There's no need to go to a physical location to complete your banking because everything is handled online.
Application is Quick. You'll be ready to complete your banking online after typing in a few pieces of information.
Fees are low: Due to the low expense associated with having no physical branches, most challenger banks impose modest fees on their goods.
Innovative: Challenger banks make digital banking as simple and convenient as possible by utilising cutting-edge technologies.
Challenger Bank Disadvantages
While there are a few advantages to banking with a challenger bank, there are also a few disadvantages to consider:
Credit Checks Must Still Be Performed: Challenger banks are still needed to hold a banking licence in order to operate, and as a result, credit checks are still required when you apply for an account.
There are no physical branches: While the goal is to avoid visiting a bank in person, some customers may prefer to speak with a bank employee in person. A challenger bank will be unable to assist in this situation.
ATMs are scarce: To minimise fees, several challenger banks partner with a traditional bank to have their ATMs used by clients. Many others, on the other hand, do not have such ties, and as a result, consumers do not have access to ATM machines where they can withdraw cash without paying a fee.
Traditional banks have been challenged to keep up with challenger banks' digital services, which have transformed the way we do banking. Canadians now have a variety of challenger banks to select from, each with its own set of financial services. If you do the majority of your banking online, a challenger bank might be a good fit for you.
The Bottom Line
At Lionsgate, we specialize in helping people get the extra cash they need, obtain funding for private mortgages, as well as for other real estate transactions. If you are looking to buy land in Canada, get a mortgage or apply for a loan, fill out the form below. Or, You can leave us a message and we will try to connect you with local lenders and sources that best meet your needs.
If you found this article helpful, please share it on your timeline and with someone you care about. Also, visit our blog to read similar helpful articles on finance, real estate, and getting mortgages.