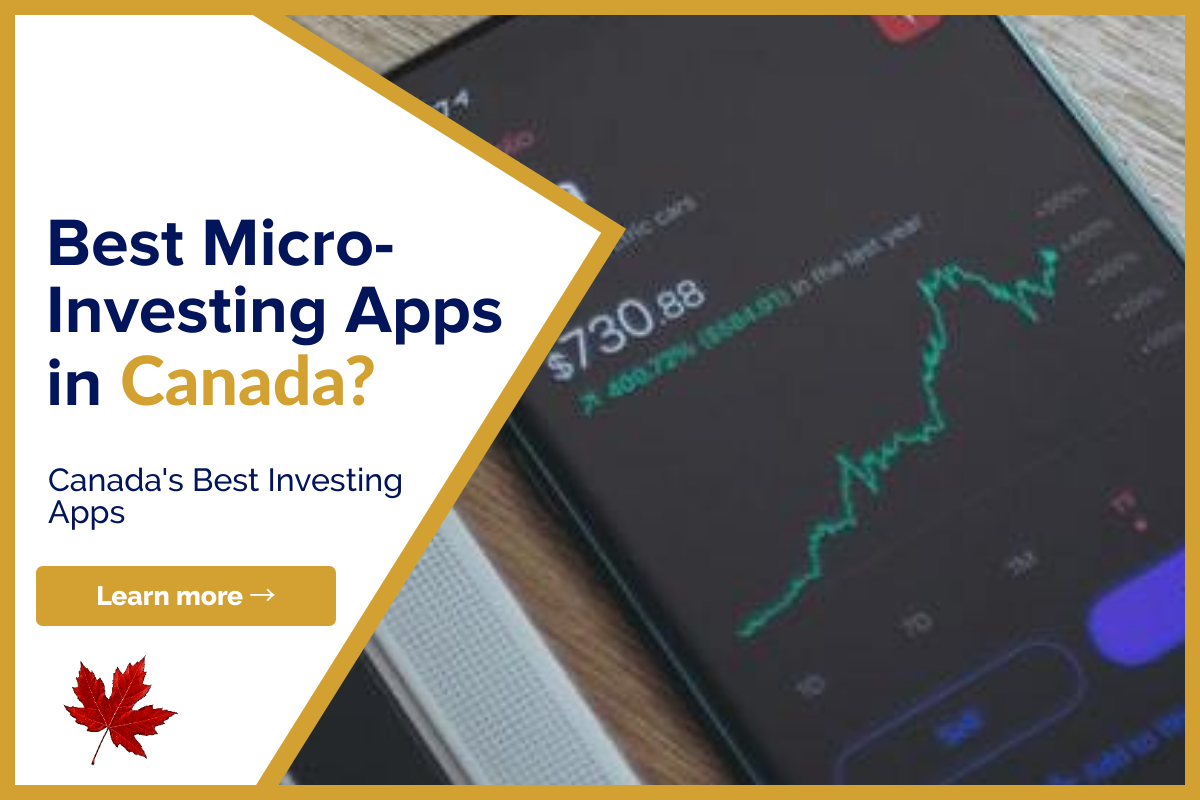 Best Micro-Investing Apps In Canada
Now you can listen to our blog post, "Best Micro-Investing Apps In Canada" while on the go.
Earning a living and sticking to a budget isn't enough to generate wealth. Investing allows you to gradually increase the value of your assets. If you want to retire before the age of 60, pay for your children's college tuition, establish a business, or even buy a house, investing early is the best way to achieve those goals.
You have a lot of options, fortunately. And one of them is micro-investing apps. So, let's start with what is micro-investing?
What  Is Micro-Investing?
The majority of Canadians invest their money, but a growing percentage (47%) prefer to keep their savings in cash. In comparison to past generations, this is especially true for the younger generation. Lack of financial literacy and information, as well as the notion that investing requires a large sum of money, are all reasons why people do not invest. In truth, 42% of those who do not invest say they do not have enough money to do so.
While greater investment quantities normally give higher returns, this does not indicate that small investments cannot be profitable. Micro-investing basically means making modest investments. It's an investment strategy that anyone can use, regardless of their financial situation. Micro-investing allows you to make investments as tiny as $5.
What is the Process of Micro-Investing?
Rounding up your transactions to the closest dollar and investing the difference is a common strategy to start micro-investing. For example, if a sandwich costs $9.25, round it up to $10 and invest the difference. Make repeated purchases to accumulate a larger sum for investment (i.e. $5 instead of 75 cents).
The objective is to invest a small enough amount that it won't affect your daily budgeting. You won't have to turn down certain activities or drastically alter your lifestyle.
You may do the calculations and set aside these small sums on your own, or you can use an app to assist you.
Canada's Best Micro-Investing Apps
There are a few micro-investing platforms that will round up your money and invest it for you. These apps normally have a nominal price and allow you to change your micro-investment amounts and goals with little effort on your part.
Moka
Moka, initially known as Mylo, is a smartphone software that invests your spare change by rounding up your purchases. Moka investors do not require a huge investment or extensive financial understanding. Their continuous development has resulted in new solutions that can help you save money, pay off debts, and earn cashback.
Moka's Advantages
Low Fees: Moka has low monthly rates of only $3.99. Make sure you invest enough money to make that $3 worthwhile. If you invest $10 per month, for example, Moka charges you a 33 per cent administration fee, which is rather hefty.
Secure: Moka is a safe platform with equivalent security to any mutual fund purchased through a bank. The company, however, is not covered by the CIPF.
No Investment Limit: There is no minimum investment required: Moka allows you to invest as little or as much as you desire. You can either put your extra change in the bank or set up a recurring deposit.
Diverse Options: You can choose from a variety of investment accounts, including tax-free savings accounts (TFSAs) and Registered Retirement Savings Plans (RRSPs).
Extra features of Moka
Moka Perks helps you save money on certain partner purchases like Uber Eats, Hello Fresh, and others. Moka 360 offers double rewards, and double your cashback to help you save even more.
Automatic Portfolio Rebalancing, which makes it easier to set up periodic deposits and rounded transactions.
WealthSimple
WealthSimple is a millennial and younger generation-focused investment platform. Their service boasts low fees and an easy-to-use interface that allows users to invest, manage their taxes, and even buy cryptocurrency. Their Roundup tool takes your purchase and invests it to the nearest dollar.
WealthSimple Advantages
Low fees: WealthSimple charges a low management cost of 0.4-0.5 per cent per year, making it an especially good app for consumers who are just investing a small amount of money.
Diverse investing choices: Users can invest in the stock market using WealthSimple Trade. They also have typical investment accounts such as RRSPs, TFSAs, RESPs, RRIFs, and Business accounts, as well as socially responsible investing.
Protected by the CIPF: This implies that if WealthSimple goes bankrupt, your investments are protected. Accounts are also verified using bank-level encryption and two-factor authentication.
Extra features: Extra features include financial advice, automated rebalancing, dividend reinvestment, and access to WealthSimple Trade, among others.
Micro-Investing Costs
The following fees may be charged by micro-investing apps:
Brokerage fees: Brokerage fees are the expenses associated with each transaction or investment.
Fees for management: The price to keep the account open on a monthly or annual basis. Moka, for example, charges a $3 monthly fee, whereas WealthSimple charges a 0.5 per cent annual percentage rate fee.
Additional charges: Some apps may impose costs for creating or cancelling an account, making a withdrawal, and performing other tasks. Make sure you read the fine print to avoid any surprises.
Is Micro-Investing a Good Option for You?
Micro-investing is suitable for persons who can't invest a large sum of money because of their existing financial situation. It's particularly ideal for younger folks who can take advantage of the extra time to gradually increase their investment. Finally, micro-investment is ideal for persons with less financial expertise who wish to experiment with investing without risking a large sum of money.
Micro-investment is an excellent approach for people to begin investing in tiny amounts. Even though modest amounts do not offer as large returns as larger ones, they add up! To get your feet wet with investing in a handy, low-effort approach, try WealthSimple or Moka.
The Bottom Line
At Lionsgate, we specialize in helping people get the extra cash they need and obtain funding for private mortgages, as well as for other real estate transactions. If you are looking to buy land in Canada, get a mortgage or apply for a loan, fill out the form below. Or, You can leave us a message and we will try to connect you with local lenders and sources that best meet your needs.
If you found this article helpful, please share it on your timeline and with someone you care about. Also, visit our blog to read similar helpful articles on finance, real estate, and getting mortgages.