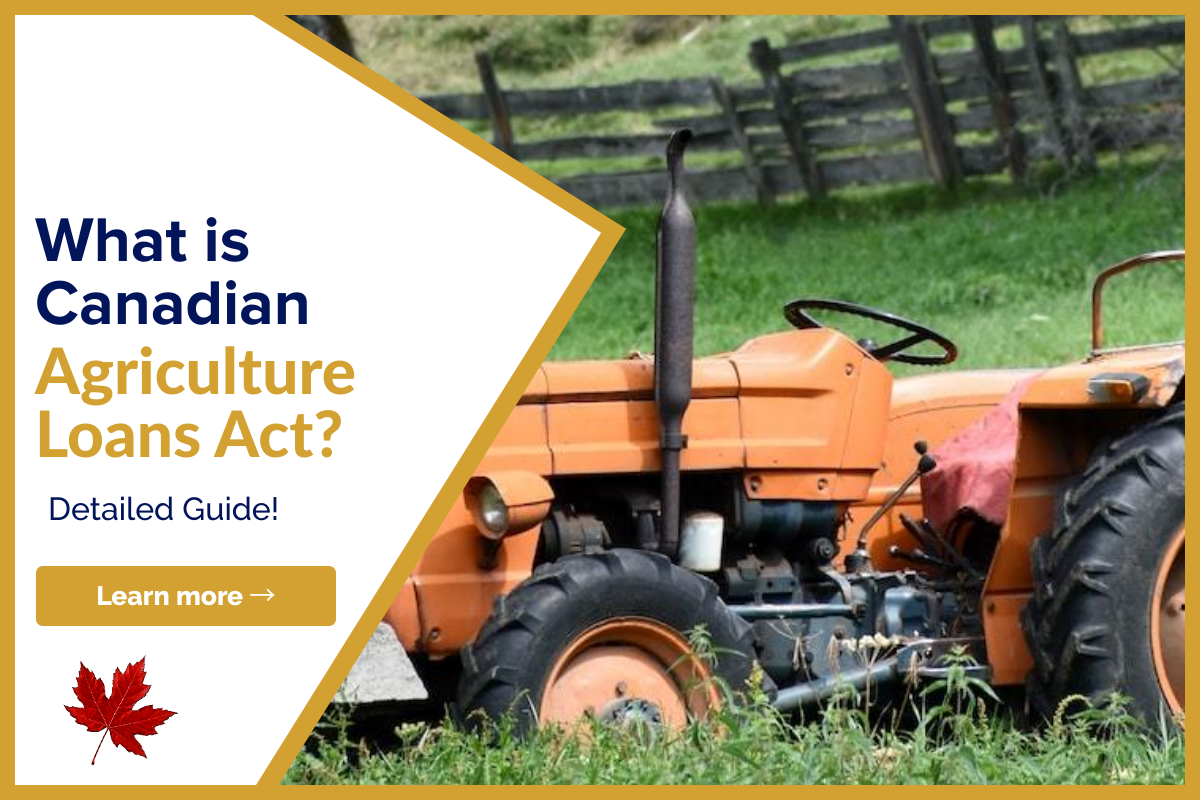 What is Canadian Agriculture Loans Act?
Now you can listen to our blog post, "What is Canadian Agriculture Loans Act?" while on the go.
What This Program Offers
A loan guarantee scheme called the Canadian Agricultural Loans Act (CALA) Program was created to boost the number of loans available to farmers and agricultural cooperatives. Farmers can use these loans to start, develop, and enhance their farms, and agricultural cooperatives can also use them to process, distribute, or market their produce.
Objectives
Through the CALA Program, we help the agriculture industry revitalise while empowering cooperatives to utilise market opportunities better.
Available Resources
The federal government guarantees a payback to the lender of 95% of a net loss on an eligible loan provided under the CALA.
For any one farm enterprise, the total loan ceiling cannot exceed $500,000.
Loans are only permitted up to:
A total of $50000 will be used to buy land and build or upgrade buildings.
$350,000 for any further loan requirements, such as refinancing or consolidation.
With the Minister's consent, agricultural cooperatives may borrow up to $3 million in total.
As an illustration, if a farmer receives a CALA loan for $300,000 to buy a tractor, he can still access up to $200,000 to buy land or repair buildings, or $50,000 to buy another implement and $150,000 to buy land or repair buildings.
Programme Execution
Loans are issued and managed by lenders under the CALA programme, including banks, credit unions, and caisses populaires.
When making CALA loans, lenders must exercise the same caution and wisdom they would when making regular loans. The government guarantee on qualified loans to farmers and agricultural cooperatives is provided by the CALA Program, which has been intended to allow lenders to include it into their typical lending practices.
A lender has 60 days starting from the purchase date to offer a CALA loan if a purchase has already been made.
Lenders can register loans using the CALA Online Loan Registration System and send the required registration fee.
Administrative Regulations
The CALA programme is managed using the following.
Agricultural Loans Act of Canada
Regulations for Canadian Agricultural Loans
Guidelines for Lenders: Instructions for lenders managing CALA loans
Document navigation from previous to next
Eligibility
If you fit any of the following criteria, you may apply:
current farmers
first-time farmers (that is, less than 6 years of farming)
beginning farmers
farming cooperatives with a majority (50% + 1) farmers taking over the family farm part-time farmers farmer participation
starting, starting up Farmers can be required to give the lender a business plan and an income tax form that demonstrates they have not had any farm income or expenses for at least one year in the previous six years.
A notarized attestation of membership or a current income tax return with farm revenue and/or expense from 50% + 1 of its members may be required of agricultural cooperatives.
A agricultural enterprise must adhere to the Canadian Agricultural Loans Act's definitions of farming and farmer.
Farmer: Any of the following who is now involved in or plans to begin farming in Canada.
a single person, a partnership, a company, or a cooperative association
Producing cultivated and uncultivated field crops as well as horticulture crops is called farming.
raising animals for food, fur, and other purposes
the growing of crops for feed and the production of eggs, milk, honey, maple syrup, tobacco, fibre, and wood from woodlots
the creation or care of any other object or animal that is prohibited
Eligible Objectives
The following goals are permissible under the Act.
Real estate objectives:
acquisition of land
Building or structure additions, repairs, alterations, or construction on a farm
Purchase, transportation to, installation on, and completion of completed or nearly completed structures on a farm, as needed.
Other borrowing goals:
Equipment of any kind, whether or not it is typically attached to real estate or other movable property, including tools, implements, machines, and equipment for the generation or distribution of electricity, whether or not it is attached to real estate or other movable property, purchase, installation, alteration, major overhaul, or major repair to/of.
Purchase of breeding animals that will help a farm operation in the long run, such as horses and other equines, cattle, sheep, goats, and other ruminants, as well as swine, poultry, bees, and animals that produce fur.
fence installation, construction, or drainage improvements
Land clearing, dividing, irrigating, and reclaiming
the planting of trees and the use of shelter belts can save soil and stop soil erosion.
Fencing that needs repair or replacement and costs $2,000 or more
Purchase and planting of ginseng, fruit trees, Christmas trees, and trees for the manufacture of syrup, all of which cost $2,000 or more.
building a driveway or road on a farm
Tax on land transfers, fees for surveys, appraisals, and legal fees associated with the acquisition of additional land
purchase of shares for farm transfers among generations
Loan consolidation and refinancing
Ineligible objectives
According to the Act, the following purposes are prohibited:
Upgrades to the family's home
Purchasing quotas of any type
Operating loans and loans for purchasing temporary feeder animals
Combining a lender's regular loans
Document navigation from previous to next
How to Apply?
To apply for a loan under the CALA programme, kindly go to any of the lending institutions listed below:
licenced banks
credit unions, popular banks
any other business that the Minister designates, including the Alberta Treasury Branch
A loan under the CALA programme can be one of the financing options the lender decides is ideal for your needs after going through its loan application procedure.
Loan information
The maximum rate of interest
The maximum interest rate payable on a floating rate is the lender's prime rate + 1%.
The maximum interest rate on a fixed term rate is the lender's home mortgage rate for a similar duration + 1%.
Payment conditions
Maximum repayment terms are as follows:
15 years for buying land. If a balloon payment is planned for the loan after the 15 years, lenders are permitted to amortise loans for more than 15 years. The leftover loan balance might be refinanced for an additional 10 years under the Canadian Agricultural Loans Act (CALA).
For all other purposes, ten years.
Fees
The registration cost is equal to 0.85% of the loan amount. When registering a loan, this fee must be given to the "Receiver General for Canada."
The lender may also impose an administration fee. The administration charge is limited to 0.25 percent of the loan balance (up to a maximum of $250) for loans under $250,000. The administrative charge is set at 0.1% of the loan amount for loans over $250,000.
Need Some Extra Cash to Help Your Finances? Try Lionsgate!
Are you struggling with your financial needs and need some extra cash? Lionsgate can help. Just fill out the form below, letting us know all your money or mortgage requirements, and we will find the best lender for you. Amazing thing? The process is free, and you can quit it at any time.
We have a team of experts that analyze your requirements and pick the best lender for you with prudent advice.
Note: Please give your authentic information while completing the form below.
Please share this article on your social media profiles if you found it helpful. Also, visit our blog to read similar helpful articles on finance, real estate, and getting mortgages.