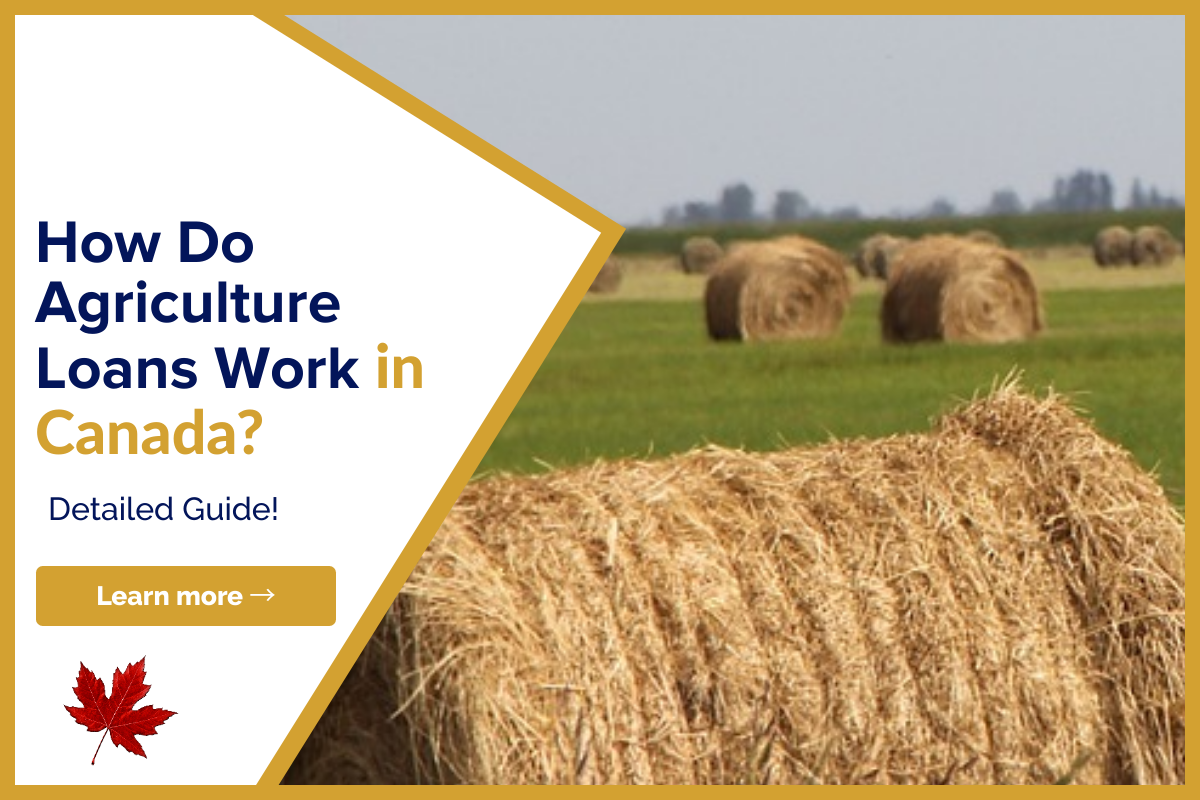 How Do Agriculture Loans Work
Now you can listen to our blog post, "How Do Agriculture Loans Work," while on the go.
If you work in the agriculture industry, you are aware of how expensive farming can be. It can be quite expensive to start and maintain a farm, and you'll probably require funding – especially if you're new to the business. An agriculture loan can help with that.
There are several ways you may use the money from agriculture loans—which are intended exclusively for use in the sector—to start up or develop your farm or ranch. You'll be better off if you spend that loan wisely.
You should make financial plans before you ever apply for an agriculture loan. What assets can help you the most and keep your firm afloat? How much money must you borrow? These strategies must be in place before you apply for the loan since they will guarantee that you use it properly.
How Agriculture Loans Work in Canada?
Loans for agriculture enable farmers to manage their operations more profitably. Farmers need low-interest agricultural loans to help them stay afloat because it can be challenging to keep up with all of the costs associated with running a farm.
Fortunately, the government frequently steps in to assist farmers make a profit via low-interest loans and other subsidies.
Instead of looking at your credit score, some lenders would accept you based on the income from your farm. Any farm with income above a specific minimum, which varies by loan source, may borrow money from these lenders. Even though they can be on the smaller side, these loans are frequently authorised swiftly.
What Purposes Agriculture Loans Serve?
Using agriculture loans, farmers can:
Invest in farmland: Agricultural land loans make it easier for you to buy the land you need to develop a successful farm, whether you're an experienced farmer or you want to expand your current operation.
Pay for running costs: Numerous farmers also want assistance with paying some of the running expenses in addition to funding for lands. Although pricey, farm equipment is a need for running a farm. Better gear allows you to cover more ground more rapidly.
Help with their product's marketing: Farmers must sell the goods they produce in order to turn a profit. This implies that in addition to farmland loans, they also require a strong marketing strategy and funding to cover marketing expenses.
How Do You Apply for an Agriculture Loan?
You must do the following actions in order to be eligible for an agriculture loan:
1. Speak with a lender (and have a good credit score).
For any of their loan programmes, each lending institution will have specific standards that must be met. The first thing a lender does is check your credit score. Almost every lender requires at least one of the three main credit reporting bureaus to give you a score of 660. Before approving your application for an agricultural loan, the lender might additionally need a business plan.
2. Be certain of the type of agricultural loan you desire.
Lender officers assigned specifically to reviewing loan applications for agricultural use. Based on the sort of loan the applicant requests, the officer evaluates their eligibility. For instance, applicants for a farm ownership loan must have at least three years of expertise running a farm or ranch's business.
Similar standards must be met by applicants for farm operating loans, including those for education, work experience, and on-the-job training. Beginner farmer loans stipulate that the ranch or farmer must have less than ten years of experience running a farm.
3. Become acquainted with all varieties of financing for agriculture.
The aforementioned loan kinds only make up a minor portion of all agricultural loans; there are other forms as well. On individuals who merely need help with a down payment for a new farm, FSA loans are an option. The applicant in this situation must be able to present a cash payment equivalent to at least 5% of the purchase price.
Additionally, agricultural loans are accessible to farm owners that require urgent cash. An emergency loan might be approved, for instance, if the farm is situated in a county that has been declared a disaster area and the farmer has had a production loss of at least 30%.
Advice for Obtaining a Farm Loan Despite Poor Credit
Even though acquiring a business loan with bad credit is notoriously difficult, you can still secure finance. This is how:
1. Look for agricultural loans with bad credit.
Prospective farm owners can look up lenders for those with bad credit. Despite the fact that having good credit entitles you to lower interest rates, lenders nevertheless accept borrowers with negative credit, although at higher APRs. You might refinance the loan at a cheaper interest rate once your credit score rises.
2. Compile evidence of your farming background (and be prepared to present it)
Government initiatives like the FSA are more lenient when it comes to the credit ratings that applicants are allowed to submit. They will examine your credit report, but they will also take into account your experience in the farming sector. If you have a lot of farming experience, even with a less-than-ideal score, you have a better chance of getting accepted.
3. Get a cosigner for your loan
Utilizing a cosigner is another suggestion for those with poor credit who want to be authorised for a farm loan. The lending company is more likely to approve your loan if the co-signer has better credit than you have.
4. Look into income-based loans
Instead of looking at your credit score, some lenders would accept you based on the income from your farm. Any farm with income above a specific minimum, which varies by loan source, may borrow money from these lenders. Even though they can be on the smaller side, these loans are frequently authorised swiftly.
5. Demonstrate that you are not defined by your negative credit
For some lenders, your farming expertise may be more significant than your credit score. The same goes for other elements including your debt-to-income ratio, company plan, and the presence of high-value assets, particularly those with a value higher than your loan. If you include these things with your loan application, you might be successful in getting the money you require.
Need Some Extra Cash to Help Your Finances? Try Lionsgate!
Are you struggling with your financial needs and need some extra cash? Lionsgate can help. Just fill out the form below, letting us know all your money or mortgage requirements, and we will find the best lender for you. Amazing thing? The process is free, and you can quit it at any time.
We have a team of experts that analyze your requirements and pick the best lender for you with prudent advice.
Note: Please give your authentic information while completing the form below.
Please share this article on your social media profiles if you found it helpful. Also, visit our blog to read similar helpful articles on finance, real estate, and getting mortgages.