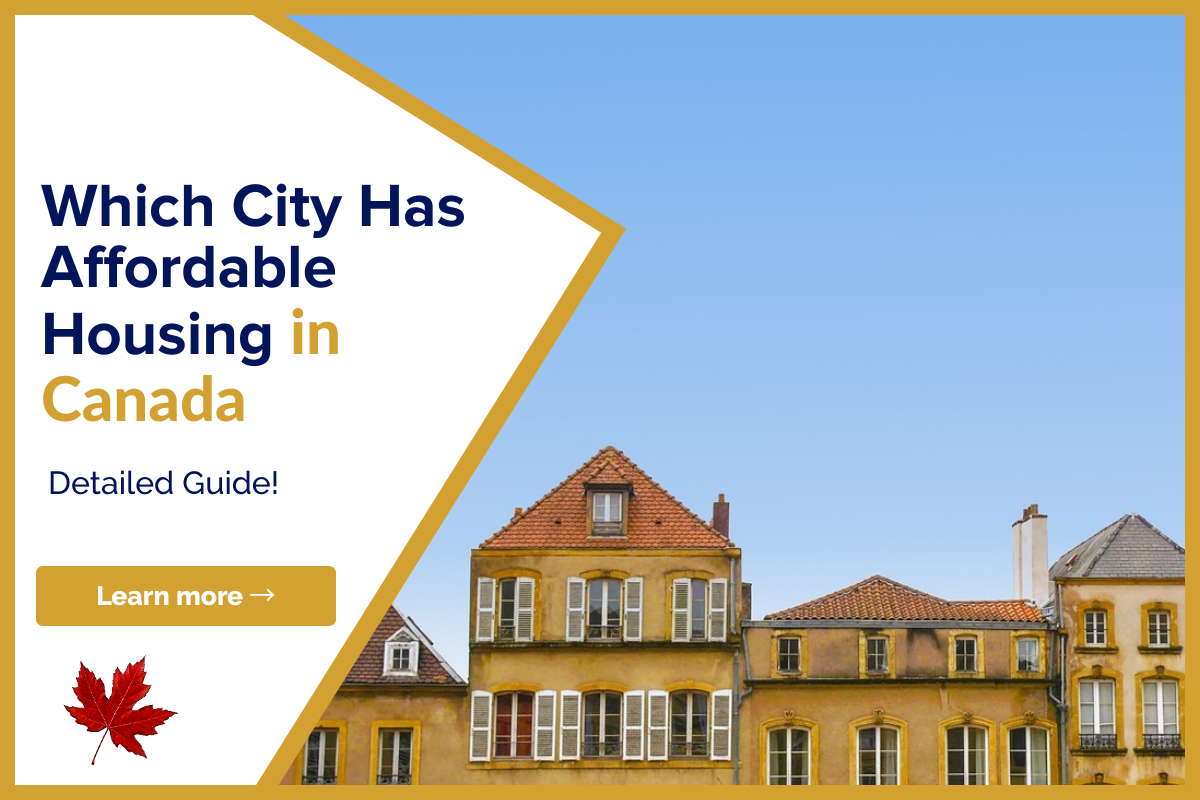 Which Canadian City Has Affordable Housing?
Now you can listen to our blog post, "Which City in Canada Has Affordable Housing?" while on the go.
Those looking to enter the Canadian real estate market may be surprised to learn that there are more affordable options than you thought.
Property experts say home prices are below the national average in many markets, giving potential homebuyers hope.
Zucasa, a real estate firm, analyzed average home prices in her 20 neighbourhoods across Canada to help buyers find places to find affordable housing in the country.
According to their research, the national average home price in 2023 is $662,437, but Canada has 14 markets below that figure.
Cheapest Cities to Buy Your First Home
St. John
The cheapest homes in Canada appear to be in St. John, New Brunswick, with home prices averaging just $268,400. As an example of what potential buyers can get in this market, Zoocasa shared the listing of a 1550-square-foot, three-bedroom, two-bathroom home listed at $259,900.
Regina
The second cheapest housing market is Regina, in Saskatchewan, with an average home price of $310,200.
Below that price, buyers can buy homes like 355 Avon Dr, a fully equipped 2 bedroom, 4 bathroom home that is 1,800 square feet and listed for $299,990.
Quebec City
Quebec City is Canada's third-cheapest housing market, with an average home price of $315,300, still well below the national average.
What may surprise potential homebuyers is that some areas thought to have unattainable prices could be a little more affordable than previously thought. That's it.
Ontario's housing market is certainly very different from that of New Brunswick, but there are still several areas where property prices are below the national average, including the Niagara area, Ottawa, London, St. Thomas, Windsor Essex and Sudbury.
Which Canadian cities have the least affordable housing?
On the flip side, some regions have homes that remain well above the national average.
Unsurprisingly, Vancouver and Toronto were both found to have average home prices way over that of the average in Canada, at $1,123,400 and $1,091,300, respectively.
Notably, the other markets found to have home prices above Canada's average are all located in Ontario and B.C.
Canadian cities with the most affordable housing
Here are some of Canada's most affordable regions, according to Zoocasa, and their average home prices in 2023:
Saint John, New Brunswick – $268,400
Regina, Saskatchewan – $310,200
Quebec City, Quebec – $315,300
Winnipeg, Manitoba – $329,900
Edmonton, Alberta – $365,100
Saskatoon, Saskatchewan – $372,400
Sudbury, Ontario – $401,100
Halifax-Dartmouth, Nova Scotia – $484,000
Montreal, Quebec – $503,900
Calgary, Alberta – $518,100
Windsor-Essex, Ontario – $565,400
London and St. Thomas, Ontario – $583,500
Ottawa, Ontario – $613,000
Niagara, Ontario – $627,500
Cheapest Cities In Canada For Rent
A new ranking of the cheapest cities to rent in Canada has been released. Prices are still high in the expected areas, but other areas offer real bargains in comparison.
Real estate platform Point2Homes has shared new data showing that some cities offer rents that are up to three times cheaper than others.
Major cities in Ontario and British Columbia are facing some of the highest housing costs in the nation, according to a report by Point2Homes, which is hurting the wallets of both homeowners and renters. The data included figures for the 50 largest cities in the country.
Quebec has been found to have some of the cheapest rents in Canada, and Trois-Rivieres holds the title of cheapest rent in the country at just $676 a month. Point2Homes says, "In fact, every city in Quebec analyzed shows renters' housing costs lower than the national average of $1,209."
After Trois-Rivieres for the cheapest rents in Canada, the city of Saguenay in Quebec ranks in the top five with monthly rents of $689, Sherbrooke ($760), Levi ($892) and Quebec City ($904). I'm wrapping up.
Montreal is also listed as one of the cheapest areas to live in, with renters paying an average of $969 per month.
Also included on the list were St. Johns, Newfoundland, with a monthly rent of $988, and Greater Sudbury (the first Ontario city on the list), which ranked 12th with an average monthly rent of $1,037.
On the other hand, the cities with the highest rents in Canada are where you'd expect them to be. In the Ontario cities of Oakville, Vaughan, and Milton, renters were found to pay the most, with rents sometimes as high as $2,146 per month.
In fact, the cities with the highest rents in Canada are all in BC Or Ontario. Vancouver has a surprisingly low monthly rent of $1,660 and it ranks 9th, while Toronto is even lower (14th) at $1,562.
Amidst the dark numbers, the bright side may be that big-city renters pay far less for homes than homeowners. According to the study, Canadian homeowners spend about $300 more on monthly housing costs than renters. Owning a home is likely a goal for many, but renters can spend less on housing, at least for the time being.
Need Some Extra Cash to Help Your Finances? Try Lionsgate!
Are you struggling with your financial needs and need some extra cash? Lionsgate can help. Just fill out the form below, letting us know all your money or mortgage requirements, and we will find the best lender for you. Amazing thing? The process is free, and you can quit it at any time.
We have a team of experts that analyze your requirements and pick the best lender for you with prudent advice.
Note: Please give your authentic information while completing the form below.
Please share this article on your social media profiles if you found it helpful. Also, visit our blog to read similar helpful articles on finance, real estate, and getting mortgages.