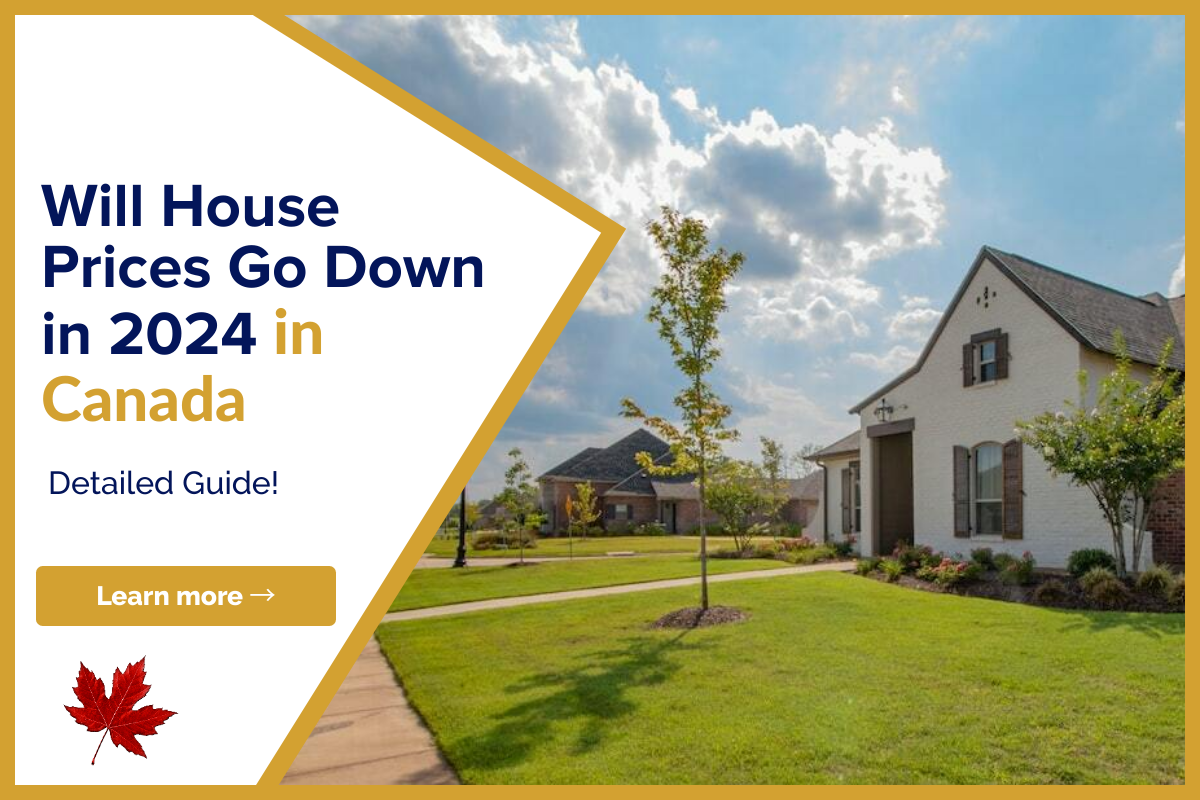 Will House Prices Go Down in 2024 Canada?
Now you can listen to our blog post, "Will House Prices Go Down in 2024 Canada?" while on the go.
If you're thinking of buying a home in 2024, you need to think about what real estate prices will be like. Will house prices fall in 2024? This question must have crossed your mind more than once, if not once.
Especially in Canada, it's a good idea to know what to expect before trying out the real estate market. So, in this article, we will find out what will exactly happen in 2024.
According to various sources, including TD Economics, the Canadian property market will recover in 2024. Property prices are expected to recover in 2024 after they fell about 5% in 2023. Simply put, this means house prices won't continue to fall in 2024.
They will return to normal and possibly rise again. If you're looking to buy a home in 2024, you might be in for a surprise. Prices will rise and you may have a hard time buying a home.
To give you insight into the real estate prices in 2024, we will see what drives real estate prices the most. So, below are the reasons for rising real estate prices in 2024.
High Housing Demand
High demand for homes means there are more buyers than there are homes on the market. As more people want to buy a home, the market becomes more competitive. After all, this is where sellers have a say. So, as we see the trend in 2024, home prices are being pushed up because enough buyers are willing to pay anything.
Rising property prices are the only solution as there is no housing supply to meet demand. This could be the reason why you see an overpriced home for sale. Even though the price is high, you may still find something that fits your budget.
Interest Rates
Interest rates are usually a very important factor when it comes to real estate prices. As interest rates fall, property prices will eventually rise. With lower interest rates, more people will be able to take out mortgages. More people will have access to home loans and mortgages become affordable, so more buyers choose to buy.
This will increase the demand for housing. Therefore, house prices will eventually rise. In case you don't know, this is what's happening in the real estate market right now. Never forget this as you move forward with your plans to buy a home.
Mortgage Availability
With more lenders offering mortgages, more buyers are willing to accept mortgages. A wider range of mortgage options also means more buyers are more likely to qualify for a mortgage. As a result, the demand for housing will increase. The more mortgages available, the higher the home price. This affects not only existing homes but prefabricated home prices as well.
Even if house prices rise again later, investing in real estate is worth it. It makes sense because of the benefits that come with it. Don't overlook investing in real estate just because you're missing something important. This is an investment worth spending all your savings on.
The advantages of real estate investment are:
1. Huge Returns
Real estate investments are widely known for producing high returns. Invest in real estate and things will never be the same again. Your investment will start growing immediately.
When you decide to sell your property, you won't believe what you get. Prefabricated houses are a good example.
2. Stable Cash Flow
Investing in real estate is a sure way to generate steady cash flow. This can occur when buying and renting real estate. You receive monthly income from tenants as rent. You are also entitled to a monthly income for as long as the property exists.
Just make sure your property is in good shape and the money will come in. If you want this to happen then consider this investment. Take your coin here and you won't regret it. It is also a well-worth protection against inflation.
If you're looking for something to protect yourself against inflation, this is it. Real estate investing can protect you from the effects of inflation. When the economy works against everyone and the cost of living rises, real estate will take care of you.
When the price of goods and services rises, so does the rent. There is no choice but to charge the renter more as it tends to exist. With the rental income you collect, you can cover other costs that are already high due to inflation. If so, real estate would have eased you in such a difficult time.
Passive Income
Investing in real estate allows you to make money from the comfort of your own home. When you invest in a rental property, you don't have to work to make money. Once you have confirmed that your property is occupied, sit back and wait for the money to find you. This scenario can also occur when you put money into this investment.
Conclusion
You now have the information you were looking for. If you still have the intention, breaking into the real estate market is a piece of cake. If you're still in a dilemma, you should act now and start your journey.
There are real estate agents everywhere who can help you make wise decisions. Choosing a qualified one will ensure you have a perfect time in the purchasing process.
Need Some Extra Cash to Help Your Finances? Try Lionsgate!
Are you struggling with your financial needs and need some extra cash? Lionsgate can help. Just fill out the form below, letting us know all your money or mortgage requirements, and we will find the best lender for you. Amazing thing? The process is free, and you can quit it at any time.
We have a team of experts that analyze your requirements and pick the best lender for you with prudent advice.
Note: Please give your authentic information while completing the form below.
Please share this article on your social media profiles if you found it helpful. Also, visit our blog to read similar helpful articles on finance, real estate, and getting mortgages.