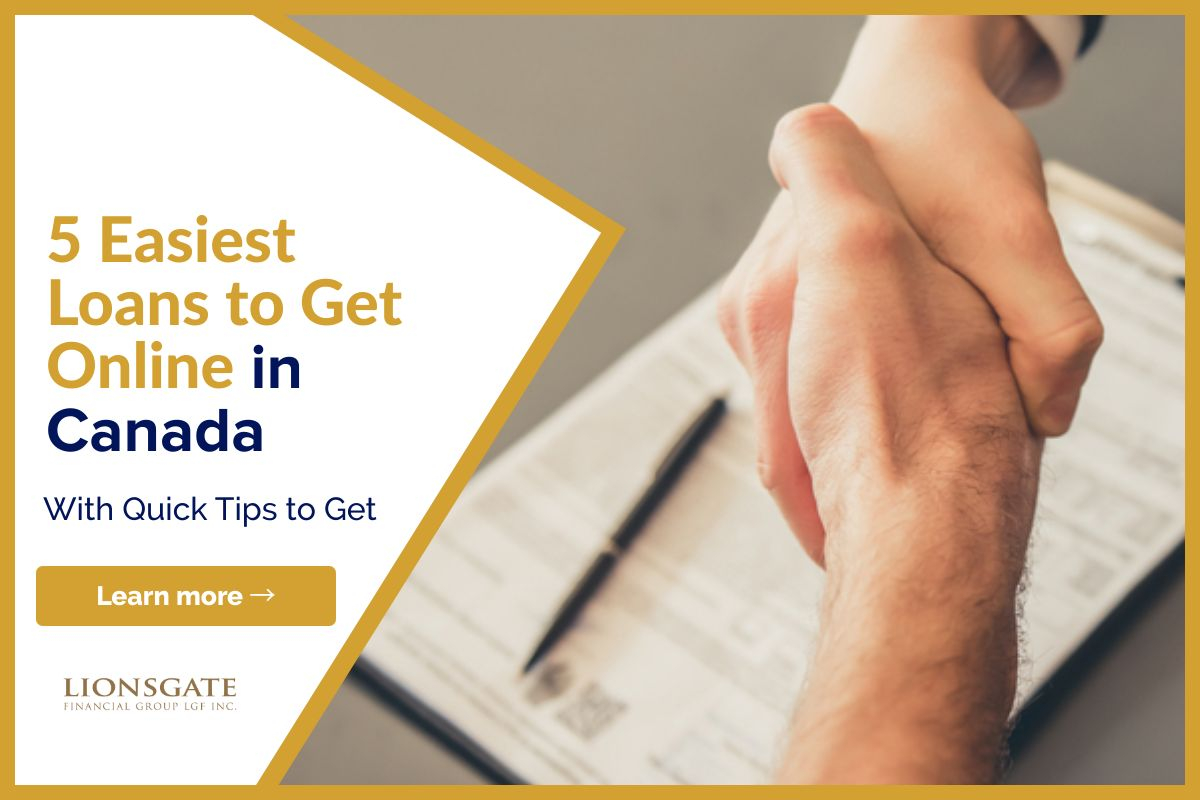 5 Easiest Loans to Get Online in Canada
Now you can listen to our blog, "5 Easiest Loans to Get Online in Canada" while on the go.
Everything these days can be done online, from grocery shopping to filing taxes to enrolling in college courses. Even the application and approval process for a loan can now be completed entirely online. Lending networks that send your loan request to a number of lenders so you have more options are some of the easiest loans to receive online.
The benefit of using online lending networks is that you only have to fill out one simple application, which is then reviewed by various lenders. You compare rates, discover whether you're prequalified for a loan, and find out quickly if you're accepted.
The Easiest Online Installment Loans
An instalment loan is one that is repaid over a period of time, usually in equal monthly amounts. One of the benefits of an instalment loan is that payments are stretched out over time, making it easier to fit them into your budget. Instalment loans are also more flexible in terms of loan amounts and terms.

It can be difficult to qualify for an instalment loan, but many lenders will consider even clients with poor credit. Here are some of our top picks for the simplest online instalment loans.
1. Money Mutual
It is the place to go for borrowers with all forms of credit who need a short-term cash advance loan. More than 2 million clients have trusted this online marketplace of lenders for loans to cover things like auto repairs, medical bills, and other forms of unexpected needs.
Your request is examined by lenders interested in making a loan offer once you complete the quick and secure online form. Funds can be accessible in as little as 24 hours after approval if accepted in Money Mutual.
2. CreditLoan
It is a reputable online lending network that provides loans ranging from $250 to $5,000 to those with bad credit. CreditLoan's online instalment loan application is free, quick, and simple. Your loan request will be reviewed by potential lenders, who will give you an offer if you fulfil their lending conditions.
If you accept a loan offer, you'll be taken to the lender's website to finish the application. Funds can be accessible and put into your bank account in as little as 24 hours after approval.
3. BadCreditLoans
Bad Credit Loans, as the name implies, provides online personal and instalment loans to customers with all forms of credit, including those with bad credit. A loan from Bad Credit Loans can be used for anything from past-due bills to car repairs to covering an unexpected medical expense.
Loans range in size from $500 to $5,000, with repayment durations ranging from three to 60 months, depending on the lender. In most circumstances, the requirements to qualify for a loan are straightforward, with lenders looking at more than simply a credit score when deciding whether or not to approve a loan.
4. BillsHappen
BillsHappen is a rapidly expanding lending network that provides short-term loan choices of up to $5,000 to applicants with all credit types. To apply, applicants must have a current bank account and a social security number, but the site otherwise offers a quick and easy way to receive a short-term loan.
5. Cash Advance
CashAdvance's extensive network of lenders gives customers of all credit kinds, including those with terrible credit, short-term loans ranging from $100 to $1,000. However, you must meet some minimal requirements to qualify, including a monthly income of at least $1,000 and 90 days of employment.
If you meet these and other basic requirements, you may be eligible for a short-term cash advance loan from one or more of the CashAdvance network's lenders. If you do receive a loan offer, the terms of repayment will be clearly mentioned, including the APR and total payback amount.
What Makes These Loans Easy to Get?
If you've ever tried to secure a loan from a bank or another traditional lender, you're aware of how time-consuming and difficult it can be. Who has time for gathering reams of financial paperwork, filling out multipage loan applications, and waiting weeks for approval?
Thankfully, the rise of online lending has changed the scene for many borrowers, allowing for greater competition and a faster, more convenient way to obtain funds. With the advent of internet loan platforms, additional specialization has been possible, with certain lenders opting to focus on credit-challenged and subprime borrowers.
Read: Early Mortgage Renewal: How Does it Work?
Lenders can now make loan approval decisions based on variables other than credit scores and income thanks to technological advancements. Lending algorithms consider a variety of non-financial characteristics that can help a lender estimate risk to a potential borrower more correctly.
The expansion of lending networks has been a game-changer in making internet loans more accessible. So, borrowers can now apply for a loan through a single online lending marketplace and have their requests seen by dozens of lenders. More specialized lenders, more available loan types, more flexible lending standards, speedier approval, and simpler access to funds via bank direct deposit have all resulted from the expansion of lending networks.
Easiest Loan to Get with Bad Credit
Let's face it: obtaining any type of loan when you have terrible credit is difficult. All too frequently, the simplest loan has a high-interest rate and a short repayment period. So, are there any loans that are both simple to obtain and worthwhile to apply for?
A secured loan is one of the simplest to obtain
This is where you exchange something of worth for cash. Other loans that are simple to obtain even if you have terrible credit include:
Instalment loans for individuals
Those with bad credit, such as the ones we've recommended in this guide, are the finest combination of cost and practicality. Instalment loans for those with bad credit have the disadvantage of being small-dollar loans with short repayment periods.
A loan that requires a cosigner
You're more likely to get better terms with a cosigner who has good credit than you would with a loan you could acquire on your own. Lower and more manageable payments, as well as a potentially greater loan amount, are all advantages. Just make sure you pay your bills on time and diligently.
A car title loan is a type of secured loan
A car title loan, as the name implies, uses the value of your vehicle as collateral to get a loan.
The issue is that most car title lenders charge outrageous interest rates and only lend a fraction of the value of your vehicle. Car title loans are not something we recommend. Unfortunately, these loans come with hefty interest rates and short repayment terms in addition to being easy to obtain.
The Bottom Line
Borrowers now have more options than ever before thanks to online loan websites, which have brought a level of comfort and ease to the lending market. These services, through their lending networks, provide the simplest loans to obtain online, even if you have bad credit.
You can locate the perfect loan at an inexpensive rate by performing some further research and due diligence. Alternatively, you can simply look into the lenders we've included in this guide and rest certain that they're among the best and most reputable options accessible.
Don't Know What Loan Option Is For You? Let Us Help!
If you are struggling to decide on the best loan option for you, Lionsgate can help. Just fill out the form below, letting us know all your requirements and we will find the best lender for you. Amazing this? It is all free.
We have a team of experts that analyze your requirements and give you the best advice.
Note: Please give your authentic information while completing the form below.
If you found this article helpful, please share it with someone you care about. Also, visit our blog to read similar articles on mortgages.