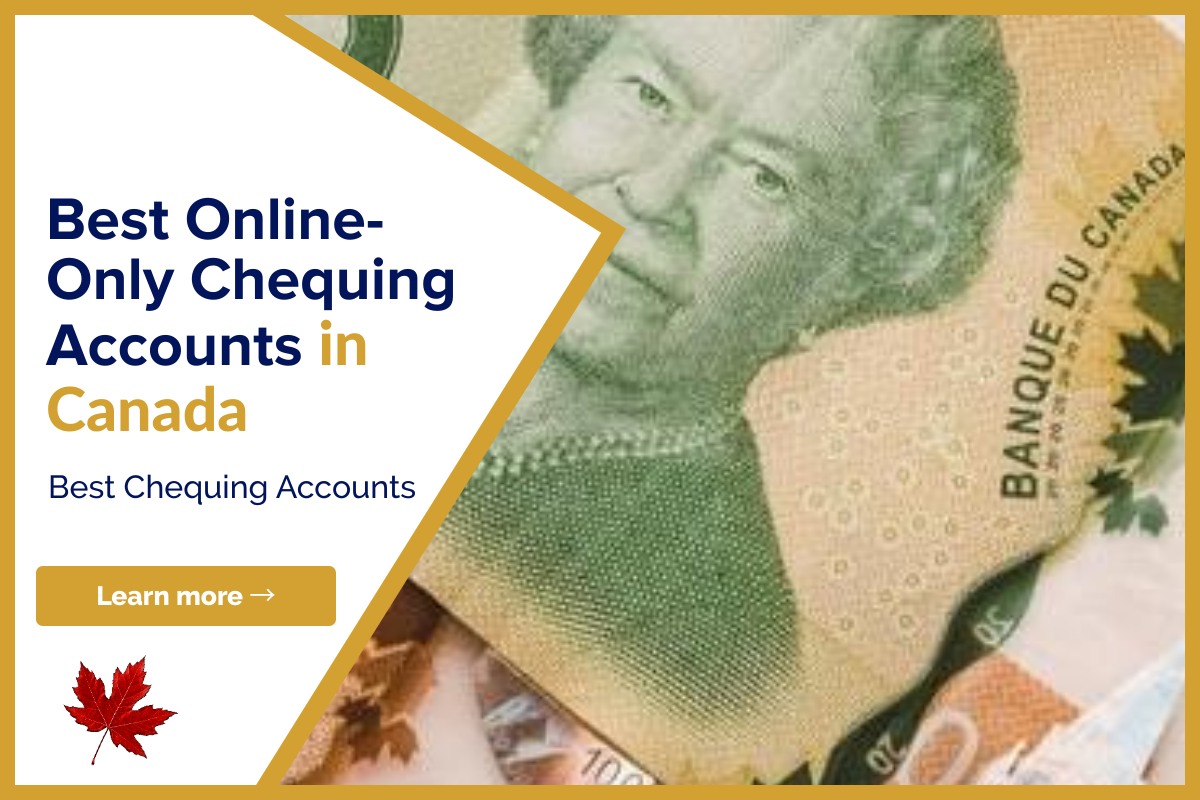 Best Online-Only Chequing Accounts
Now you can listen to our blog post, "Best Online-Only Chequing Accounts in Canada" while on the go.
The majority of Canadians rely on their chequing accounts to deposit and withdraw cash from their paychecks. However, you are not required to rely on your local bank to give you such widely-used accounts. As an alternative, a number of Canadian online-only banks provide e-chequing accounts with competitive interest rates and no ongoing fees.
The many online chequing accounts that are available to Canadians have been evaluated, and we have selected a handful that stands out. Below is the list of all the best online-only chequing accounts.
No-Fee Chequing Account with Tangerine
Tangerine, formerly known as ING Direct, is a Scotiabank subsidiary that solely operates online. It provides a wide range of banking services and products, just like you would find at a conventional brick-and-mortar bank. However, Tangerine's no-fee chequing account, which offers a respectable interest rate on deposited money, is its most well-liked product
Considering that many other no-fee chequing accounts only allow a certain number of free transactions, the lack of monthly or transaction fees is a major bonus. Additionally, there is no minimum balance requirement, so there are no annoying costs associated with maintaining your account.
Switching to a daily bank account will earn you a $200 incentive.
No Monthly Fee
No day-to-day transaction fees
Includes countless transactions
Free e-transfers via Interac
3,500 ATMs are available for free across Canada.
Overdraft defence
50 free checks are included.
mobile application
Account notifications by text or email
Up to 0.10 per cent interest rate
Checking Account with motusbank
The Meridian Credit Union-owned motusbank is one of the more recent entrants into the online-only banking market. Since motusbank is a member of CDIC, your deposits are always secured by insurance. Because of its low overhead, motusbank is able to pass on its savings to its customers in the form of higher interest rates. You won't pay the standard monthly or transaction costs associated with a bank, and you'll have access to almost 3,700 free ATMs across Canada.
None per month
No day-to-day transaction fees
An unlimited number of transactions after the first 25 checks are free.
Interac e-transfers indefinitely
Payment of bills and unlimited debit purchases
Check deposits via mobile
Mobile application
Up to 0.25 per cent interest rate
Alterna Bank No-fee Chequing Account
The no-fee chequing account is Alterna Bank's most well-liked financial offering. It has no transaction restrictions and no monthly fees, among other appealing benefits, and is totally free to use. Within the EXCHANGE Network, you will have access to more than 3,300 ATMs, and the CDIC will fully insure all of your deposits. Although the bank is exclusively online, its parent, Alterna Savings Credit Union, does provide in-person support. The CDIC will also provide full insurance for your deposits.
No ongoing charges
Unlimited daily transactions that are free
Interac e-transfers are limitless and free.
With no minimum balance
Overdraft defence
CDIC-backed deposit insurance
Rate of interest: 0.05 per cent
Motive Financial Chequing Accounts
Motive Financial's chequing account offers one of the highest interest rates going. At 0.25% for all balances, that's a pretty competitive rate and one that attracts many Canadian consumers. You'll also have the freedom of unlimited transactions and deposits, no monthly fees, and free withdrawals with the second largest ATM network in Canada.
No monthly fee
Unlimited transactions
Unlimited deposits
Interac e-transfers are free to receive ($1 each to send)
50 free cheques
Free cash withdrawals from ATMs in the EXCHANGE Network
Interest rate: 0.25%
Why Would a Consumer Need Chequing Accounts?
Chequing accounts are the foundation of your banking, whilst savings accounts are designed to help you grow your money safely with a very low-interest rate. They're designed, among other things, to deposit your paycheck, access money from an ATM or your debit card, and pay your expenses. Chequing accounts essentially serve as transaction accounts.
With the correct online bank, the money you have deposited in these accounts can increase while still providing immediate access to your money at any moment without incurring any fees. These accounts typically do not have particularly high-interest rates because of the money's availability. But some checking accounts, such as some of those already mentioned, can compete with savings accounts in terms of interest.
The online chequing accounts described here do not charge a fee, which makes them an even more alluring financial product to add to your toolbox given that the majority of traditional big banks often levy one for these accounts.
You will be able to access your account entirely online with chequing accounts that are available only online, making banking as convenient as possible. An internet-only chequing account can be the best choice for you if you are technologically adept and prefer to do all of your banking online from wherever you happen to be.
How Do I Pick a Chequing Accounts That Is Available Only Online?
There are a few things to consider while selecting an online-only checking account, including the following:
Fees: Look for chequing accounts without annoying monthly or transaction fees because the less you have to pay, the better.
Everyday Transactions: Look for checking accounts that offer all the features you require, such as point-of-sale transactions, e-transfers, and bill payments. To assist you to increase your savings, search for chequing accounts that permit unlimited transactions at no cost.
Overdraft Protection: The majority of chequing accounts provide overdraft protection, which guards against temporary overdrafts. If you frequently overdraw your account, you might want to find a checking account with low overdraft fees.
Although chequing accounts aren't recognised for their high-interest rates, some of them do provide rates that are a little higher than normal and can make your money go a little farther. Additionally, you may enjoy the utmost convenience with online-only chequing accounts by handling all of your bill payments, check deposits, and other activities from the comfort of your home or wherever else you happen to be.
Need Some Quick Cash? Let Us Help!
Are you struggling with your financial needs and need some extra cash? Lionsgate can help. Just fill out the form below, letting us know all your cash or mortgage requirements and we will find the best lender for you. Amazing thing? The process is free and you can quit it at any time.
We have a team of experts that analyze your requirements and pick the best lender for you, with prudent advice.
Note: Please give your authentic information while completing the form below.
If you found this article helpful, please share it with someone you care about. Also, visit our blog to read similar helpful articles on finance, real estate, and getting mortgages.