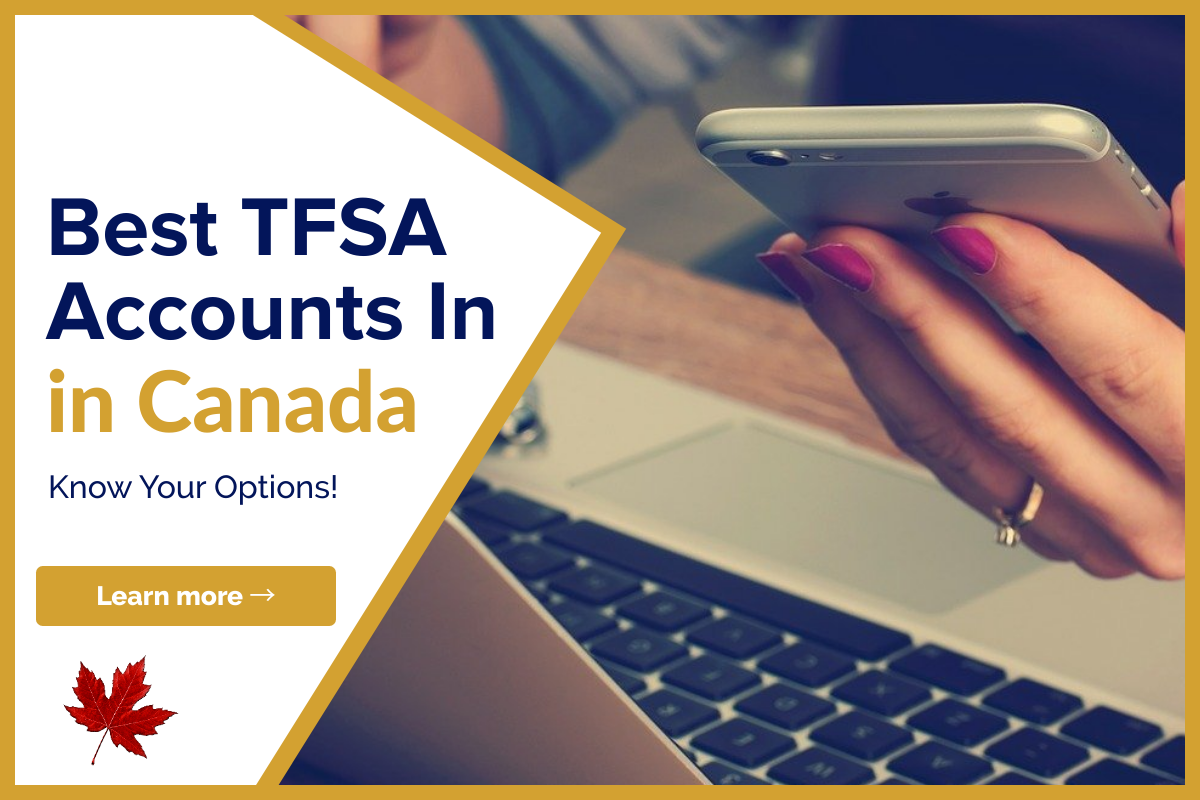 Best TFSA Accounts In Canada 2022
Now you can listen to our blog post, "Best TFSA Accounts In Canada 2022" while on the go.
A TFSA can be a wonderful banking alternative to take into consideration if you're trying to save some money and help it grow at the same time without taking on any risk or having to pay taxes on gains.
Tax-Free Savings Accounts, sometimes known as TFSAs, are distinctive financial instruments that function somewhat like a savings and investment account hybrid. Your deposit interest income is tax-free. A TFSA can hold certain kinds of investments even though it is a form of savings account. You are not charged a fee to make withdrawals from your account at any time. There is a contribution limit that must be followed, but it usually goes up a little bit each year.
What Are Tax-Free Savings Accounts (TSFA)?
Instead of merely being a regular savings account, a tax-sheltered type of investing and saving is known as a tax-free savings account (TFSA). On your savings, you can earn interest, and any profits you make are tax-free.
To encourage Canadians to save money, the Canadian government launched TFSAs in 2009. You won't have to pay taxes on the money you withdraw from a TFSA because you already paid income tax on it when you deposited it.
What Sorts of Investments Can Be Held in a TFSA?
The kind of investments that your TFSA can contain will depend on what the bank where it is held has to offer. Generally speaking, a TFSA allows you to invest in any of the following:
A mutual fund
GICs
accounts for saving
Cash
Stocks
Bonds
ETFs
All of the aforementioned assets may be kept in one account, your TFSA.
Best TFSA Rates
Here are the best TFSA rates you can find in Canada.
Qtrade Direct Investing
Canadians can invest in a variety of stocks, ETFs, GICs, mutual funds, and other securities through the online brokerage platform Qtrade. They provide TFSAs along with registered and non-registered accounts. Self-directed traders can take advantage of the TFSA tax shield by using Qtrades TFSA to invest in a range of securities. Additionally, you can buy calls, puts, and covered calls using your TFSA.
A number of advantages, like automatic contributions and investing tools for better investment ideas, are available if you register a TFSA account with Qtrade. Additionally, Qtrade will pay up to $150 in transfer fees if you transfer your current TFSA account from another financial institution. However, you must transfer at least $15,000 to be qualified for this.
If you fulfil certain requirements, such as qualifying for young investor pricing, holding $25,000 or more in assets each quarter, or trading frequently, your $25 quarterly administration cost for Qtrades may also be eliminated. You can register for a 30-day trial of Qtrade if you're unsure about opening a TFSA account with them.
Motusubank
With Meridian Credit Union, a sizable and reputable Canadian credit union, motusbank is a digital bank. Your money is secure since motusbank deposits are covered by the Canada Deposit Insurance Corporation (CDIC) because of their affiliation with this credit union.
In addition to savings and chequing accounts, the bank also provides mortgages, GICs, investment products, and other financial services.
The motusbank TFSA falls under the category of savings accounts and offers a competitive 1.50 percent interest rate while allowing for tax-free savings at the moment. You can make an unlimited number of transactions each month and there is no monthly fee or minimum balance limitation.
Additionally, there are 3,700 ATMs around the nation that you can use for free withdrawals from your TFSA account.
Bank Alterna
Another online-only bank, Alterna Bank, is owned by Alterna Savings and Credit Union, a sizable credit union. Thanks to this association, the FDIC insures all deposits up to $100,000.
A few products are available from Alterna Bank, one of which is the TFSA eSavings Account. Customers currently have access to 1.40 percent interest on deposits, unlimited transactions, no monthly fees, no minimum balance requirements, free withdrawals from Alterna Bank ATMs located across Canada, and simple account access through the Alterna Bank mobile app.
Tangerine
One of the first Canadian banks that only operates online is Tangerine. This online bank was once known as ING Direct before Scotiabank bought it in 2012, at which point its name was changed to Tangerine.
This online bank provides a comprehensive range of banking services, including a TFSA account, that competes with some of the biggest conventional brick-and-mortar financial institutions in the nation. When you open a new account with Tangerine, you can currently receive an introductory savings rate of 2.50%. The regular rate drops to 0.20 percent when the five-month promotional period has ended.
There are no monthly fees or minimum balance requirements with the Tangerine TFSA account, which also offers free Interac e-Transfers® and daily transactions. Additionally, you'll have free withdrawals available at any of the 3,500 Scotiabank ATMs across Canada and the assurance that your deposits are protected by the CDIC.
Questrade
The biggest discount broker in the country is Questrade, a Canadian online investment brokerage and wealth management firm. After submitting an application for a banking licence in late 2019, this robo adviser not only provides Questwealth Portfolios to clients who invest in ETFs, but it also provides various banking products, like TFSAs.
You may now open a TFSA account to grow your money tax-free and utilise it as a very flexible investment account in addition to trading and investing with Questrade. By investing in stocks, bonds, ETFs, options, mutual funds, GICs, and precious metals, you can use your TFSA to expand and diversify your financial portfolio.
Questrade does not offer interest on cash for TFSA accounts due to the availability of a variety of investment opportunities.
There are no account opening or closing costs or annual fees. All managed accounts with Questrade are insured for up to $10 million, and you can hold both Canadian and US money in the account.
TFSA Account Benefits
Tax-free growth: The primary benefit of a TFSA is that gains from interest on deposits are not taxed when they are made. You can retain more money in your pocket during tax season because those profits are exempt from taxation.
Flexibility: Use the earnings from your TFSA to pay for a variety of things, such as a car, a down payment, a large vacation, or to save for an emergency.
No work requirements: TFSAs don't have any employment requirements, unlike certain investments that demand that you work and make a particular amount of money. Therefore, you can start making money from your account and make whatever contributions you'd like to start earning.
TFSAs offer a flexible investing choice without the strict criteria frequently required with other investment vehicles. This kind of savings account is a terrific method to start saving, investing, and building your wealth because your returns are tax-sheltered.
Need Some Quick Cash? Let Us Help!
Are you struggling with your financial needs and need some extra cash? Lionsgate can help. Just fill out the form below, letting us know all your cash or mortgage requirements and we will find the best lender for you. Amazing thing? The process is free and you can quit it at any time.
We have a team of experts that analyze your requirements and pick the best lender for you, with prudent advice.
Note: Please give your authentic information while completing the form below.
If you found this article helpful, please share it with someone you care about. Also, visit our blog to read similar helpful articles on finance, real estate, and getting mortgages.