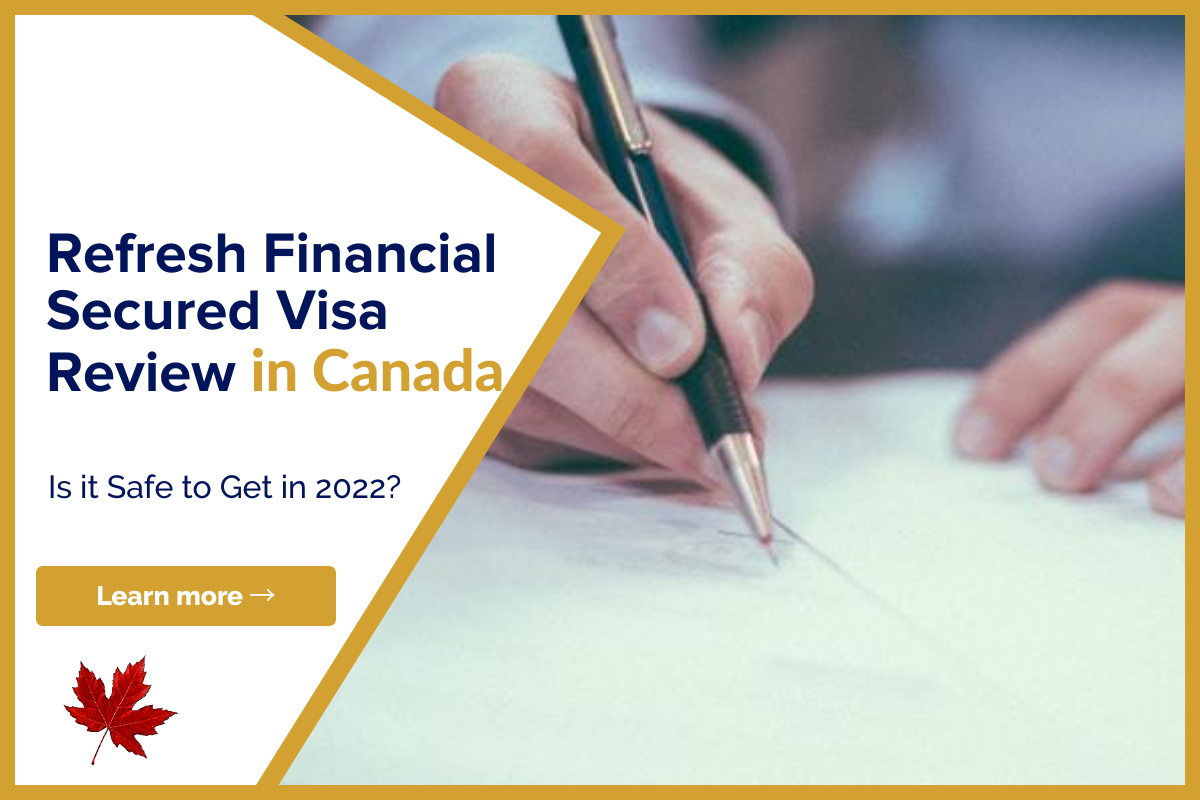 Refresh Financial Secured Visa Review
Now you can listen to our blog post, "Refresh Financial Secured Visa Review" while on the go.
Almost any borrower can apply for the Refresh Financial Secured Visa as a payment option. This secured card might really help you repair damaged credit or establish a credit history if you use it appropriately. To find out more about the advantages and disadvantages of the Refresh Financial Secured Visa, read this review.
Who Is Refresh Financial?
With customers across Canada, Refresh Financial is a credit-building company that was established in 2013. They provide two distinct financial options that you can utilise to establish your credit history and, if necessary, raise your negative credit score, making it simpler for you to get approved for future credit products.
One of their two most well-known products, in addition to offering Credit Builder Loans, is the Refresh Financial Secured Visa, which can be applied for in just 4 easy steps.
What is a Secured Refresh Financial Visa?
The Refresh Financial Secured Visa functions much like a regular credit card, which means that once you've been authorised, you'll have access to a specified revolving credit limit and monthly debt payments to make. When you are unable to pay the full sum, you can also choose to make minimum or partial payments.
The Refresh Financial Secured Visa is a little different, though, because, in order to be authorised, you must pay a security deposit that is equal to your desired credit limit. Refresh will submit your payment activity to the credit bureaus so that it appears on your credit report when you use your credit card and make on-time payments.
The Desired Outcome
The ultimate objective would be for your timely payments to show up on your credit history, which would progressively raise your credit score. Your deposit will be returned as soon as your payment period is over and all outstanding debts have been settled. After then, you can apply for another Refresh Financial package or move on to another type of credit product.
Once you've established good credit, you should have far higher odds of being approved for bigger, more expensive credit products, like mortgages and vehicle loans, as well as the best terms for repayment and lower interest rates. Remember that in order to experience this kind of fruitful outcome, you must be very careful with your card and payments.
Benefits of The Refresh Financial Secured Visa
Now that you are more familiar with the Refresh Financial Secured Visa's operation, let's talk about some of its main benefits, which may include but are not limited to:
Low-Security Deposit: To use the card's full features, you just need to put $200 on it. Regardless of the quantity of your deposit, your interest rate will not change.
Low Interest: Only outstanding balances that remain after a 21-day interest-free grace period will be subject to a rate of 17.99 per cent APR (lower than other credit cards).
Credit Improvement: Refresh informs Equifax and TransUnion of every payment you make. You may establish a strong credit history and a high credit score by making on-time payments.
Better Creditworthiness: If you keep your credit in excellent standing, it will be simpler to qualify for future cheap interest rates and significant quantities of new credit.
Educational Resources: As previously noted, you have free access to Refresh F.I.T. courses with your card, which you may use to manage your money and credit more effectively.
No Credit Check: If you apply for a Refresh Financial Secured Visa, your credit will not be reviewed, so even if you have poor credit or no credit history, you may still be approved.
High Chances of Approval: The biggest advantage of this card is that approval is nearly a guarantee and is primarily based on the amount of the deposit you make.
Drawbacks of The Refresh Financial Secured Visa
It's crucial to take into account any potential disadvantages associated with the Refresh Financial Secured Visa before applying, including the following:
Fees: Keep in mind that there are a number of fees you might have to pay when you activate your Secured Card and conduct different types of transactions. When combined with your interest rate, these fees might increase the card's yearly cost.
Deposit Amount: Your deposit must be made in cash and can be expensive to pay in advance, especially if you also have other expenses. Although you can choose a lesser limit, you might not have enough credit to satisfy your needs in the end.
No Rewards or Insurance: Unlike ordinary credit cards, the Refresh Financial Secured Visa can only be used to make purchases and establish your credit history. It does not offer rewards or insurance. There are no awards or insurance options (balance protection, etc.).
How to Apply for a Financially Secured Refresh Visa
You don't need to have excellent financial standing to be approved for a Refresh Financial Secured Visa, unlike other forms of credit products. For example, you might need to have a good salary, a high credit score, no financial issues, and, in certain situations, additional security to supply, like collateral or a cosigner, to qualify for a typical personal loan or credit card.
The Refresh Financial Secured Visa approval procedure, on the other hand, is reasonably straightforward and can be finished online in a short amount of time. All you have to do is adhere to these instructions:
Fill Out The Correct Forms: Begin by providing your contact details (phone number, address, etc.) and a brief explanation of why you are applying.
Verify Your Email: After ensuring the accuracy of all of your personal data, you can complete the creation of your Refresh Financial account by providing a working email address.
Choose Your Pack: Refresh provides a range of programmes and methods for establishing credit. Choose the Secured Credit Card Pack that best fits your budget.
Provide Your Digital Details: You'll finish the identity verification process and sign any remaining paperwork or contracts by providing your digital details at this point.
Should You Apply For The Secured Refresh Financial Visa?
Your personal and financial preferences should ultimately determine whether you opt to apply for either solution that Refresh Financial provides. Nevertheless, if you don't manage your payments appropriately, any credit product might result in overwhelming debt. The Refresh Financial Secured Visa is actually preferable for customers who:
Have recently filed for bankruptcy or a consumer proposal
Want to enhance their low credit score or establish a credit history
Unable to obtain a typical credit card from their bank or credit union
Aspire to somewhat lower interest rates than are provided by competing credit card programmes
Wishing to enhance their finances or credit by taking the free Refresh F.I.T. courses
Unable to afford to provide a substantial security deposit
Need Some Quick Cash? Let Us Help!
Are you struggling with your financial needs and need some extra cash? Lionsgate can help. Just fill out the form below, letting us know all your cash or mortgage requirements and we will find the best lender for you. Amazing thing? The process is free and you can quit it at any time.
We have a team of experts that analyze your requirements and pick the best lender for you, with prudent advice.
Note: Please give your authentic information while completing the form below.
If you found this article helpful, please share it with someone you care about. Also, visit our blog to read similar helpful articles on finance, real estate, and getting mortgages.