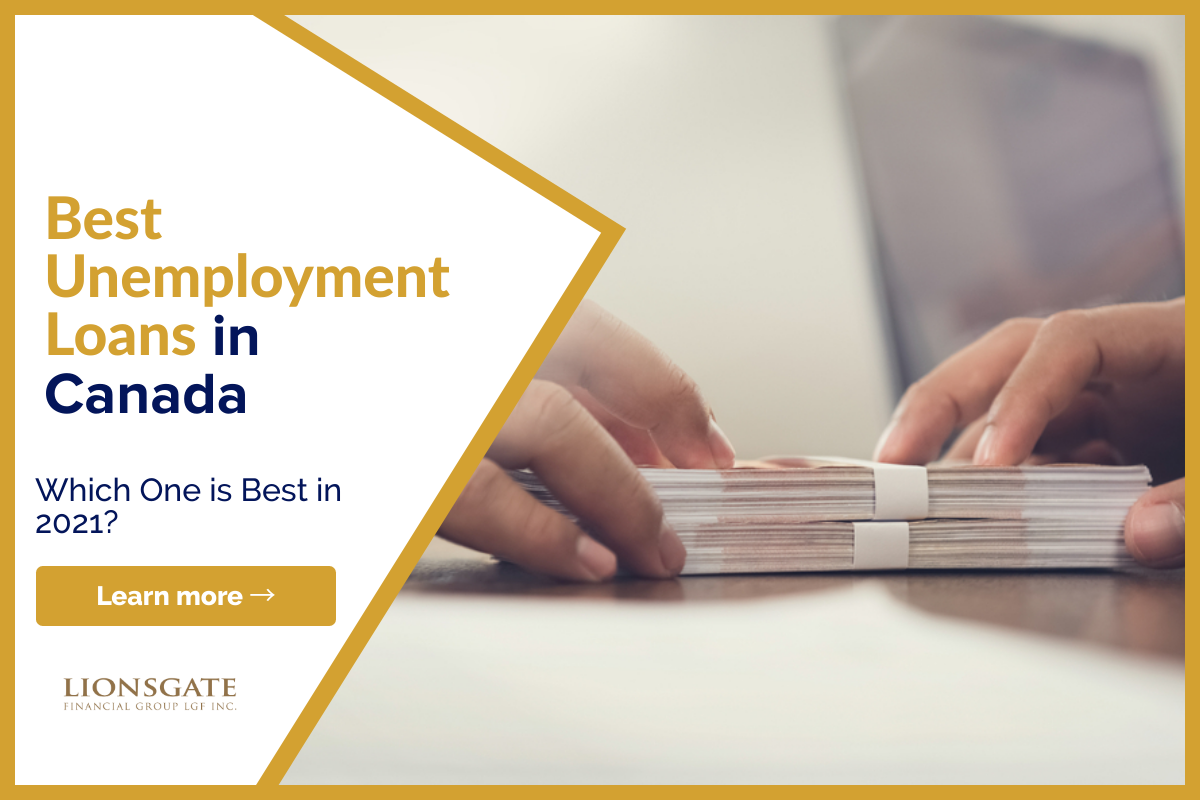 Best Unemployment Loans in Canada [2021]
Now you can listen to our blog, "Best Unemployment Loans in Canada", while on the go.
Whether you've lost your work due to layoffs or COVID-19, left for personal reasons, or are simply looking for a new professional path, being unemployed can put you in a difficult financial situation. When this happens, you may wonder if you may acquire a loan while unemployed.
Yes, you certainly can. In fact, a number of lenders in Canada currently provide unemployment loans to jobless credit users who are in debt. That's correct, if your application is granted, you'll get a lump sum of money placed into your bank account. This money can be spent for nearly any purpose.
What Does It Take To Get An Unemployment Loan?
One of the best things about unemployment loans is that you don't need a job to qualify for funding. It's leverage because it is a requirement for several other credit products. However, you must meet a few personal and financial requirements to be qualified. These include:
Income – You must be able to cover your loan installments with your current income. Welfare, unemployment insurance, the Canadian Child Benefit, your pension, or other government payments are all acceptable kinds of basic income.
Creditworthiness — A few blemishes on your credit report aren't usually a deal-breaker. However, bad credit, a history of missed payments, or a recent bankruptcy, can limit your alternatives, raise your interest rate, or prevent you from getting a loan.
Required Documents may contain (but are not limited to) the following:
Photo identification from the government (passport, driver's license, etc.)
The most recent bank statements (proof of income & active bank account)
Your Social Security Number (SIN)
A utility bill or other form of address verification
A VOID cheque or a pre-authorized debit form
Unemployment 

Loans: 

What 

They 

Are 

and 

How 

They 

Work
While 
receiving 
government 
benefits, 
you 
may 
be 
eligible 
for 
a 
variety 
of 
loans.
This includes
employment 
insurance, 
CCB 
benefits, 
social 
assistance, 
and 
disability 
support 
income.
1. Payday

Loans 

for 

Unemployed 

People
In many places of Canada, payday loans for the unemployed on benefits are available.  In fact, you might get a payday loan while receiving unemployment benefits in Ontario, Alberta, British Columbia, or any other jurisdiction.
However, according to Quebec's lending restrictions, securing a payday loan while on unemployment benefits can be problematic. Payday lenders in Quebec are only allowed to charge a 35 percent annual percentage rate. This is why many payday lenders do not operate in the province.
Payday loans, however, are one of the easiest loans to obtain when unemployed. That's because many people accept non-traditional forms of income such as EI, CCB, social assistance, CPP, and disability benefits. Furthermore, it rarely necessitates credit checks.
Payday loans are therefore a suitable choice for people who need money quickly yet have bad credit.  However, it's crucial to note that payday loans come with a number of concerns, including high-interest rates, short repayment terms, and the possibility of becoming trapped in a payday loan cycle.
2. Installment

Loans 

for 

Unemployed 

People
In 
Canada, 
there 
are 
lenders 
who 
provide 
installment
loans 
to 
persons 
who 
are 
unemployed 
due 
to 
a 
disability, 
an 
injury, 
pregnancy, 
or 
simply 
because 
their 
employer 
had 
to 
fire 
them. 
Due 
to 
the 
additional 
risk,
they 
face 
by 
lending 
to 
someone 
who 
is 
regarded as
hazardous, 
these 
installment
loans 
will 
typically 
have 
higher 
rates 
and shorter-term
lengths 
and 
quantities. 
Installment 
loans 
are 
often 
preferable 
to 
payday 
loans 
since 
they 
have 
longer 
durations 
and 
lower 
interest 
rates, 
making 
them 
more 
affordable.
3. Auto

Title 

Loans 

for 

Unemployed 

People
Another 
type 
of 
credit 
that 
does 
not 
require 
employment 
verification 
is 
vehicle 
title 
loans. 
You 
should 
be 
able 
to 
apply 
for 
an 
auto 
title 
loan 
as 
long 
as 
you 
have 
a 
source 
of 
income. 
Because 
of 
the 
security 
provided 
by 
an 
auto 
title 
loan, 
the 
conditions 
are 
much 
more 
flexible. 
If 
you 
don't 
make 
a 
payment, 
the 
lender 
can 
seize 
your 
car 
as 
collateral.
4. Unemployment

Credit 

Lines
A 
line 
of 
credit 
is 
another 
type 
of 
loan 
that 
can 
be 
obtained 
without 
the 
need 
for 
employment 
verification. 
Lines 
of 
credit 
are 
ideal 
for 
unexpected 
expenses. They provide
you 
with 
a 
cash 
reserve 
that 
you 
may 
use 
anytime 
you 
need 
it. 
You 
just 
pay 
interest 
on 
the 
amount 
you 
spend, 
and 
you 
recover 
access 
to 
the 
funds 
as 
you 
repay 
the 
amount 
you 
used, 
just 
like 
with 
a 
credit 
card.
How Do You Pick The Best Unemployment Loan Provider?
Remember that there are numerous lenders in Canada who can provide you with an unemployment loan. However, you may need to look outside of banks and credit unions, where the conditions are often more stringent, requiring you to have a job in order to qualify.
Instead, you may need to apply with a private lender, a no-credit-check lender, or a payday lender. As long as you can make your loan payments, these organizations are usually much more liberal with their limits. They may also have more flexible repayment plans and faster approval processes.
Make sure you do your homework and keep an eye out for scams.
All of this is to say that doing your homework and comparing a few different lenders in your area before handing over any personal or financial information is critical. After all, one of the most significant hazards associated with unemployment loans is the possibility of higher interest rates and administrative expenses.
Unfortunately, because alternative lenders are more difficult for the government to supervise, there is a higher risk of scams, fraud, and illegal rates. These predators are either attempting to offer you a bad loan at an exorbitant price or, even worse, attempting to steal your identity, money, and financial information.
Payday Loans For Unemployed People On Benefits In Canada Should Be Avoided
A payday loan, for example, is a small payment ($100 – $1,500) put directly into your bank account. These loans are appealing since they have few restrictions and can be approved in as little as one or two days. Furthermore, some payday lenders will approve you even if you don't have a job, as long as you have a regular source of income.
Payday loans, however, are problematic due to their high-interest rates (300 percent – 500 percent APR) and short repayment terms of 14 days. While they may be a realistic alternative in an emergency, they come with a slew of fees and penalties. A payday loan might be significantly more expensive than a typical jobless loan as a result of all of this.
Before you apply, double-check that your lender has valid credentials, a long history of satisfied customers, and a solid BBB rating.
The Bottom Line
At Lionsgate, we specialize in helping people obtain funding private mortgages for land purchases as well as for other real estate transactions. If you are looking to buy land in Canada, get a mortgage or apply for a loan, leave us a message and we will try to connect you with local realtors and sourcing for financing.
If you found this article helpful, please share it with someone you care about. Also, visit our blog to read similar articles on mortgages.