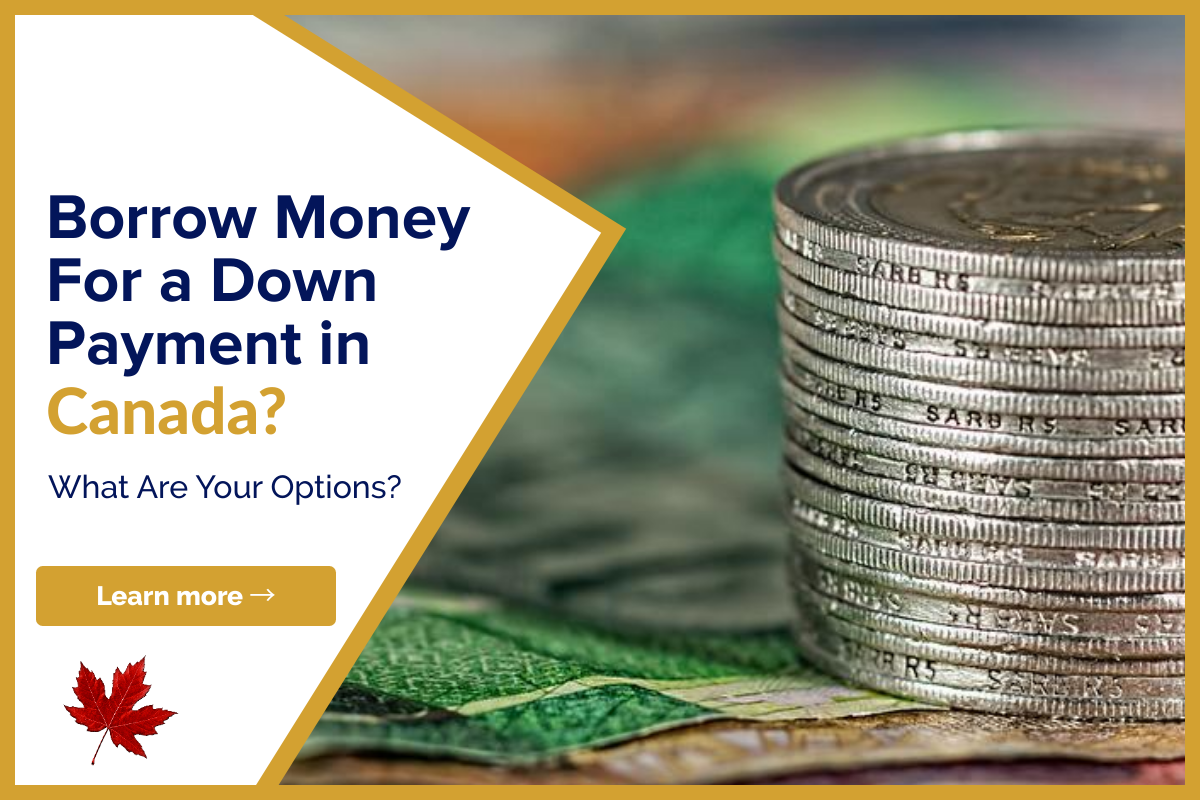 Borrow Money For a Down Payment
Now you can listen to our blog post, "Borrow Money For a Down Payment in Canada" while on the go.
Have you ever considered buying a home? Homeownership is something more and more people are striving for these days. Buying a home can be an exciting step in your life as an adult. However, homeownership isn't easy. Even if you have a decent income, it can be very difficult to save up enough money for a down payment on a house.
Luckily, there are different programs and services that can help you borrow money for a down payment. I've written this Canada mortgage article to explain how you can borrow money for a down payment in Canada and become a homeowner.
Here are a few down payment borrowing sources for Canadians to consider looking into.
Line of Credit
A line of credit is a unique financial product that functions differently from a traditional loan. Instead, it functions similarly to a credit card, in that you can withdraw funds on credit – up to your given limit – and only pay interest on the portion you use. After you've paid back that money, you can borrow it again and again, paying simple interest on the amount withdrawn.
Is it possible to use a line of credit to make a down payment? Yes, however, it must come from the same financial institution that provided the mortgage.
Homebuyers can use their credit line to receive the money they need for a good down payment on their mortgage. However, in order to avoid the risk of overleveraging, such a strategy should be used with prudence.
Personal Loan
A personal loan as a source of down payment funds may be an option, but only if your credit score and financial history are in good shape. This is because a lender will want to make sure you're financially capable of taking on more debt, especially if you're planning to buy a house with a mortgage.
When lending money to clients who are not in good financial standing, unsecured debt, such as a personal loan, can be risky for lenders. If the lender has no collateral to collect if you default on your loan, they may be stuck with a terrible deal. That's why, before approving a personal loan on top of a mortgage, lenders will require customers to have excellent credit, a high income, and a manageable debt burden.
If you're thinking about getting a personal loan to help with a down payment, keep in mind that it will add to your debt and damage your debt-to-income ratio, making it more difficult to secure a home loan.
Using Your Credit Card
A credit card is perhaps the riskiest way to borrow money for a down payment. Credit card debt has become a serious problem in Canada, with rising credit card debt affecting an increasing number of people. Over $94 billion in credit card debt has been accumulated by Canadians, with the average credit card debt amounting to $2,627.
Credit card debt has the disadvantage of being one of the most expensive types of debt to carry. Consumers who use credit cards pay interest rates of up to 20% or more on the money they put on their cards.
The interest portion alone would be astonishing, given the amount of money that would have to be borrowed for a down payment. Borrowing for a down payment on a credit card is not recommended and should be avoided in favour of other safer solutions.
RRSP's
The Home Buyers' Plan is a federal programme that helps people with down payments. This programme allows Canadians to borrow up to $25,000 ($50,000 for a couple) from their RRSPs to contribute towards a down payment on a house.
The best part about this strategy is that you have 15 years to repay your RRSP contributions before they are taxed. The funds are non-taxable if you repay all of the money borrowed before the 15-year period expires.
The Home Buyers' Plan has some eligibility limitations. You must do the following:
Being a first-time homebuyer has its advantages and disadvantages.
Sign a purchase agreement on a home that qualifies.
You must be a Canadian citizen.
Within one year of purchasing the property, designate it as your primary residence.
Furthermore, before borrowing, the RRSP funds must be on deposit for at least 90 days.
You should have taken the time to accumulate money for a down payment on a house instead of borrowing money. However, coming up with the funds required for a reasonable down payment can be a genuine challenge. When everything else fails, there are options for borrowing the funds needed for a down payment on a property. Just make sure to talk to a financial counsellor or a mortgage specialist before deciding which path to pursue to make your home-buying aspirations come true.
The Bottom Line
At Lionsgate, we specialize in helping people get the extra cash they need, obtain funding for private mortgages, as well as for other real estate transactions. If you are looking to buy land in Canada, get a mortgage or apply for a loan, fill out the form below. Or, You can leave us a message and we will try to connect you with local lenders and sources that best meet your needs.
If you found this article helpful, please share it on your timeline and with someone you care about. Also, visit our blog to read similar helpful articles on finance, real estate, and getting mortgages.