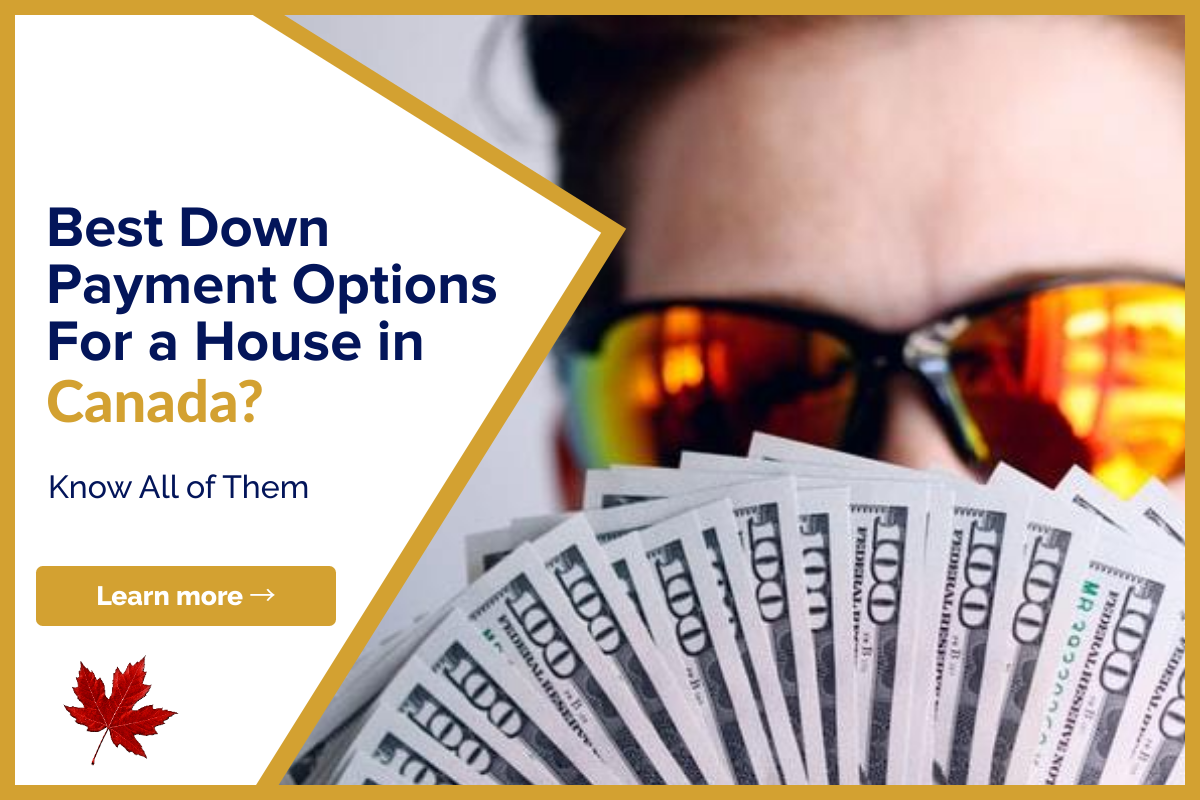 Best Down Payment Options For a House
Now you can listen to our blog post, "Best Down Payment Options For a House in Canada" while on the go.
Many homeowners want to get a down payment for a house in Canada but don't know where to find funding. A down payment is an important part of the home buying process that many people mistakenly think they don't need or can secure at some point in the future.
There are many ways you can get assistance from your family, friends and government programs to make additional payments but at some point, you will still need a significant amount of money to show that you have the means to purchase a house.
Fortunately, there are a variety of down payment options available to help with a down payment, including the use of borrowed funds. Below are some of the best down payment options that we recommend in Canada.
Personal Savings
A personal savings account is one of the more obvious sources of funds for a down payment. Your down payment can come from any of these accounts: a regular bank account, an investment account, mutual funds, GICs, or even a tax-free savings account (TFSA). Simply ensure that the funds are available by the deadline.
RRSPs
Your RRSP contributions don't have to be limited to your retirement years. In fact, you can borrow against these funds to help you buy a property.
If you have money saved up in an RRSP account, you may be able to spend up to $25,000 (or $50,000 for a pair) as a down payment. You won't be taxed on this withdrawal if the funds have been in your RRSP account for at least 90 days. However, that money must be repaid, and you have up to 15 years to do it and put it back into your RRSP account.
A Present
It's becoming more typical for young couples purchasing their first home to borrow money from relatives or friends for the down payment. Young adults who have recently graduated from college or university are often saddled with substantial student loans that will take years, if not decades, to repay. In fact, student loans remain one of the most significant barriers that young adults confront when it comes to purchasing a property.
When it comes to a down payment, many parents are able and ready to assist their children, and fortunately, lenders enable borrowers to accept this money as a gift. To make this a legal financial transaction, both the borrower and the 'gifter' must sign and submit a one-page 'gift letter,' which specifies that the money is a gift rather than a loan.
It should be highlighted that purchasers are not permitted to accept money from anyone with a direct interest in the property sale, nor is the seller permitted to provide an incentive to the buyer unless the incentive enhances the property's worth through upgrades such as new windows or a new roof.
Borrowing Money
Some house loans do not allow for the borrowing of funds for down payments. Before submitting an application, make sure the mortgage you're asking for enables it. Some lenders prefer to know that borrowers aren't unduly burdened in order to make a down payment and invest their own money toward the home they're buying.
Nonetheless, it is still feasible to borrow money for a down payment. You may be able to borrow the funds needed for a down payment if you have a good credit score and a stable household income.
Genworth Canada, one of Canada's three major mortgage insurers (the other two being CMHC and Canada Guaranty), currently offers a programme aimed at assisting buyers who are having difficulty coming up with a sufficient down payment. The 'Cash Equity/Borrowed Down Payment Program,' as it is known, is designed to assist borrowers who have less than a 10% down payment for their house purchase.
You can even borrow money to cover closing costs using this programme (such as legal fees, land transfer taxes, taxes on mortgage insurance premiums, etc). The money can be borrowed as long as any associated repayments are taken into account when calculating the Total Debt Service (TDS).
It's critical to recognise that borrowing money for a down payment will boost your debt-to-income ratio, which basically implies you'll have a lot more debt than income. Low debt-to-income ratios are preferred by lenders because they indicate that borrowers are less likely to become overwhelmed by debt obligations and, as a result, are less likely to default on their mortgages. If you plan to borrow money for a down payment, make sure you're not taking on too much debt in the process of becoming a homeowner.
The Bottom Line
You can get a down payment from a variety of down payment options, but it's crucial to analyse your finances and make sure you're financially ready to make such a large investment. Consult a financial counsellor or a mortgage professional to determine which sort of mortgage is best for you and what your financial obligations will be if you take out a house loan.
At Lionsgate, we specialize in helping people get the extra cash they need, obtain funding for private mortgages, as well as for other real estate transactions. If you are looking to buy land in Canada, get a mortgage or apply for a loan, fill out the form below. Or, You can leave us a message and we will try to connect you with local lenders and sources that best meet your needs.
If you found this article helpful, please share it on your timeline and with someone you care about. Also, visit our blog to read similar helpful articles on finance, real estate, and getting mortgages.