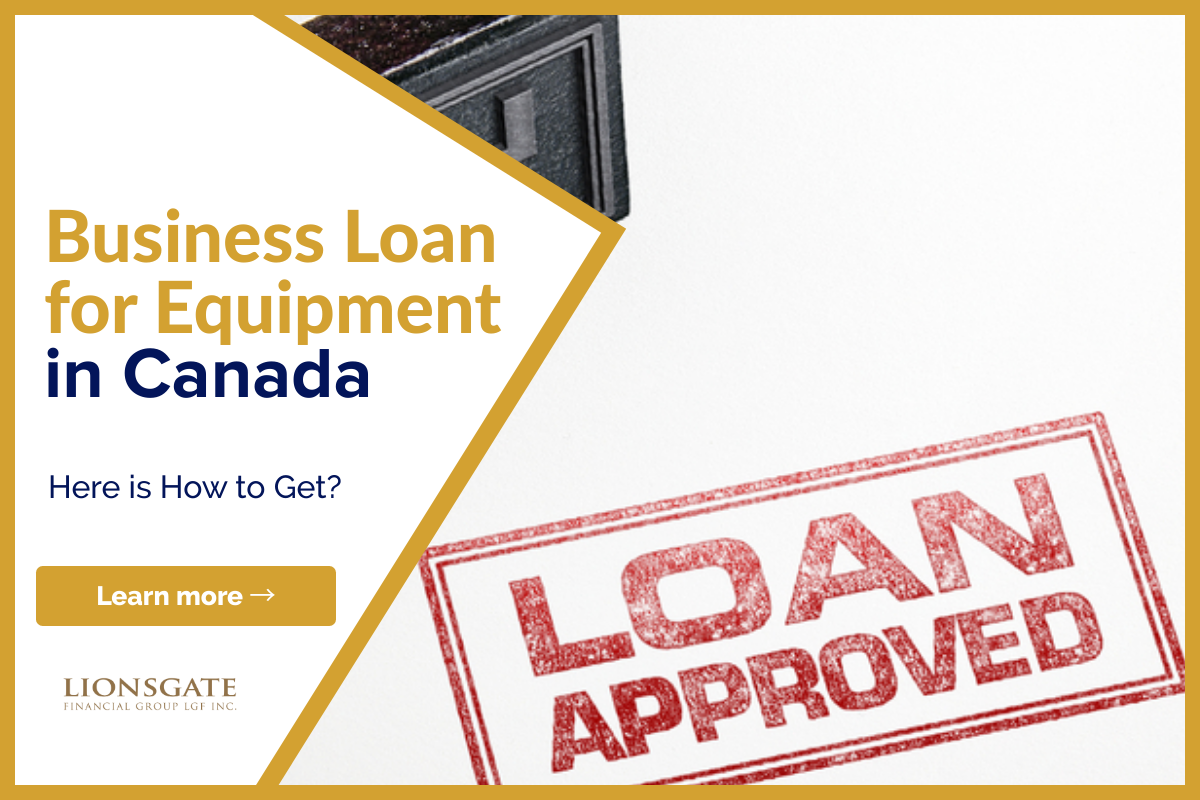 Business Loan for Equipment in Canada
Now you can listen to our blog post, "Business Loan for Equipment in Canada", while on the go.
If you own a business in Canada, you may be aware of the fact that equipment financing is a major issue. Most of the businesses are unable to finance the equipment from their capital. This, as a result, reduces their chances of getting exponential growth.
However, if you are in Canada, this problem stands no ground. With the help of a variety of options including, debt finance, lease, equity, and government financing, you can now fund equipment with ease.

If you are looking to expand your product list by purchasing new equipment or upgrading the previous one, a business loan  for equipment can get you there. Keep reading to find out what it needs to get business loans for equipment.
Why You Should Get Business Loan for Equipment?
Think it this way: If you don't get business loan for equipment, you will stay at the position you are now even after 10 years. However, if you take business loan and buy new equipment, you can increase your chances of success with expansion of your business.
Even if you have funds in your account, you still need business loans because your funds might not cover the whole cost of your equipment. And even if it does, it will not be wise to spend all of your money as you might need it for other important tasks.
Thus, a business loan can enable you to purchase the equipment you need to give a boost to your traffic and sales.
Where You Can Use Your Business Equipment Loan?
When you're a business owner, you have a lot of options for how you may put your money to work, including buying the necessary equipment to get the job done. Some examples of business equipment that can be financed with a decent business loan are:
Medical and Dental Devices
The clinic, practice, and hospital medical equipment.
Exam chairs/tables/lights, x-ray machines, and lab equipment are all examples of dental equipment.
Photographic Tools
Cameras, tripods, lighting, backgrounds, photo printers, and other professional photography equipment can be purchased for your studio or freelancing business.
Gardening Instruments
Lawn and garden care equipment, such as riding mowers, electric or gas-powered hedge trimmers, and leaf blowers, can be purchased by landscaping companies.
Farming Equipment
Farmers can finance farming equipment such as tractors, plows, irrigation systems, balers, and other agricultural equipment.
Equipment for the Construction and Warehouse
Basic construction equipment, such as power tools, ladders, and scaffolding, can be purchased by construction businesses, contractors, and roofers. They can also get any necessary safety gear, such as hardhats/helmets, steel-toed boots, and protective goggles.
Forklifts, assembly lines, shelving units, pallet jacks, and other warehouse equipment can be purchased with the help of a business equipment loan.
Office Equipment
In order to run high-quality office equipment, you'll need the following items (computers, photocopiers, fax machines, printers, desks, etc.)
Automobile Repair Tools
Mechanical equipment for auto repair or body shops, such as vehicle hoists, is another item you can buy with an equipment business loan.
Bending machines for pipes
Tools for working with air
Air compressor
Drills for pedestals
Wheel balancer and tyre changer
Cars jack
Transmission repair tools
Machine with a frame
Plumbing and Sewerage Systems
In order to manage a plumbing business, you'll require plumbing and sewer equipment. You may stock your arsenal with air compressors, gas meters, water pumps, sewer cameras, lateral liners, drainage machines, and other instruments with a business loan.
Business Loans For Equipment
A business loan is a type of financing in which you are given a lump sum of money and must repay it with interest over a set period of time. Repayments are normally made every two weeks or once a month.
Business loans are incredibly flexible and can be utilized for a variety of purposes, including paying suppliers, improving cash flow, covering rent, and more. Furthermore, a business loan can be in one of two forms:
Secure: A secured business loan is one that is backed by a business asset (such as real estate, automobiles, accounts receivable, inventory, and so on) or a personal guarantee. This gives the lender peace of mind if you default on your loan.
Unsecured: An unsecured business loan is one for which you don't have to put up any collateral.
Eligibility Requirements for Equipment Business Loan
We've 
put 
up 
a 
list 
of 
common 
documents 
that 
a 
lender 
would 
ask 
for 
when 
authorizing
a 
loan 
to 
help 
you 
qualify.
Personal Credit Score & Business Credit Score: Lenders may typically evaluate your personal credit score as well as your company credit score to determine your creditworthiness, whether you operate a new or established firm.
Business Details: Your lender will ask for your business address, business name, business license number, and other information in order to identify your company.
Financial records: Before approving your business for financing, a lender will assess your company's financial health using particular financial documents to determine whether you'll be able to repay the loan.
Tax returns: Your lender will use these documents to assess your monthly and annual earnings.
Revenue statements: Your business sales records and revenue statements will help your lender understand your cash flow, which is crucial in convincing them to lend to you.

Personal financial records: A lender may request your personal bank statements to evaluate your creditworthiness, especially if you're offering a personal guarantee.
Business plan: Lenders typically have little to no financial information on start-ups and fledgling firms. Lenders would want you to provide a business plan in such cases. A business plan is a two- to three-page document that explains why you need a loan and how you intend to use it to increase your revenue
I have bad credit, can I still get a business equipment loan?
Because of their liberal lending rules, alternative lenders are a good option if you have bad credit. Unlike banks, they do not reject candidates only because of poor credit history. They consider your debt level, assets, monthly sales, and other financial features of your firm while determining your eligibility. You can also improve your chances of acceptance by minimizing the risk to your lender by securing the loan with an asset or a personal guarantee.
The Bottom Line
At Lionsgate, we specialize in helping people get the extra cash they need, obtain funding for private mortgages, as well as for other real estate transactions. If you are looking to buy land in Canada, get a mortgage or apply for a loan, fill out the form below. Or, You can leave us a message and we will try to connect you with local lenders and sources that best meet your needs.
If you found this article helpful, please share it on your timeline and with someone you care about. Also, visit our blog to read similar helpful articles on finance, real estate, and getting mortgages.