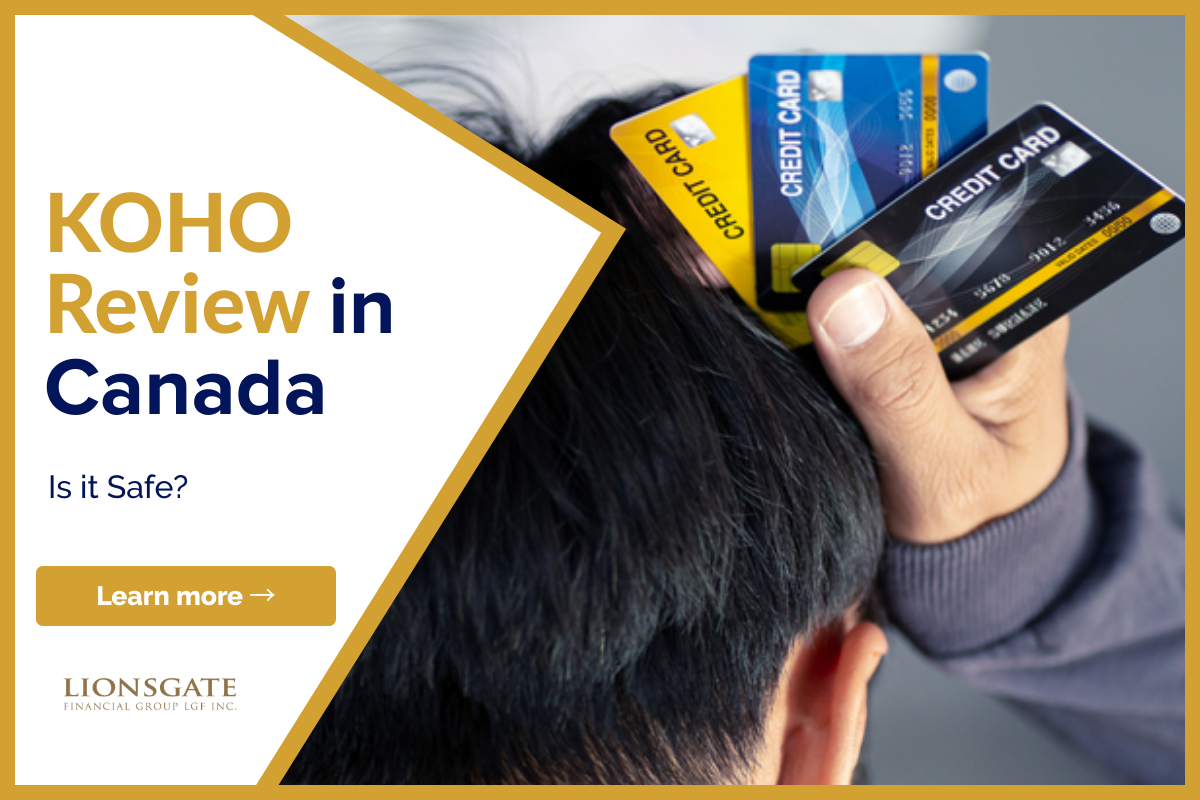 Now you can listen to our blog, "KOHO Review: Is it Safe?" while on the go.
If you just heard about KOHO and looking for a KOHO review, then you are at the very right place. This guide contains not only the intro to KOHO but also KOHO review, credit building, and KOHO direct deposit. So, keep reading to get the insights.
KOHO was founded in 2014 and in 2015 it started offering its services through mobile apps. After being officially launched in 2017, the company partnered with Peoples Trust and Visa for banking services.

KOHO quickly gained popularity as a fintech company in Canada due to its concept. its concept is simple: it is a reloadable Visa card and app that enables you to make fine financial decisions. Not only this, if you purchase anything, you win cashback and earn interest on your deposits. On sign up, they give a $20 cashback immediately. Before I forget to mention, know that KOHO is also a free app.
Is KOHO Safe?
Yes, KOHO is 100% safe and legit. For safety, they partner with People's Bank to store their user's money. Additionally, they have an in-app card locking feature to make it the safest app.
KOHO is a great no-fee, card, and app that enables Canadians to spend money and get cash backs in return. With KOHO, you will not spend more money than you have and you will earn some cash rewards in the process.
Where Can I Use KOHO in Canada?
Because KOHO is a prepaid Visa card, you can use it anywhere Visa is accepted. However, by using KOHO, you will only spend the money that you have on hand. The card is linked to an app that provides you with detailed information about your spending. This card could be useful for couples who are just starting to consolidate their money because it allows you to have personal or joint accounts. The KOHO card is available to all Canadians, including Quebec residents.
What Makes KOHO Stand Out
With KOHO, you can round up your purchases to the nearest $1, $5, or $10. That money is then put toward your savings objectives, such as concert tickets, a new television, or a vacation. The idea is that this modest transaction will go unnoticed at first, but it will quickly build up. You can create as many savings goals as you wish, each with a different amount, and KOHO will estimate how long it will take you to achieve them. It essentially teaches you how to delay gratification.
Because your money is kept by Canadian ShareOwner Investments Inc. ("ShareOwner"), you are covered by the Canadian Deposit Insurance Corporation ("CDIC"). Overall, KOHO is one of Canada's top budgeting apps.
Types of Credit Card Offered
KOHO's prepaid credit cards are a cross between debit and credit cards, allowing users to make purchases with their card as if it were a debit card while simultaneously earning cashback benefits as if it were a credit card. Currently, KOHO offers three different types of prepaid cards.
1. Visa Prepaid Card
The prepaid Visa card issued by KOHO is the company's original card. There is no yearly fee, and there are no transaction fees such as cost per transaction, non-sufficient funds, or e-transfer fees. Only the foreign transaction fees, which will cost you 1.5 percent every transaction, are an exception.
When you use the KOHO prepaid Visa card, you can receive 0.5 percent cash back on all purchases and up to 5% cashback at specified shops. If you recommend a friend, you can increase your earn rate to 1% for 90 days, which will earn you more points.
If you want to save money, you can utilize KOHO's RoundUps feature to save money automatically with every transaction. Your purchase can be rounded up to the nearest $1, $2, $5, or $10. Furthermore, you can use your KOHO app to freeze your account if you ever lose your card or detect any fraudulent activity.
FEATURES OF PREPAID VISA CARD KEY
There is no annual charge.
0.5 percent back in cash
When you shop with specific KOHO partners, you'll get extra cashback.
RoundUps
Foreign transaction costs of 1.5 percent
E-transfers are completely free.
There are no NSF fees.
2. KOHO Joint Prepaid Card
The KOHO Joint prepaid card is for those who want to open a joint account with their partners, spouses, relatives, or anybody else with whom they want to discuss their finances and financial goals. You can work together to create goals and achieve them. With fast notifications and alerts when a purchase is made, the joint account keeps both account holders up to date on spending.
Furthermore, you will receive 0.5 percent cash back on all purchases. When you make a purchase with certain merchants, you can receive up to 5% cashback, just as with the ordinary KOHO prepaid credit card. You'll also be able to use the KOHO RoundUps function to help you meet your savings goals more quickly.
FEATURES OF JOINT PREPAID CARD KEY
There is no annual charge.
On all purchases, you'll get 0.5 percent cashback.
On qualified purchases, you can get up to 5% cashback.
Using the KOHO app, you can keep track of your costs.
When a purchase is made, you will receive real-time notifications.
With KOHO RoundUps, you can automate your savings.
E-transfers are completely free.
There are no NSF fees.
3. Premium Prepaid Card
You can have access to KOHO's most famous card, the KOHO Premium prepaid card, for $9 per month or $84 per year. Despite the fact that this card has a hefty price tag, consumers can use the 30-day trial pass to try out the premium version for free. It also comes with a variety of benefits that may make the price worthwhile.
This card offers a greater cashback rate of 2% on often purchased items such as gas, transit, grocery, and restaurants. You will get 0.5 percent on any other purchases. When you shop with KOHO-affiliated retailers, you can also get an extra 2% cashback. This includes establishments such as Baskin-Robbins, Pizza Pizza, Indigo, Chefs Plate, Frank and Oak, and a variety of others.
Furthermore, unlike the other two cards in the series, this one has no foreign transaction fees, saving you roughly 2.5 percent on each withdrawal. It also has a price match tool that might help you save money. This function refunds you for the difference in price on things you've bought that have reduced in price within a certain time frame.
You'll also have access to a financial counselor who can help you with debt, saving, investing, and budgeting, among other things. If you're traveling outside of Canada, KOHO offers free international ATM withdrawals. Users are entitled to one free withdrawal every month, which can save them $2-$3 per month.
FEATURES OF PREMIUM PREPAID CARD KEY
A monthly fee of $9 or an annual fee of $84 is charged after a 30-day free trial period.
2% back in cash
When you shop with select KOHO partners, you'll get extra cash.
There are no costs for international transactions.
For financial advice, you have access to an accredited financial counselor.
Use KOHO's price matching function to save money 1 Every month, you can get a free international ATM withdrawal.
Cost To Open An Account With KOHO
Depending on the sort of prepaid card you use, monthly fees can range from 0 to $9. The prepaid visa card and joint prepaid card from KOHO are both free, however, the premium prepaid card from KOHO costs $9 per month. However, if you pay for a year in advance, you'll save $24, resulting in an annual price of $84.
The Bottom Line
At Lionsgate, we specialize in helping people get the extra cash they need, obtain funding for private mortgages, as well as for other real estate transactions. If you are looking to buy land in Canada, get a mortgage or apply for a loan, fill the form below. Or, You can leave us a message and we will try to connect you with local lenders and sources that best meet your needs.
If you found this article helpful, please share it on your timeline and with someone you care about. Also, visit our blog to read similar helpful articles on finance, real estate, and getting mortgages.