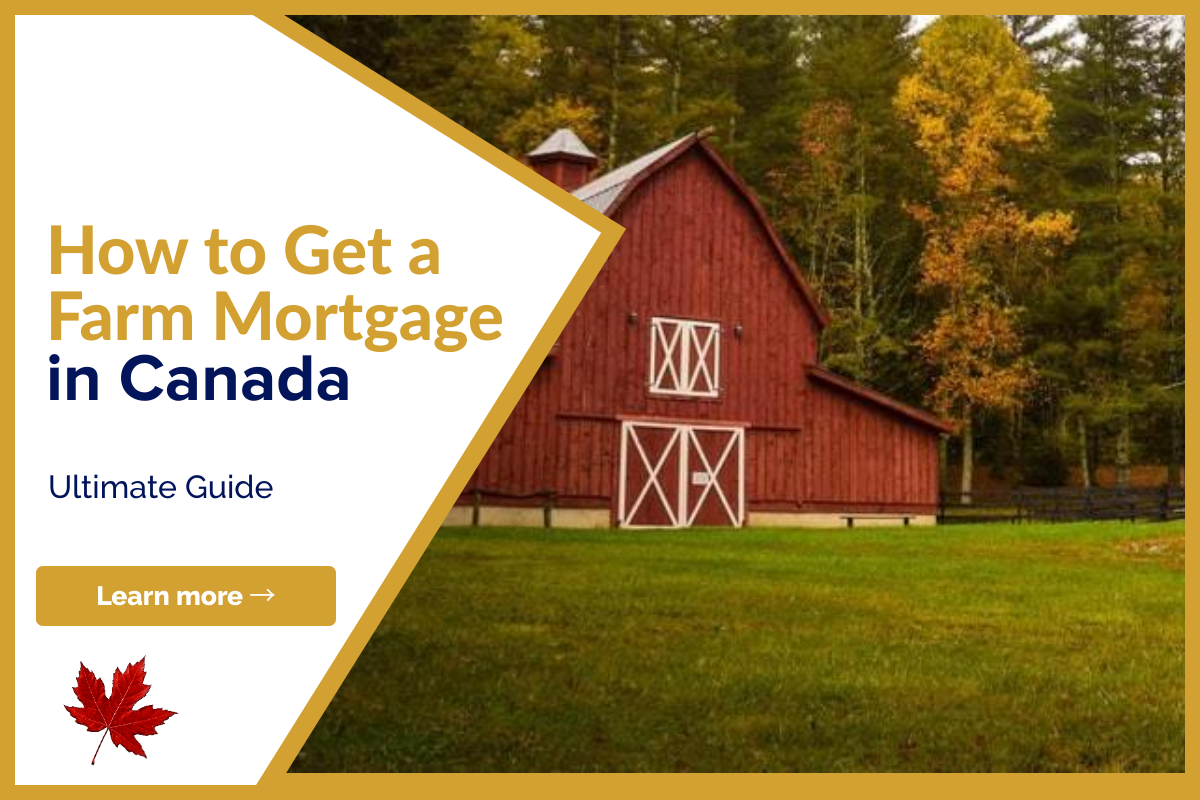 How to Get a Farm Mortgage
Now you can listen to our blog post, "How to Get a Farm Mortgage" while on the go.
Anyone who has been through the process of buying a farm knows what a challenge it can be. There are many ways to finance farms. But unfortunately, there's not a lot of information out there about how to get a farm mortgage in Canada. In this guide, learn from my experience and you'll be well on your way to getting a farm mortgage.
Before we move on to getting a mortgage for a farm, know that establishing and maintaining a successful farm of any kind is not always simple. It is also not cheap and involves a lot of expenses. Securing a mortgage for the farm is itself a task in itself. The biggest problem is that many creditors do not lend money to just anybody who walks in the door with a plot of land in mind.

The mortgage approval process for any rural property is more complicated and expensive than the average suburban household. But, if you are a farmer to be, don't feel discouraged. In this guide, we will show you how you can secure a mortgage for a rural property.
Difference Between a Regular Acreage Mortgage and a Farm Mortgage
The intended use of the property is the most significant difference between a farm mortgage and an "acreage" mortgage. Simply put, purchasing a rural property for living purposes and purchasing a rural property for farming purposes are two different things. The borrower can choose between mortgaging a property with a house already on it. Or mortgaging a plot of "raw land" (no buildings) with the purpose of putting a dwelling on it with either form of a mortgage.
Acreage Mortgages
A normal acreage mortgage cannot be used to make a profit. Plus, the property must be 10 acres or fewer to be accepted. Borrowers wishing to purchase either raw land or land with a home already constructed on it can make a down payment of as little as 5%, much like with a traditional mortgage (depending on their lender). If they make a down payment of less than 20%, they'll be required to purchase default mortgage insurance, just like with a traditional high-ratio loan.
Securing a mortgage for a regular acreage property will also be easier because, in the event of a default, a lender only needs to give the borrower three months to vacate the property before foreclosing. Whereas a lender must give the borrower a full 12-months to vacate a farming property before foreclosing.
Farm Mortgages
The mortgage approval process for agricultural properties, on the other hand, will be a little more difficult. To begin with, most farm mortgages need a down payment of 25% or more. Borrowers who want to grow land for farming will face a significantly higher risk from the lender. After all, financing a functional farm operation takes far more time, money, and resources than financing a conventional living property. It means the borrower may have a tougher difficulty keeping up with the mortgage payments.
Borrowers/land investors are allowed to buy as many acres of land as they desire while it's for sale when it comes to any type of farming. However, depending on their lender, those borrowers will most likely only be able to obtain a mortgage for the first 10 acres. With one house and one garage are often included in the contract. Any additional land beyond those 10 acres, as well as any additional structures beyond the house and garage, will be paid for out of pocket unless they make a considerably bigger down payment.
The Canadian Agricultural Loans Act Program
The Agricultural Loans Act of Canada (CALA) is a programme that provides loans to farmers in Canada.
The CALA Program is the most widely used system of guaranteed loans for borrowers wanting to get a mortgage. It is especially for farming and other sorts of agriculture.
This government-backed programme aims to assist farmers and agricultural cooperatives in obtaining financing in order to start or expand new farms or improve existing ones. These loans can be used by farmer's cooperatives to produce, market, and distribute their agricultural products. Most mortgage lenders, such as banks, credit unions, and "Caisses Populaires" (Quebec credit unions), issue and administer these loans. These are typically granted after 60 days of approval.
A single farm operation can get a loan of up to $500,000 to invest in land, farming equipment, and the construction and/or improvement of farming structures through this programme.
Know What You Are Getting Into
If you're reading this, you're probably considering investing in rural or farmland in the future. Whether you plan to use the land for farming or simply as your primary dwelling, it's wise to do your homework first so you know exactly what you're getting into. While purchasing rural real estate may appear to be more financially sound than purchasing urban or suburban real estate, it does come with its own set of hazards, regardless of which province or territory you reside in.
Even if the property is merely an underused plot of ground, there are a number of considerations to consider when it comes to real estate investing, just as there are when it comes to any other type of investment. Buying up agricultural real estate can, however, pay off if you do the math and have a strong investment strategy, as long as you're cautious and patient enough to see your commitment through to the conclusion.
The Bottom Line
At Lionsgate, we specialize in helping people get the extra cash they need, obtain funding for private mortgages, as well as for other real estate transactions. If you are looking to buy land in Canada, get a mortgage or apply for a loan, fill out the form below. Or, You can leave us a message and we will try to connect you with local lenders and sources that best meet your needs.
If you found this article helpful, please share it on your timeline and with someone you care about. Also, visit our blog to read similar helpful articles on finance, real estate, and getting mortgages.