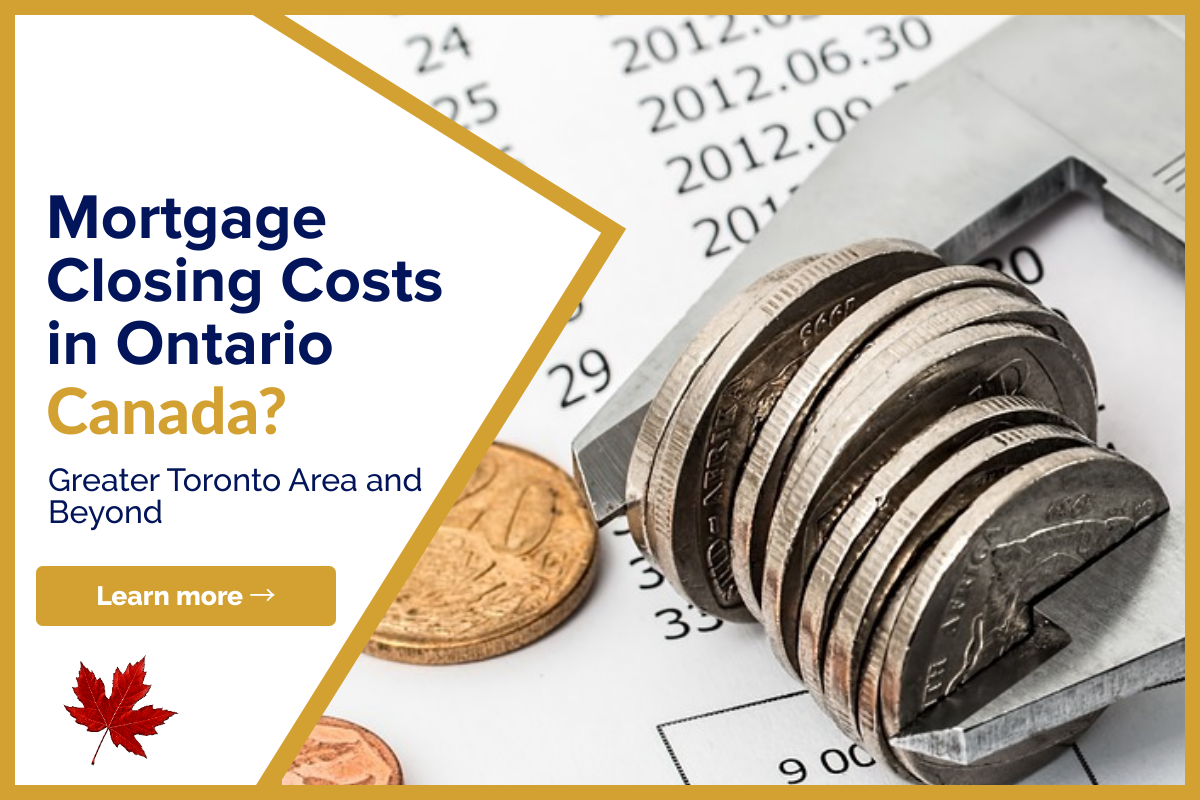 Mortgage Closing Costs in Ontario
Now you can listen to our blog post, "Mortgage Closing Costs in Ontario" while on the go.
There are so many Mortgage Closing Costs in Ontario Canada that it is a bit confusing. For a first time home buyer or someone considering buying a home soon, the Mortgage Closing Costs are an important part of the process. Understanding all of the costs and what they include can help you make smarter financial decisions.
As you read further, your knowledge will expand and you'll be able to make better decisions to get what you want. So, please read on to find out more about Mortgage Closing Costs in Ontario Canada.
Closing Costs in the Greater Toronto Area and Beyond
When purchasing a home, closing expenses can range from 2% to 5% of the purchase price. Here's an overview of the closing charges you can encounter:
Appraisal: Lenders will want to check the worth of the property being acquired before agreeing to issue a loan. The appraised value should, in theory, be equal to the purchase price. If a buyer requests a mortgage for a higher amount than the home is worth, the lender is unlikely to approve the loan unless the buyer can cover the difference themselves. Appraisals, which cost between $400 and $500, are the responsibility of the buyers.
Home inspection: Buyers are strongly advised to have a home inspection performed on the home they intend to purchase. By including a home inspection clause in their contract, purchasers will have the opportunity to have the property inspected by an expert in order to find any significant, minor, or hidden issues that may not have been discovered during the initial walk-through. Depending on the size and condition of the home, a home inspection might cost anywhere from $400 to $700.
Lawyer Fees: It is common practice in the GTA for real estate lawyers to be involved in real estate transactions. In the lawyer's office, there will be a lot of papers to sign, which your attorney will go over to make sure you're entering into a solid arrangement. When the deal is done, the lawyer is usually the one who hands over the keys. The amount charged varies greatly from one contract to the next, but you may expect to pay between $2,000 and $3,000 in legal expenses on average.
Title Search and Title Insurance Fees: If they aren't already included in the legal fees, you'll pay an extra $250 to $400 for a title search and title insurance to protect you if something is discovered on the title that could affect the transaction. A title search is necessary because it ensures that the title is free and clear of any liens or other concerns. It also ensures that the person selling the house to you has the legal authority to do so.
Adjustments: Any property taxes, utilities, or condo fees that the seller has previously paid must be returned to the seller after the closing date.
Fire insurance: It is mandatory in Canada to purchase fire insurance when you take possession of your home. This will be required by the mortgage lender in order for you to obtain the funds. Before insuring your home, most insurance companies will need you to have it examined. Prepare for these procedures ahead of time so you don't run into any issues when it's time to move into your new house.
Mortgage Default Insurance: If you put less than 20% down on a home, you'll have to pay mortgage default insurance, which is calculated based on the amount you put down:
5% to 9.99 per cent is equal to 4%.
10% to 14.99 per cent equals 3.1 per cent
15% to 19.99 per cent is 2.8 per cent
Other fees that may apply: You will also have to pay yearly property and school taxes, electric and utility bills, house and fire insurance, and any debt you may have as a homeowner on top of those fees (such as car or furniture loans). You should also think about the expense of upkeep. Your roof will need to be replaced at some point, items will break down, you will need to repaint, and so on. All of these costs are included in homeownership fees.
Choosing the Right Mortgage Lender In Ontario
When the time comes for you to apply for a mortgage, you may automatically go to your bank. However, while this is a realistic alternative, you also have other choices.
Working with an independent mortgage professional who will shop around for a mortgage for you with a number of different lenders in their network may be a good idea. They'll be able to compare all of the mortgage terms, interest rates, and fees to help you decide which lender is best for you.
Working with a bank vs a mortgage broker differs in that the broker works for you, whilst the bank works for itself. Banks are in business to make money, thus they can only offer a limited number of products. Instead, a broker searches for the finest and most reasonable mortgage on your behalf.
The Bottom Line
At Lionsgate, we specialize in helping people get the extra cash they need, obtain funding for private mortgages, as well as for other real estate transactions. If you are looking to buy land in Canada, get a mortgage or apply for a loan, fill out the form below. Or, You can leave us a message and we will try to connect you with local lenders and sources that best meet your needs.
If you found this article helpful, please share it on your timeline and with someone you care about. Also, visit our blog to read similar helpful articles on finance, real estate, and getting mortgages.