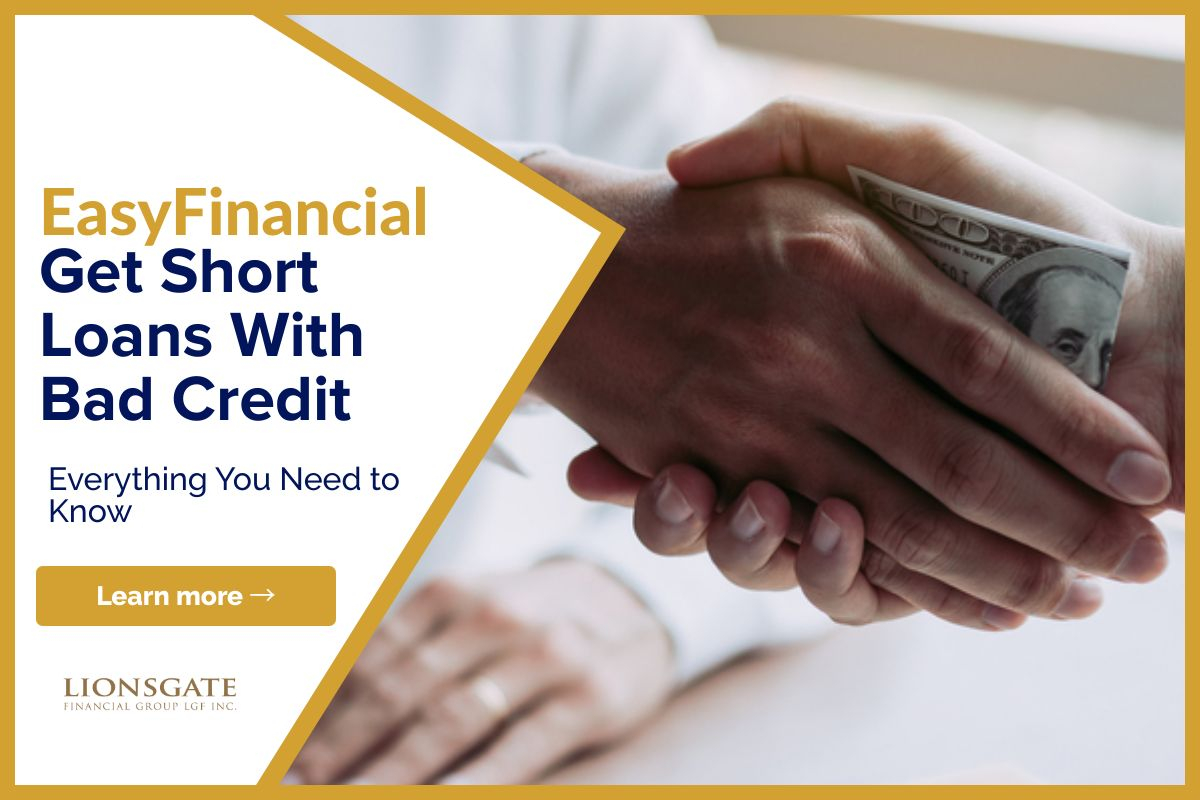 EasyFinancial: Get Short Loans With Bad Credit
Now you can read our blog, "EasyFinancial: Get Short Loans With Bad Credit", while on the go.
If the month lasts longer than your paycheck or a sudden emergency expense pops up, you may need a small loan for extra cash. The good news is that you can get a small loan no matter your credit score. However, the bad news is, many of these loans are risky and can put you in a dangerous situation than you were before taking the loan. So, strategic thought is required before getting a loan if you have a bad credit score.
With a bad credit score, it is leg work to determine the best options for your financial situation. As you want to make sure that your loan interest rate and fee do not indulge you in a financial nightmare, we have come up with the solution – easyfinancial.
Continue reading if you want to learn more about easyfinancial, how it works and how you can get approval for a loan.
Read More: Types of Canadian Loans You Must Avoid
What is Easyfinancial?
Easyfinancial is a small loan lender that provides its services to borrowers in Canada. Working since 2006, easyfinancial has helped over 300,000 Canadians get financial relief exactly when they needed it. With easyfinancial typically provides loans for financial emergencies like car repairs, home renovations, or consolidating debt to name a few. With its fast application process and flexible payment options that fit the budget, easy financial is the best money lender in the market.
When Banks Say No, Easyfinancial Says Yes
Easyfinancial's goal is to listen to what Canadian consumers want and to say yes. Using one of easyfinancial's personal loans, you will not only be able to cover the cost of an expense. But also work toward improving your credit with every payment you make.
If you have an easyfinancial loan in your bank account, you can:
Pay outstanding bills
Consolidate high-interest debts
Handle financial emergencies
Cover vacations
Unexpected travel costs
Deal with vehicle expenses

Easyfinancial offers two types of loans. These loans include secured and unsecured loans. Let us explore both loan options in detail.
Secured Personal Loan
The biggest advantage of a secured loan is that your interest rate will be lower as compared to the unsecured loan. Here the interest rate starts at 19.99%, and the amount you can borrow can be between $15,000 to $35,000. The term of this secured loan is 72 to 120 months.
However, for this, you have to prove yourself eligible by fulfilling the below-mentioned requirements.
Must be a home buyer & Canadian resident
Minimum income to be $1,200 per month
Must have employment
To apply, you will need to complete an online application, Government-issued photo ID, proof of income, bank statement, mortgage statement, and property tax statement. Once you complete the process and get approval, the loan will be transferred to your account within one day.
Read Also: Personal Loans in Canada: A Complete Guide
Unsecured Personal Loan
Need short loans with bad credit? No problem. With easyfinancial unsecured loan, you can still get loans with bad credit. Since it is unsecured, the interest rate is higher starting at 29.99%. You can borrow the amount ranging from $500 to $15,000 dollar. The term for these types of loans is 9 to 60 months.
Unsecured loans are easy to get approval as compared to secured loans. Here are its eligibility requirements.
Must be a Canadian resident over the age of majority
Minimum income must be $1,200 per month
Must be employed
However, to get your approval, you will need to complete an online application, provide your government-issued photo ID, proof of income, bank statements, and additional documents may be required.
You can get the money on the same day after getting the approval. The funding method involved here is direct bank deposit.
How to Apply With Easyfinancial
One great thing about easyfinancial is that they have over 200 branches throughout every Canadian province. You can visit your nearest branch to get all the information you need or apply directly.
If there is no branch in your area, you can still apply through their webpage. You can also speak with one of their customer service agents by phone, email, or using their live messaging system. Online applications take about 10 minutes to fill out and are normally accepted 24/7. If nothing untoward happens, you will receive confirmation within 30 minutes and the loan will be deposited directly in your bank account as a lump sum during the same business day.
On their website, easyfinancial claims to approve 88% of their customers within the same day they apply. 60% of these customers are with bad credit. So, it is clear that even if you have lesser financial health, it is still possible to get a loan and use it.
Nonetheless, financial health affects the overall conditions of your loan. The best loan offers can be achieved when you have:
A good credit score
Full-time job and decent monthly income
Little to no outstanding debts
No recent consumer proposal
Loan security
A cosigner
Costs Of An easyfinancial Personal Loan
Aside from your individual payments and final balance, here are a few other costs that you may encounter with an easyfinancial secured or unsecured personal loan:
Annual interest rates of 19.99% to 46.96%
3-month interest penalty for prepayment
Optional loan protection insurance fees
Additional taxes and administrative fees
Various defaulting penalties
You May Also Like: Private Mortgage Loans For Short Term
The Bottom Line
Easyfinancial is committed to providing Canadian consumers with easy access to the loan products they need, even when banks have said no in the past. These loan costs can have a drastic negative impact on your finances and credit if you default on any payments. It is essential to only apply when you are steadily employed and are sure you can afford them, even if you cannot work or lose your job entirely.
At Lionsgate, we specialize in helping people obtain funding private mortgages for land purchases as well as for other real estate transactions. If you are looking to buy land in Canada, leave us a message and we will try to connect you with local realtors and sourcing for financing.