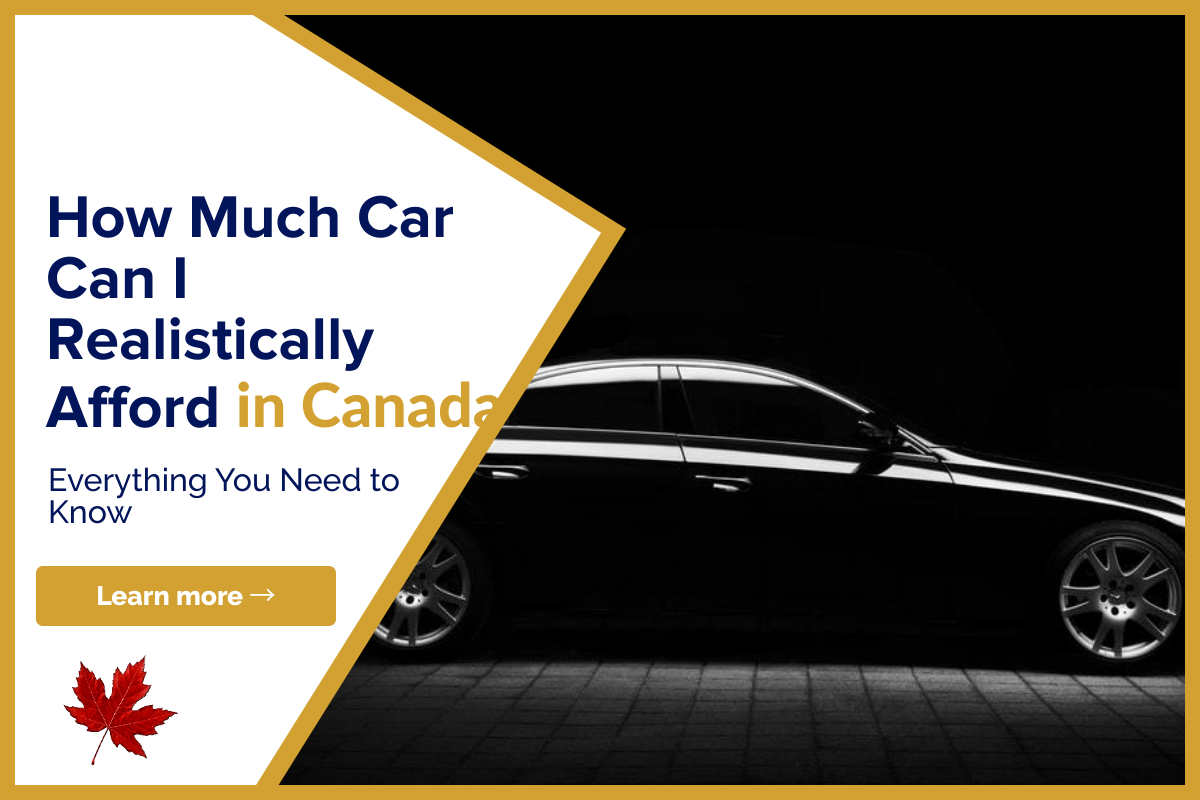 How Much Car Can I Realistically Afford?
Now you can listen to our blog post, "How Much Car Can I Realistically Afford?", while on the go.
When it comes to buying a car, most people will have a set amount of money in mind for their monthly payments. The reason for this is that most of the time, we associate "affordable" with payment. In this article, we will go over a few things you need to know about calculating how much a car can you really afford.
What Are My Options?
We'll assume you don't already own a car for the sake of argument. Some folks are fortunate enough to receive a junker from a family member. Perhaps they found a great deal on a used automobile from a private seller on a website like Kijiji. When it comes to older, more extensively used cars, drivers must still deal with difficulties such as gasoline, repairs/maintenance, and insurance.
However, they won't have to worry about additional issues that come with a new or lightly used vehicle, such as the down payment, the warranty expiration, the monthly payments, and interest. Buying a new or lightly used vehicle, on the other hand, is a different story in certain ways. Most drivers are ready to forego all of these individual new car issues in order to get back and forth with relative ease. And, because of that need for ease, many of those same drivers will fail to consider those issues appropriately. That is until they start to become a serious financial issue.
When you're earning a decent living and cruising around in your new summer car, those kinds of automotive issues seem far away. The potholes in your bank account begin to form only when you discover you don't have any extra money to cope with them. For all of these reasons, you must be very certain that you require a vehicle. Before you start looking at dealerships, think about all of your possibilities.
Is public transportation a viable option? Instead of driving, may you walk or ride your bike? Consider purchasing a scooter or moped. However, depending on where you reside, public transportation may not be available at all, such as in rural areas. Taxis and Uber rides can rapidly add costly, so if there are no buses or trains in your area, driving your own car may be your only option for getting around.
What kind of car are you trying to get your hands on?
Assume you're considering purchasing a new car or at the very least a used car that's less than 10 years old and has less than 100,000 kilometres on it. When it comes to any major financial choice, research is crucial, and buying a car is no exception. You can and should ask yourself a number of other questions before settling on the first vehicle that catches your eye. These are just a few of the inquiries:
What kind of vehicle are you going to get? Do you prefer: a hatchback, a sedan, an SUV, or a pickup truck?
What colour is it going to be? (Believe it or not, certain hues can be more expensive than others.) What will each of those options cost you in gas?
How easy and inexpensive would it be to maintain various makes and models?
How are you going to pay for it? Is it a lease, a loan, or a cash purchase?
Is there a better rate at the dealership or at your bank if you finance?
How much will you put down as a deposit?
How will you make your principle and interest payments? Is it better to pay once a month, once a week, or twice a week?
Is the vehicle covered by a warranty? If so, how long will it last and what will it include?
What impact will the vehicle's price have on your finances in the near future?
Obviously, not everyone has the financial means to purchase a brand new Ford Mustang. So, as a simple example, we'll take a Toyota Prius, which is a little more rational and fuel efficient. A basic, floor-model Prius costs $29,404 on average. Again, we'll assume you won't be able to walk into a dealership with nearly $30,000 in cash, so we'll go with dealership financing. In most cases, the minimum financing length is 36 months (3 years).
You can choose to extend the payment duration in 12-month increments up to 84 months, but we'll only take 36 months as an example. If you opt for monthly payments, you'll pay $816.78 per month for the next 36 months. That doesn't include the GST (Goods and Services Tax), QST (if you live in Quebec), tyre levy (an environmental fee for tyres), interest payments, or any other car-related costs. Again, Prius' are among the most fuel-efficient vehicles available, so consider a vehicle that isn't, such as a pickup truck, SUV, or sports car.
The Rule of 20/4/10
Some automobile experts advise drivers to use the "20/4/10 Rule" while financing (rather than buying or leasing) new or lightly used cars. This is the core framework for dealing with the finance process:
Rule 20
This is the amount of money you'll need to put down on any car you want to finance. It is recommended that you put down a 20% or more down payment. If you put less than 20% down on a car, you'll almost certainly get hit by depreciation and wind up paying more in loan payments than the car is worth.
Rule 4
It refers to the length of the car loan, with four years being the preferred cut-off point. While a 3-year financing duration is preferable, keep in mind that the longer you extend your payment period, the more time you'll be subject to your lender's insurance rules and expensive rates.
Rule 10
This rule states that you should spend no more than 10% of your total income on car payments, including principal, interest, and insurance. Spending more than 10% of your gross income, depending on your financial and lifestyle circumstances, could swiftly deplete your chequing account. This is money that may be better spent elsewhere, such as in your TFSA or RRSP. You may go on a much-needed vacation or use the rest of your money toward more essential items like groceries, household goods, and living expenses (rent, mortgage, etc.).
The Bottom Line
Finally, we're not attempting to scare you away from buying a car; rather, we're trying to give you an estimate of how much your automobile might cost you in the years after you buy it. As long as you work hard to maintain it, any quality car may be a valuable tool for getting ahead in life.
Need Some Quick Cash? Let Us Help!
Are you struggling with your financial needs and need some extra cash? Lionsgate can help. Just fill out the form below, letting us know all your cash or mortgage requirements and we will provide you with that. Amazing thing? The process is free and you can quit it at any time.
Note: Please give your authentic information while completing the form below.
If you found this article helpful, please share it with someone you care about. Also, visit our blog to read similar helpful articles on finance, real estate, and getting mortgages.